True Beauty drama is trending now. This webtoon adaptation drama rises the popularity of Hwang In Yeop. He has special chemistry with Moon Ga Young the female lead. Prior to this drama premiere, many of us have already shipped them. Yeah, we suffer from second-lead syndrome again. It feels like we are not enough with Han Ji Pyeong (Kim Seon Ho) in Start Up Kdrama. Hwang In Yeop (as Han Seojun) is really a scene stealer. Bad boy character definitely portrays his own allure. His eyes and deep voice make our hearts flutter every time he speaks. We think he suits Moon Ga Young (Lim Jukyung). Previously we have learnt Korean with True Beauty drama cast, Cha Eun Woo and Moon Ga Young. So, we are gonna learn Korean from Han Seojun and Lim Jukyung dialogues. Don't worry, the phrases are not that difficult and we can find them in daily conversation.
1. Turning Point: Moon Ga Young Make Over in True Beauty Drama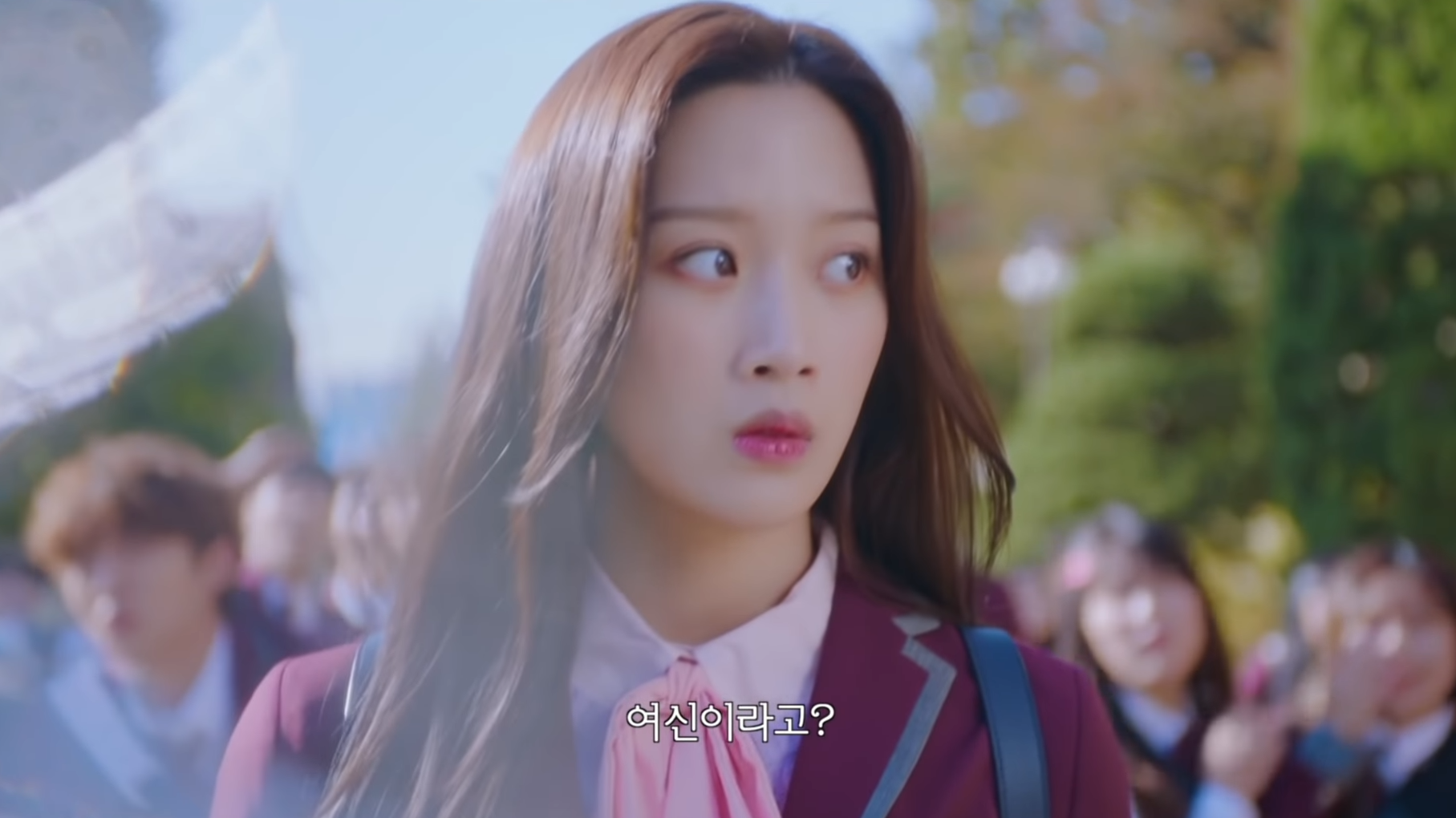 As Lim Jukyung successfully covers her face with make up, her life completely changes. She gets many compliments of her beauty and people treat her very well. First day of new school, the new student surprises everyone. She couldn't believe that everyone is bewitched by her new look. She wonders 여신이라고? (Yeosinirago). 여신 (Yeosin) means goddess or angel, a term to describe very beautiful woman. Particle (이)라고 has equivalent meaning to "to be called" or "to be said". So 여신이라고? (Yeosinirago) implies that she couldn't believe that people call her angel.
2. First Meeting with Hwang In Yeop (Han Seojun)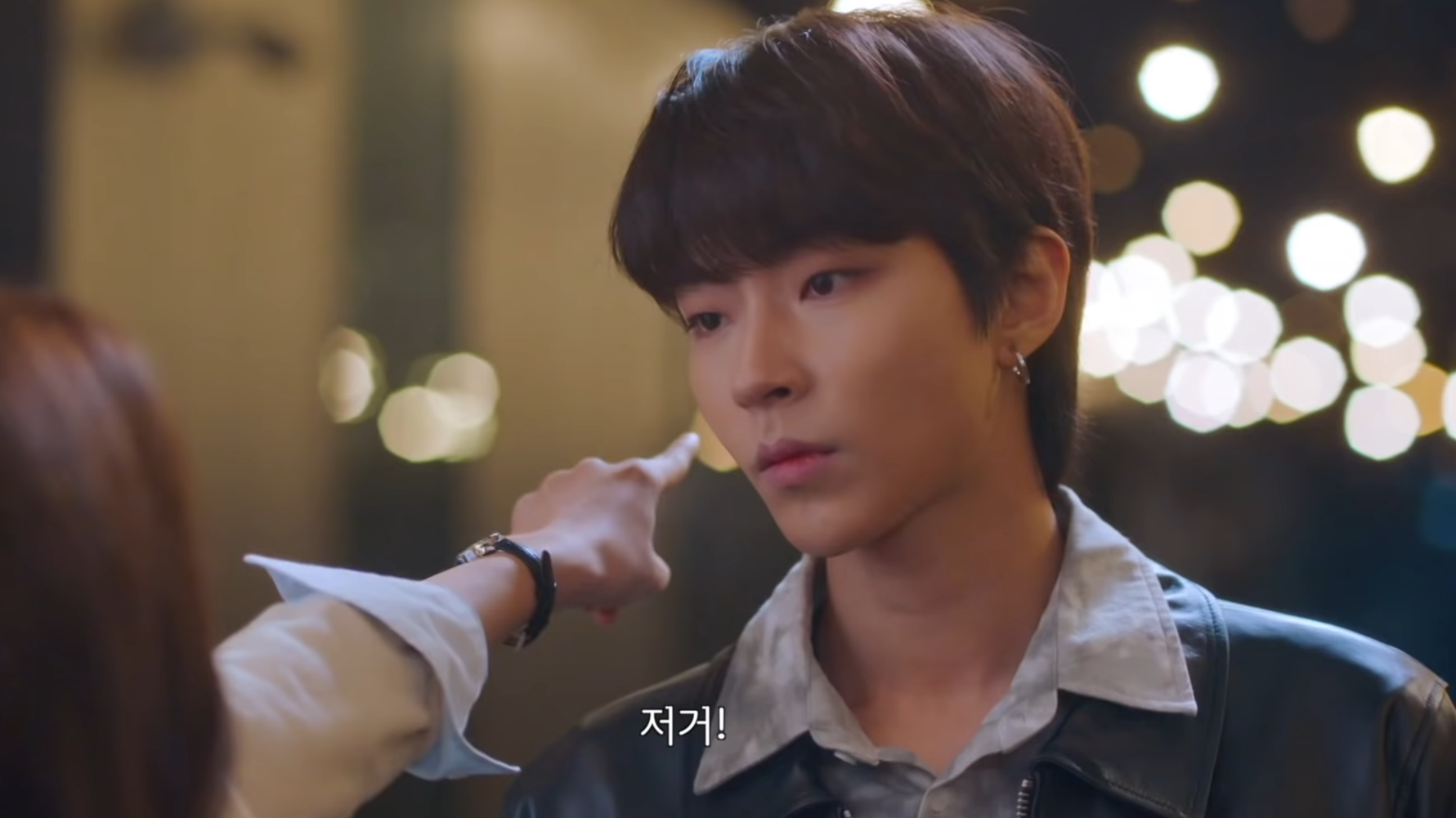 Jukyung accidentally crashes into Seojun in their first meeting. Jukyung is about to run away from Seojun. She randomly points out something to distract him by saying 저거 (Jeogeo). It is equivalent to "that" in English or "over there". It's a demonstrative pronoun in Korea. There are 3 demonstrative pronouns in Korean: 이거 (igeo), 그거 (geugeo), and 저거 (jeogeo). We use 이거 (igeo) when something is close to the speaker and listener. 그거 (Geugeo) is used when something is close to the listener but far from the speaker. Meanwhile, we use 저거 (jeogeo) to point out something far from both speaker and listener.
3. It Starts with Helmet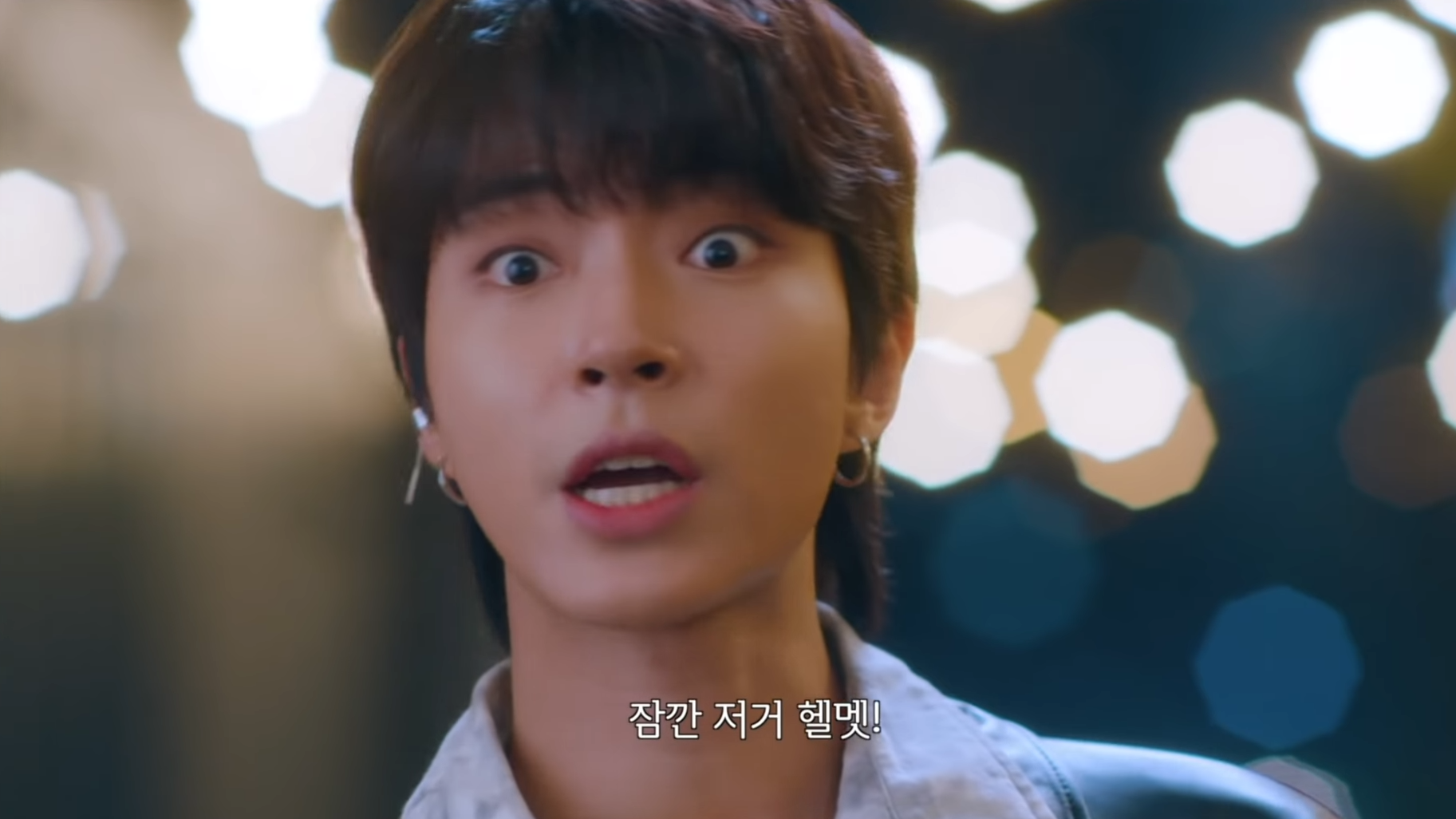 After accidental meeting with Seojun, Jukyung tries to run from him and she doesn't realize that she takes his helmet away. She doesn't hear Seojun's yelling 잠깐 저거 헬멧! (Jamkkan jeogeo helmet). 잠깐 (Jamkkan) is banmal or informal form of 잠깐만요 (jamkkanmanyo). It means "wait" or "for a while". 저거 헬멧 (Jeogeo helmet) means "that helmet". So, we could translate that sentence to "Wait, that helmet". It implies that Seojun wants Jukyung to give his helmet back.
4. Rude but Caring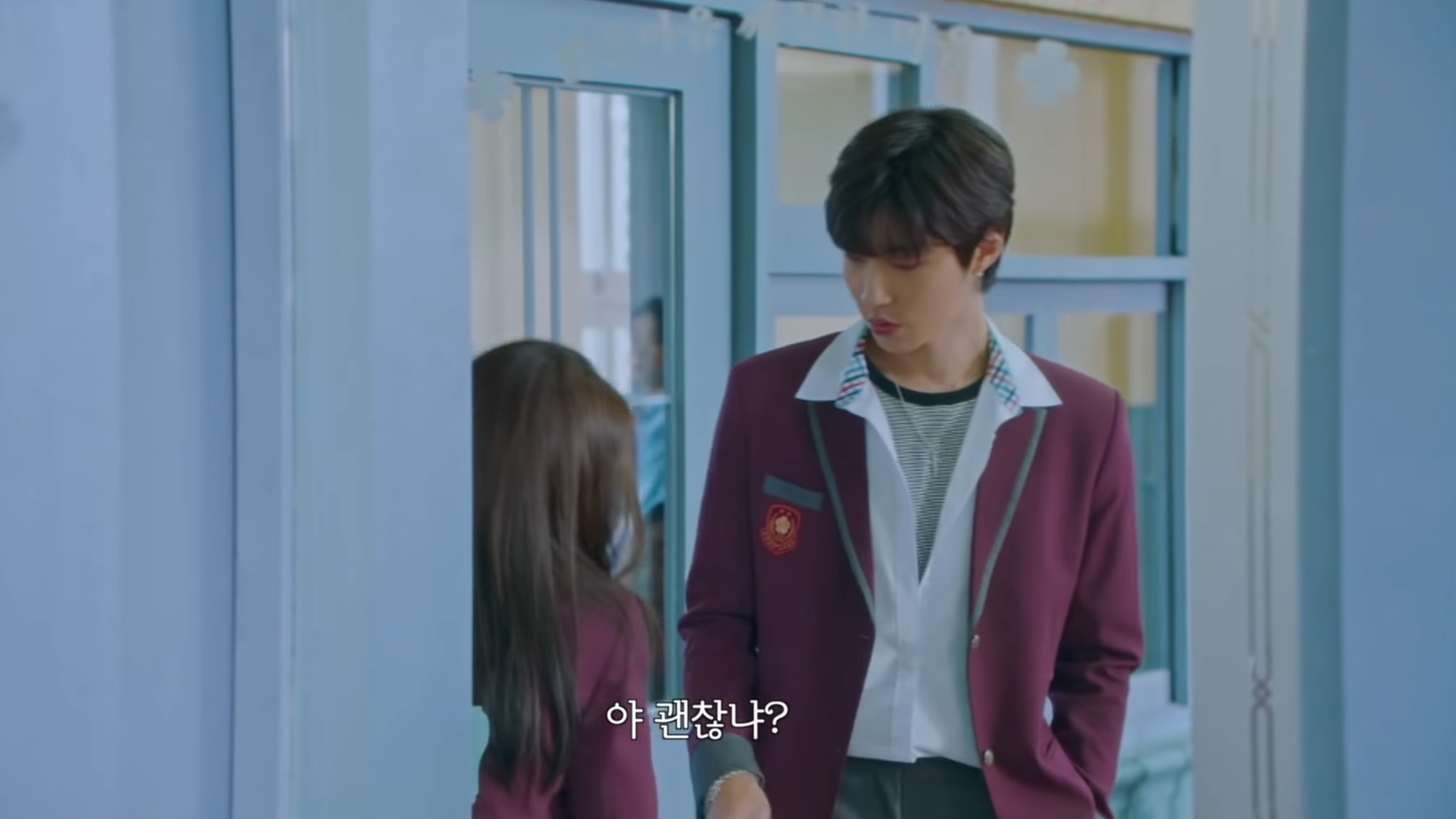 Both in True Beauty drama and webtoon version, Han Seojun character is typically rude, cool, and rebel. However, deep down inside, he is soft-hearted, caring, and family man. Again and again, Jukyung crashes into him at school. Seojun spontaneously asks 야 괜찮냐? (Ya gwaenchannya). 야 (Ya) has the same meaning with "hey" in English. 괜찮냐 (Gwaenchannya) is informal or banmal form of 괜찮아요 (gwaenchanayo). If it is an interrogative sentence (question), then it means "are you alright?" So, the whole meaning of Seojun's question is "Hey, are you alright?"
5. Start to Recognize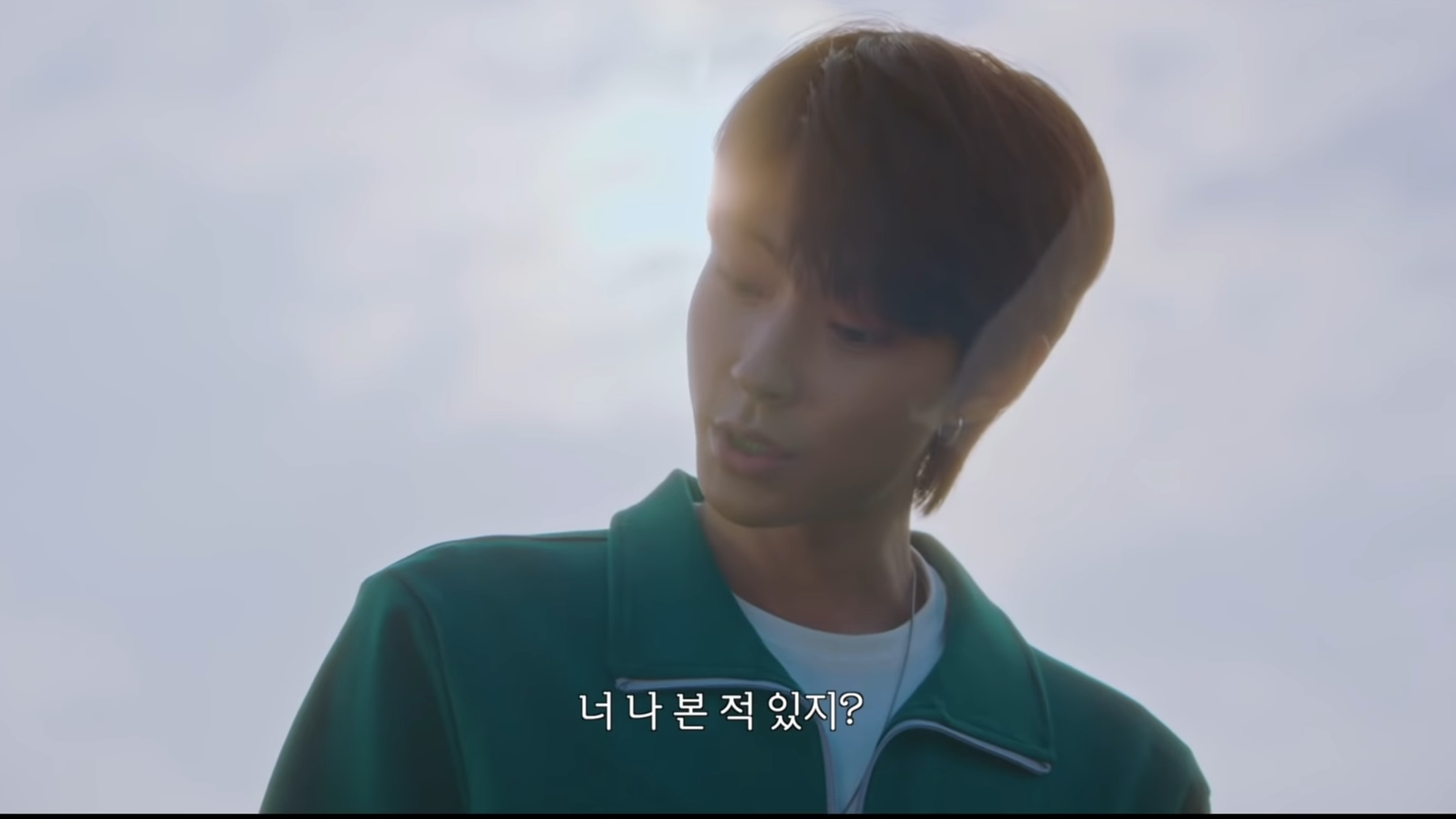 In True Beauty drama episode 2, Seojun and Jukyung become classmate so they frequently meet. It seems that Jukyung is about to avoid Seojun in the beginning. However, Seojun has recognized her as a 'helmet girl'. He tries to convince it by asking 너 나 본 적 있지? (Neo na bon jeok itji). 너 (Neo) is subject pronoun for "you". 나 (Na) is object pronoun for "me". 본 적 (Bon jeok) means "have seen". 있지 (Itji) is like a question tag in Korean. So, we could translate that sentence to "You have seen me, haven't you?"