General Information
International Title: Cheer Up
Original Title: 치얼업 (romanization: Cheer Up)
Genre: Romance
No. of Episode: 16
Airing Date: 2022.10.03 ~ 2022.11.22
Airing Slot: Wednesday – Thursday
Broadcasting Channel: SBS
International Distributor: Viu
Starring: Han Ji Hyun, Bae In Hyuk, Kim Hyun Jin, Jang Gyuri
Director: Han Tae Sub
Screenwriter: Cha Hae Won
Highest Rating: TBA
Awards: TBA
Synopsis
Do Hae Yi (Han Ji Hyun) is a diligent freshman at Theology Department, Yonhee University. Despite her family's poor financial background, she has a bright personality. Hae Yi works several part-time jobs to support herself and her family. One day, Jae Yi is offered to join Theia —the legendary Yonhee University cheerleading squad— in return for money.
She has a crush on the team's captain Park Jung Woo (Bae In Hyuk). Meanwhile, a rich and famous campus crush Jin Sun Ho (Kim Hyun Jin) is also interested in Hae Yi. As time passed, Hae Yi became more invested in the cheerleading squad than she intended.
Cheer Up Cast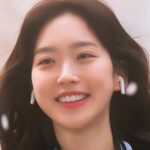 Character: Do Hae Yi
Portrayed by: Han Jin Hyun
Han Ji Hyun's notable works: Penthouse I-III (SBS/ 2020~2021)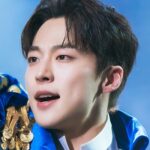 Character: Park Jung Woo
Portrayed by: Bae In Hyuk
Bae In Hyuk's notable works: My Roommate is a Gumiho (tvN/ 2021), At A Distance Spring is Green (KBS2/ 2021), Why Her? (SBS/ 2021)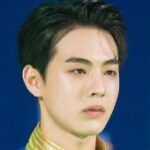 Character: Jin Sun Ho
Portrayed by: Kim Hyun Jin
Kim Hyun Jin's notable works: N/A
Extended Cast
Jang Gyuri as Tae Cho Hee
Lee Eun Saem as Joo Sun Ja
Yang Dong Geun as Bae Young Woong
Ryu Hyun Kyung as Shin Ji Young
Nam Joong Gyu as Soo Il
Eun Hae Seong as Lee Jae Hyuk
Yoo Yi Jun as the President of the Broadcasting Club at Yonhee University
Lee Jung Jun as Ki Woon Chan
Byun Yoon Jung as Seong Chul Mo
Jang Young Nam as Seong Chun Yang
Lee Min Jae as Do Jae Yi
Baek Ji Won as Hwang Jin Hee
Hyun Woo Seok as Kim Min Jae
Han Soo Ah as Han So Yun
Kim Shin Bi as Lim Yong Il
Song Duk Ho as Song Ho Min
Lee Jong Hyuk as Kyu Jin
Jung Shin Hye as Lee Ha Jin
Park Bo Yeon as Lee Yoo Min
Lee Seung Min
Cameo & Special Appearance
Jang Na Ra as senior and former cheerleader at Yonhee University
Character Relationship Chart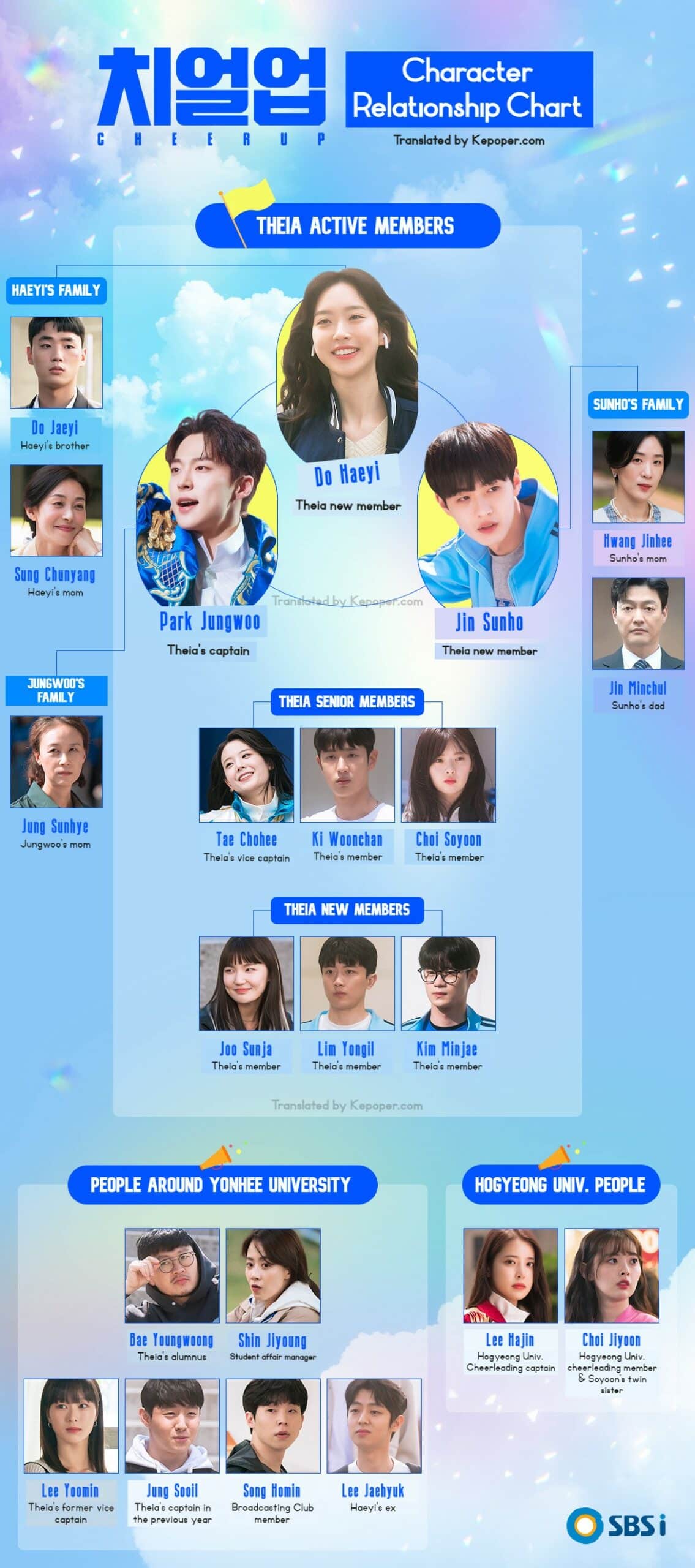 Original Soundtrack
'Shine' by PEPPERTONES
'Confession' by Sam Kim
'RINGING' by Mijoo
'Enjoy This Moment' by Stella Jang
'Good Day' by YUDABINBAND
Trailer Videos
Awards & Nominations
TBA
Trivia
The university name (Yonhee University) used in the drama was Yonsei University's former name.
Yonhee university is based on Yonsei University, while the rival Hokyung University is based on Korea University.
This is Han Ji Hyun's first leading role in terrestrial TV.
This is Jang Gyuri's first drama project after leaving fromis_9 to focus on her acting career.
'Cheer Up' is set in 2019.