General Information
International Title: Twenty-Five, Twenty-One
Original Title: 스물다섯 스물하나 (romanization: Seumuldaseot Seumulhana)
Genre: Drama, Romance, Youth
Episode: 16
Airing Date: 2022.02.12 ~ 2022.04.03
Airing Slot: Saturday & Sunday at 21:00 KST
Broadcasting: tvN
International Distributor: Netflix, TVING
Starring: Kim Tae Ri, Nam Joo Hyuk
Director: Jung Ji Hyun
Writer: Kwon Do Eun
Highest Rating: TBA
Awards: N/A
Synopsis
Twenty Five Twenty One is romantic Korean drama following the life of youth from 1998 to 2021. 1998 is an era when South Korea underwent financial crisis. Na Hee Do is a fencing prodigy and member of high school fencing team. Unfortunately, this fencing team is disbanded due to national crisis. Meanwhile, Baek Yi Jin used to live in wealthy family. However, financial crisis also causes bankruptcy to his family business. As the consequence, he is financially struggling now. He has to take part time job to deliver newspaper. Later, he works as sports reporter at UBS and meets Na Hee Do in Asian Games event.
Main Cast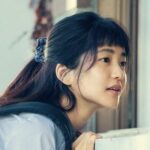 Character name: Na Hee Do
Actress name: Kim Tae Ri
Kim Tae Ri's notable works: Alien, Space Sweepers, 1987: When The Day Comes, The Handmaiden, Mr. Sunshine, Entourage, etc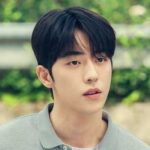 Character name: Baek Yi Jin
Actor name: Nam Joo Hyuk
Nam Joo Hyuk's notable works: Remember, Josee, Start-Up, The School Nurse Files, The Light in Your Eyes, The Bride of Habaek, Weightlifting Fairy Kim Bok-Joo, Moon Lovers: Scarlet Heart Ryeo, School 2015, etc
Extended Cast
Bona as Go Yoo Rim
Lee Joo Myung as Ji Seung Wan
Choi Hyun Wook as Moon Ji Woong
Seo Jae Hee as Shin Jae Kyung
Choi Myung Bin as Kim Min Chae
Kim Young Sun
Kim Hye Eun as Yang Chan Mi
Park Yoon Hee as Baek Yi Jin's father
Choi Min Young as Baek Yi Hyun
Park Jun Pyo as Baek Yi Jin's uncle
So Hee Jung as Ji Seung Wan's mother
Cameo & Special Appearance
Lee Joong Ok as Na Hee Do's former coach
Jung Yu Min as Hwang Bo Mi
Character Relationship Chart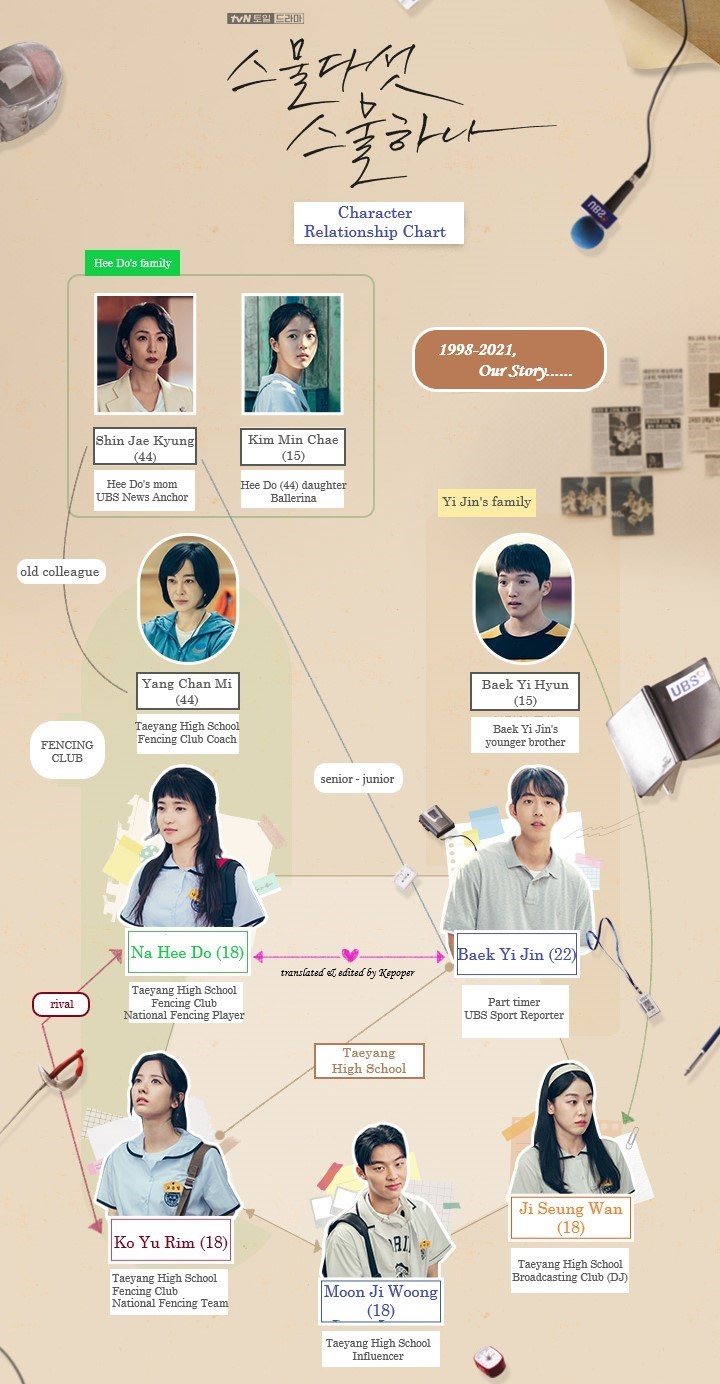 Na Hee Do is high school's fencing club team. Unfortunately, the fencing club is disbanded due to IMF crisis. She adores Ko Yu Rim, national fencing team athlete. Later, she is transferred to Taeyang High School and attends the same fencing club with Ko Yu Rim. Hee Do is close to Baek Yi Jin, a part timer in comic rent. Yi Jin came from rich family background who is financially struggling now. His family used to be Ko Yu Rim's sponsor. Later, Yi Jin becomes UBS reporter and junior of news anchor Shin Jae Kyung (Hee Do's mother). Hee Do and Yu Rim attend to the same high school with Ji Woong and Seung Wan. Seung Wan is class president and Ji Woong's best friend. Ji Woong's is a popular student who falls for Yu Rim.
Original Soundtrack
Teaser & Trailer Videos
Awards & Nominations
N/A
Trivia