General Information
International Title: Racket Boys
Original Title: 라켓소년단 (romanization: Racket Sonyeondan)
Genre: Sports, Comedy, Friendship, Youth, Family
No. of Episode: 16
Airing Date: 2021.05.31 ~ 2021.08.09
Airing Slot: Monday – Tuesday 22:00 KST (Ep. 1-12) / Monday 22:00 KST (Ep. 13-16)
Broadcasting Channel: SBS
International Distributor: Netflix
Starring: Kim Sangkyung, Oh Nara, Tang Joonsang, Song Sangyeon, Choi Hyunwook, Kim Kanghoon
Director: Jo Youngkwang
Screenwriter: Jung Bohoon
Highest Rating: 6.2% (Nationwide)
Racket Boys Synopsis
Racket Boys tells about Yoon Hyeonjong who was a former Korean badminton player who is currently financially struggling. He and his family moves to suburban area, Haenam, to coach Haenam Seo Middle School's Badminton team. Unfortunately, the team is about being disbanded and remains 3 player which are Bang Yoondam, Na Woochan, and Lee Yongtae. Later, his son (Yoon Haekang) and Jung Insol join the team. Meanwhile, his wife (Ra Yeongja) coaches Haenam Jeil Girls' Middle School badminton team. They are struggling to compete in several badminton tournaments to be national and professional athlete.
Main Cast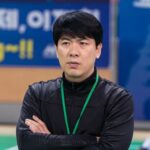 Character name: Yoon Hyeonjong
Actor name: Kim Sangkyung
Kim Sangkyung's notable works: The Crowned Clown, Jang Youngsil: The Greatest Scientist of Joseon, What Happens to My Family?, White Christmas, Snow Flower, The Great King Sejong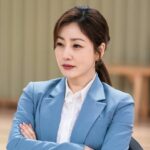 Character name: Ra Yeongja
Actress name: Oh Nara
Oh Nara's notable works: SKY Castle, My Mister, The Lady in Dignity, Chicago Typewriter, Comeback Mister, Yongpal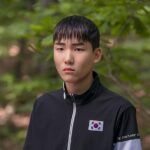 Character name: Yoon Haekang
Actor name: Tang Joonsang
Tang Joonsang's notable works: Crash Landing on You, Move to Heaven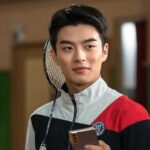 Character name: Bang Yoondam
Actor name: Son Sangyeon
Son Sangyeon's notable works: Clean With Passion For Now, My Golden Life, Two Cops, Chicago Typewriter, Suspicious Partner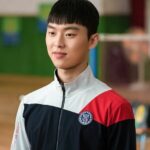 Character name: Na Woochan
Actor name: Choi Hyunwook
Choi Hyunwook's notable works: Taxi Driver
Character name: Lee Yongtae
Actor name: Kim Kanghoon
Kim Kanghoon's notable works: Mouse, Mr. Queen, Start Up, 18 Again, Kingdom 2, When the Camellia Blooms, Hotel Del Luna, Romance is a Bonus Book, Clean with Passion for Now, Mr. Sunshine, Come Back Mister, Exit, Cheese in the Trap
Extended Cast
Kim Mingi as Jung Insol
Lee Jaein as Han Seyoon
Lee Jiwon as Lee Hansol
Shin Junggeun as Coach Bae
Ahn Sebin as Yoon Haein
Woo Hyeon as Hong Yijang
Cha Mikyung as Ome Grandma
Jung Minsung as Kim Taeho
Park Hyojoo as Shin Philja
Ahn Naesang as Coach Fang
Baek Jiwon as Shin Songhee
Ahn Sangwoo as Mr. Noh
Yoon Hyunsoo as Park Chan
Shin Cheoljin as Ome Grandma's husband
Park Yoonyoung as Lee Nara
Lee Soonbok as Shin Songhee's mother
Noh Yihan as Lee Eunho
Kim Danyool as Kim Donghyun
Jung Taekhyun as Oh Jaeseok
Kim Gun as Gil Seongyun
Son Seunghwan as Lee Seunghwan
Choi Daehoon as reporter Kim
Kim Kicheon as school principal
Hong Seojun as Jeong Byeonghwi
Song Seunghwan as Lee Seunghwan
Jo Ayoung as women's national team coach
Ki Eunse as Coach Lee Yuri
Heo Sungtae as Coach Chun
Yoon Bongkil as baseball coach
Jo Jaeyun as Kim Junseok
Kim Taehyang as Mr. Bang
Park Okchool as Yoondam's mom
Lim Chulhyung as Woochan's dad
Jo Ryun as Woochan's mom
Kim Wonsik as Yongtae's dad
Cameo & Special Appearance
Kang Seungyoon as Kang Taeseon
Lee Kyuhyung as Park Jeonghwan (Ep. 16)
Lee Yongdae as himself (Ep. 15)
Kwon Yuri as Im Seohyun (Ep. 16)
Park Hosan as Park Jeongyong (Ep. 1)
Alison Rock as umpire (Ep. 3)
Kim Sungcheol as Park Junyeong (Ep. 6)
Lee Joonhyuk as Yoo Jinho (Ep. 6)
Kim Minseok as city boy (Ep. 2)
Lee Sieon as Busan man (Ep. 9)
Park Sunggeun as Doctor Jung (Ep. 10)
Character Relationship Chart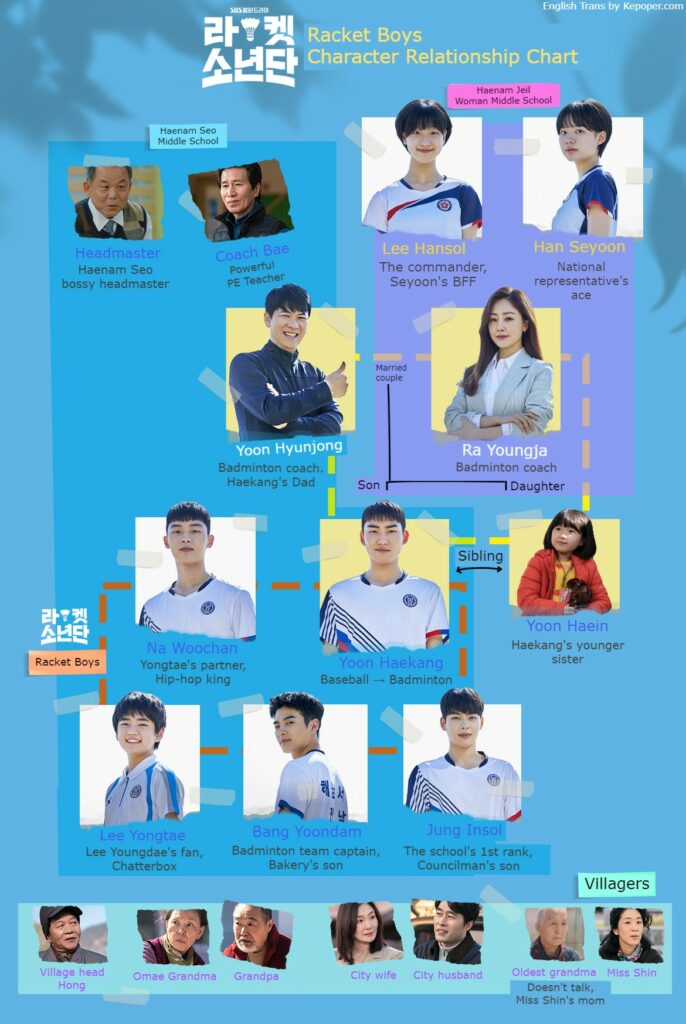 Yoon Hyeonjong and Ra Yeongja are married couple with 2 children: Yoon Haekang and Yoon Haein. Yoon Hyeonjong coaches Haenam Seo Middle School's Badminton team. The team consists of 5 players: Yoon Haekang, Bang Yoondam, Na woochan, Lee Yongtae, and Jung Insol. Meanwhile, Ra Yeongja coaches Haenam Jeil Girls' Middle School badminton team. The team has two best players: Han Seyoon and Lee Hansol. Besides, there are two romantic couples: Yoon Haekang/ Han Seyoon and Bang Yoondam/ Lee Hansol.
Racket Boys Original Soundtrack
"Will Be" by The Boyz
"Focus on Me" by Coffee Boy
"I Love You Teacher" by Oh My Girl (Mimi, Hyojung, Binnie)
"Find Me" by Lim Danwoo
"Cloud" by Park Jiwon
Trailer Videos
Trailer https://www.youtube.com/watch?v=xKB11P9Na6g
Highlight https://www.youtube.com/watch?v=DroFcjMnY2g
Awards & Nominations
N/A
Racket Boys Trivia
Racket Boys is written by Jung Bohoon, notable screenwriter of Prison Playbook drama series
Starring talented rookie actors like Tang Junsang, Kim Kanghoon, Choi Hyunwook, Son Sangyeon, and Kim Mingi
It was aired on Monday and Tuesday from episode 1 to 12. Starting from episode 13 to 16, it was aired on Monday only
This is the second drama together of Oh Nara and Son Sangyeon after "Chicago Typewriter"
It reunites Jung Minsung and Lee Kyuhyung (Ep. 16) after "Prison Playbook" drama series