General Information
International Title: It's Okay to Not Be Okay
Original Title: 사이코지만 괜찮아 (romanization: Saikojiman Gwaenchanha)
Genre: Drama, Romance, Psychology
Airing Date: 2020.06.20 ~ 2020.08.09
Airing Slot: Saturday & Sunday 21:00 KST
Broadcasting Channel: tvN
International Distributor: Netflix
Starring: Kim Soo Hyun, Seo Ye Ji
Director: Park Shin Woo
Writer: Jo Yong
Highest Rating: 7.348% (Nationwide)
Awards: 2021 (57th) Baeksang Arts Awards for Best Supporting Actor (Oh Jung Se)
Synopsis
It's Okay to Not Be Okay (Psycho But It's Okay) portrays unusual romantic story between a psychiatric caretaker Moon Gang Tae and an author Ko Moon Young. Ko Moon Young is a popular writer of children books who has antisocial personality disorder. Besides, she is very selfish and tends to show her arrogance. Meanwhile, Moon Gang Tae lives with autistic brother, Moon Sang Tae. They are used to be nomadic due to Gang Tae's trauma about their mother's murder. Later, Gang Tae, Sang Tae, and Moon Young meet in Seongjin City where they used to spend their childhood. They get emotionally closer, comfort, and heal each other until they unveil the dark past secret.
Main Cast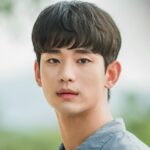 Character name: Moon Gang Tae
Actor name: Kim Soo Hyun
Kim Soo Hyun's notable works: The Producers, My Love From the Star, The Moon Embracing The Sun, Dream High, Will It Snow For Christmas?
Character name: Ko Moon Young
Actress name: Seo Ye Ji
Seo Ye Ji's notable works: Lawless Lawyer, Save Me, Hwarang, Moorim School, Potato Star 2013QR3
Extended Cast
Oh Jung Se as Moon Sang Tae
Kim Joo Hun as Lee Sang In
Park Gyu Young as Nam Ju Ri
Park Jin Joo as Yoo Seung Jae
Kim Chang Wan as Oh Ji Wang
Kim Mi Kyung as Kang Sun Deok
Jang Young Nam as Park Haeng Ja
Jang Gyu Ri as Sun Byul
Seo Jun as Kwon Min Seok
Choi Woo Sung as Oh Cha Yong
Jung Jae Kwang as Joo Jeong Tae
Lee Eol as Ko Dae Hwan
Kim Ki Cheon as Kang Pil Ong
Kang Ji Eun as Park Ok Ran
Ji Hye Won as Lee Ah Reum
Kang Ki Doong as Jo Jae Soo
Choi Hee Jin as Gang Tae and Sang Tae's mother
Jang Young Nam as Do Hui Jae
Cameo & Special Appearances
Kwak Dong Yeon as Kwon Ki Do (Ep. 3, 4, 16)
Bae Hae Sun as Kang Eun Ja (Ep. 4-7, 16)
Jung Sang Hoon as motel owner (Ep. 5)
Choi Daniel as CEO (EP. 8)
Character Relationship Chart

Moon Gang Tae and Ko Moon Young are the centers of It's Okay to Not Be Okay (Psycho But It's Okay) character. Moon Gang Tae is a psychiatric ward caretaker who lives with his autistic brother Moon Sang Tae. Both are nomadic due to Gang Tae's trauma about his mother's death. Meanwhile, Ko Moon Young is children's book author with antisocial personality disorder. Sang Tae is a fan of Moon Young's books. Accidentally, Gang Tae and Moon Young meet each other and Moon Young has romantic obsession for Gang Tae. Meanwhile, Nam Ju Ri is Gang Tae's co-worker who has crush on him. Later, Gang Tae, Sang Tae, and Moon Young get emotionally closer. Furthermore, they heal each other, find comforts, and surprisingly unveil the dark past that already connects them.
Original Soundtrack
"You're Cold (더 많이 사랑한 쪽이 아프대)" by Heize
"Breath (숨)" by Sam Kim
"My Tale" by Park Won
"In Your Time" by Lee Suhyun
"Hallelujah" by Kim Feel
"Little By Little" by Cheeze
"Puzzle" by Yongzoo
It's Okay to Not Be Okay Trailer Videos
Trailer 1 https://www.youtube.com/watch?v=50ek4HQo0Bc
Trailer 2 https://www.youtube.com/watch?v=89i-Fn2CqQg
Teaser 1 https://www.youtube.com/watch?v=auR8z0SML0M
Teaser 2 https://www.youtube.com/watch?v=AHZefhy9iro
Awards & Nominations
57th Baeksang Arts Awards – May 13, 2021
Best Supporting Actor (Television): Oh Jung Se
Technical Award (Costume design): Cho Sang Kyung
7th APAN Star Awards – January 23, 2021
Excellence Award (Actress in a Miniseries): Seo Ye Ji
Best Supporting Actor: Oh Jung Se
Popular Star Award (Actor): Kim Soo Hyun
Popular Star Award (Actress): Seo Ye Ji
5th Asia Artist Awards – November 28, 2020
It's Okay to Not Be Okay Trivia
It's Okay to Not Be Okay (Psycho But It's Okay) becomes the nominee at 49th International Emmy Awards for Best TV Movie or Miniseries
This drama becomes Netflix's Top 10 list for over 100 days
It receives positive feedback from international media such as Forbes, The Straits Times, The New York Times, Cosmopolitan, etc
The positive feedback generally comes for its unique premise bringing up mental health issue and its visual storytelling
It's Okay to Not Be Okay (Psycho But It's Okay) takes over tvN drama When My Love Blooms time slot on Saturday and Sunday