General Information
International Title: Navillera
Original Title: 나빌레라 (romanization: Navillera)
Genre: Drama
Episode: 12
Airing Date: 2021.03.22 ~ 2021.04.27
Airing Slot: Monday & Tuesday 21:00 KST
Broadcasting Channel: tvN
International Distributor: Netflix
Starring: Song Kang, Park In Hwan
Director: Han Dong Hwa
Writer: Lee Eun Mi, Hun (webtoon), Ji Min (webtoon)
Highest Rating: 3.679%
Awards: N/A
Synopsis
Navillera is a webtoon-based adaptation Korean drama depicting the dream of two figures to be ballerino. Shim Deok Cheol is 70 year old man who wants to pursue his long-life dream as a ballerino. However, he receives objections from his family due to his age. Then he decides to join ballet course. He meets a young ballerino Lee Chae Rok at ballet course. Shim Deok Cheol tends to show his strong willingness in ballet. Meanwhile, Lee Chae Rook as a young man seems hopeless compared to the old man like Shim Deok Cheol. He used to want to be a football player when he was a child. However, he gave up his childhood dream due to incapability. After watching a ballet show, he feels like finding another dream: ballet.
Main Cast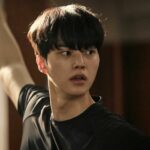 Character name: Lee Chae Rok
Actor name: Song Kang
Song Kang's notable works: Nevertheless, Love Alarm Season 2, Sweet Home, When the Devil Calls Your Name, Love Alarm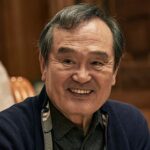 Character name: Shim Deok Cheol
Actor name: Park In Hwan
Park In Hwan's notable works: Exit (movie), Miss Granny (movie), Lost, Brilliant Heritage, Liver or Die, Mad Dog, Come Back Mister
Extended Cast
Na Moon Hee as Choi Hae Nam
Hong Seung Hee as Shim Eun Ho
Jo Sung Ha as Lee Moo Young
Kim Tae Hoon as Ki Seung Joo
Shin Eun Jung as Kim Ae Ran
Jung Hae Kyun as Shim Sung San
Kim Soo Jin as Shim Sung Suk
Jung Hee Tae as Byun Yeong Il
Yoon Ji Hye as Eun So Ri
Kim Hyun Mok as Kim Se Jong
Kim Kwon as Yang Ho Beom
Lee So Yeong as Yoo An Na
Jeong Hee Tae as Young Il
Jo Bok rae as Shim Sung Gwan
Hwang Sang Kyung as Kim Heung Sik
Yim Sa Rang as Kwon Bom
Yong Ki as Kim Sang Su
Lee Hwa Ryong as Oh Jung Sik
Kim Ki Nam as Park Jung Seo
Lee Cho A as Park Sun A
Kim Su Ol as Choi Min Jae
Baek Seung Chul as Han Cheol
Cameo & Special Appearances
Seo In Guk as Hwang Hui (Ep. 9)
Go Kyu Pil as prospective student (Ep. 12)
Character Relationship Chart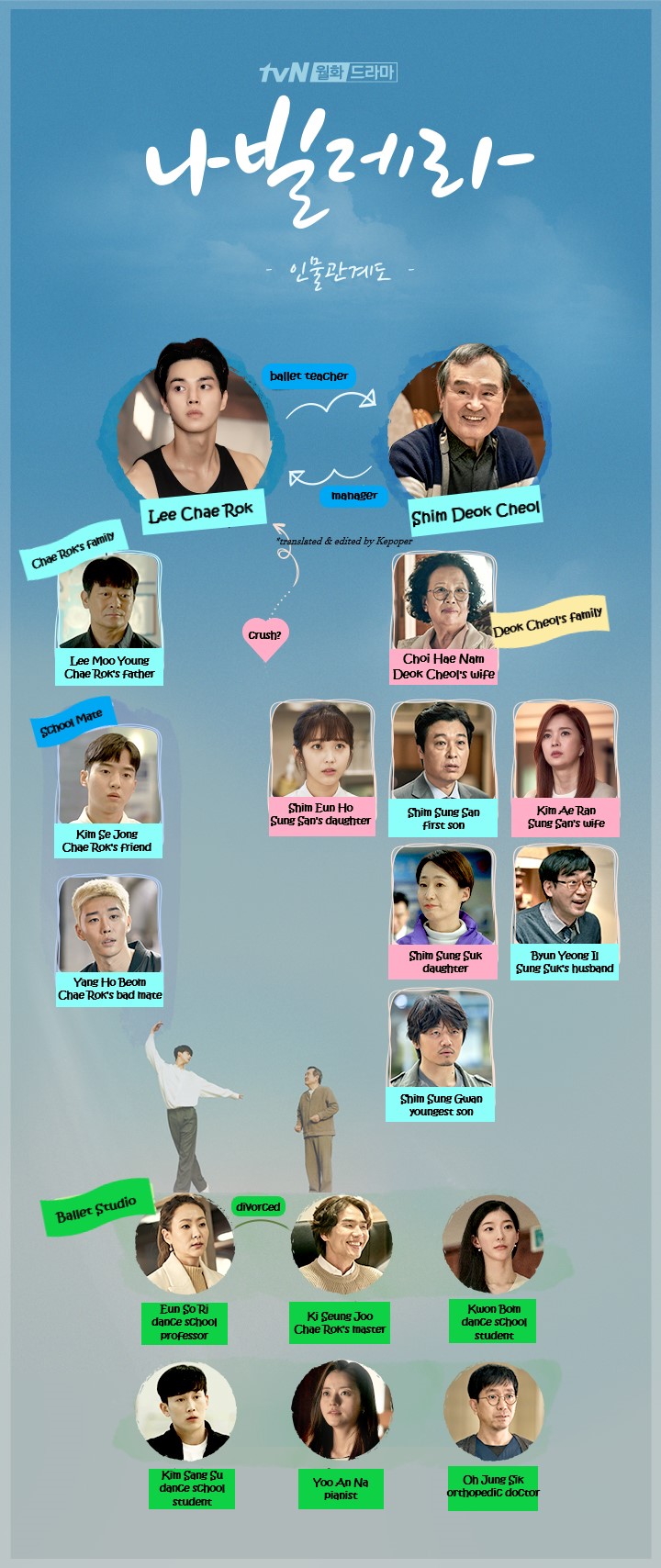 Lee Chae Rok and Shim Deok Cheol are the centers of Navillera drama characters. Lee Chae Rok is a young man who is passionate in ballet. However, he is hopeless with his dream due to financially struggling. His father, Lee Moo Young, was a football coach but ended up imprisoned. Meanwhile, Shim Deok Cheol is 70 year old man who has strong willingness to pursue his long-life dream as a ballerino. On the other side, he receives some objections from his family. His wife, Choi Hae Nam, and his grandchild, Shim Eun Ho, hesitate about his passion due to his age and condition. One day, Lee Chae Rok and Shim Deok Cheol meet at ballet course. Their encounter slowly changes their life. Later, they practice ballet together and make a bond for upcoming ballet competition.
Original Soundtrack
"My Day" by Taemin
"Butterfly" by Kim Guk Hun (B.O.B)
"아름다운 말" by Sohyang
"Heal You" by Ha Hyun Sang
Teaser & Trailer Videos
Awards & Nominations
N/A
Navillera Drama Trivia