General Information
International Title: Thirty, Nine
Original Title: 서른, 아홉 (romanization: Seoreun, Ahob)
Genre: Drama, Friendship, Romance
Episode: 12
Airing Date: 2022.02.16 ~ 2022.03.24
Airing Slot: Wednesday & Thursday 22:30 KST
Broadcasting Channel: JTBC
International Distributor: Netflix, TVING
Starring: Son Ye Jin, Jeon Mi Do, Kim Ji Hyun
Director: Kim Sang Ho
Writer: Yoo Young Ah
Highest Rating: TBA
Awards: N/A
Synopsis
Thirty, Nine KDrama follows the friendship of three women who are going to turn 40 years old. Cha Mi Jo is a successful career woman running her own dermatology clinic in Gangnam. She is a warm person and comes from wealthy family background. Meanwhile, Jung Chan Young is an acting coach who actually dreams to be an actress. Although she looks firm, she is a sincere personality. Jang Joo Hee is a cosmetics manager at department store. Her personality is relatively timid. So, she is not that good in a romantic relationship.
Main Cast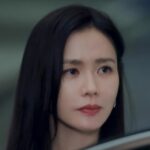 Character name: Cha Mi Jo
Actress name: Son Ye Jin
Son Ye Jin's notable works: The Negotiation, The Last Princess, The Pirates, My Wife Got Married, Crash Landing on You, Something in the Rain, Personal Taste, etc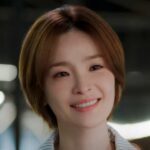 Character name: Jung Chan Young
Actress name: Jeon Mi Do
Jeon Mi Do's notable works: Metamorphosis, Hospital Playlist 2, Hospital Playlist, Mother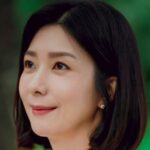 Character name: Jang Joo Hee
Actress name: Kim Ji Hyun
Kim Ji Hyun's notable works: Artificial City, Hometown Cha-Cha-Cha, Backstreet Rookie, Nokdu Flower, The Roots of Throne, etc
Extended Cast
Yeon Woo Jin as Kim Seon Woo
Lee Moo Saeng as Kim Jin Seok
Lee Tae Hwan as Park Hyun Joon
Ahn So Hee as Kim So Won
Seo Ji Young as Cha Mi Jo's mother
Seo Hyun Chul as Jung Chan Young's father
Song Min Ji as Kang Seon Joo
Oh Se Young as Hye Jin
Park Jung Eon as cake shop owner
Character Relationship Chart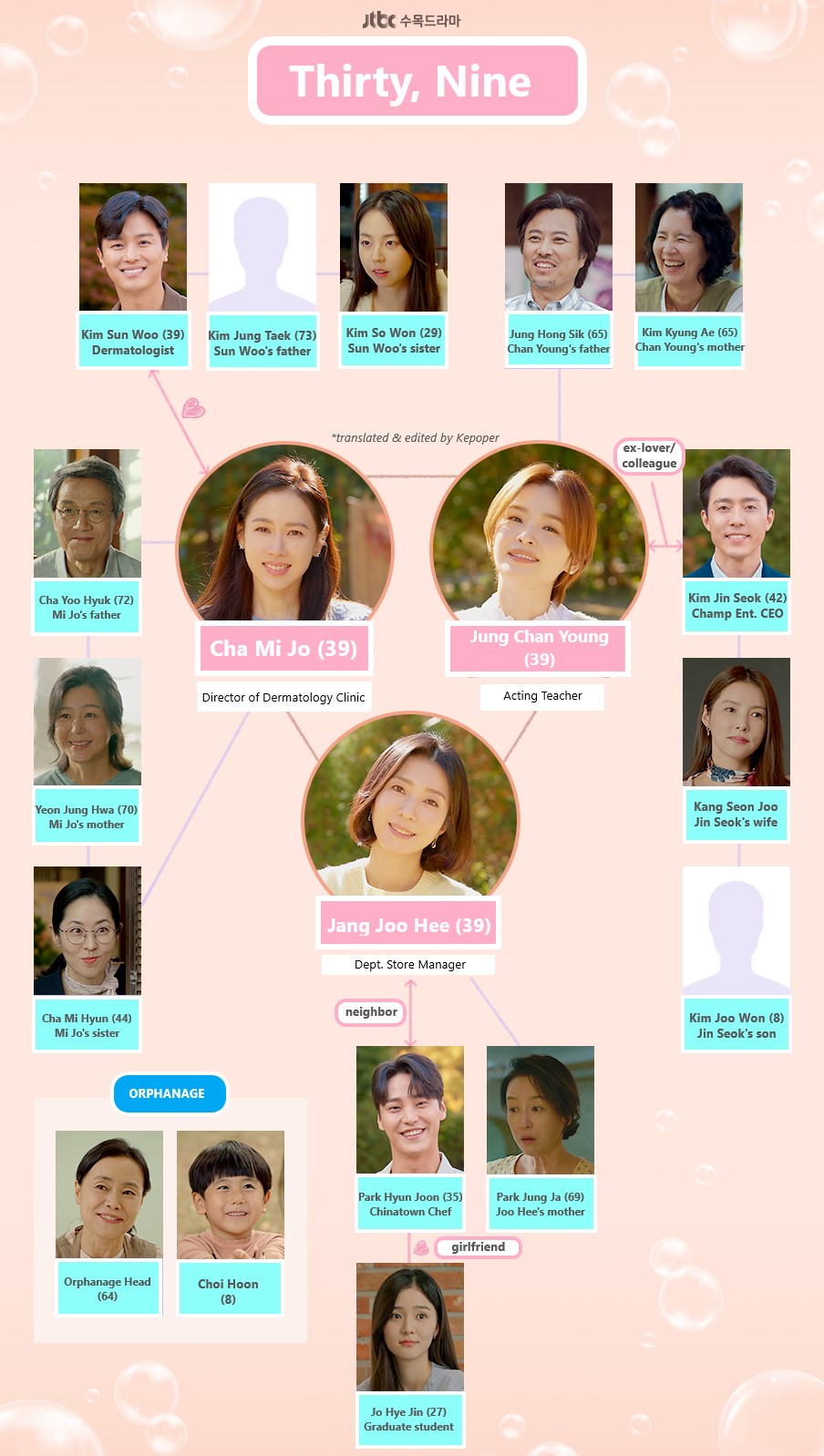 The main characters focus on three best friends: Mi Jo, Chan Young, and Joo Hee. Mi Jo develops her feelings with Sun Woo, a dermatologist. Chan Young has a crush on Seok Jin, her current colleague. However, Seok Jin is already married to Seon Joo. Meanwhile, Joo Hee is still struggling with romantic relationship. She likely has a special relationship with Hyun Joon, Chinatown restaurant chef who lives in the same neighborhood. However, he has a girlfriend, Hye Jin, a graduate student at college.
Original Soundtrack
"Still Here" by Kang Ahsol
Teaser & Trailer Videos
Awards & Nominations
N/A
Trivia
Thirty, Nine KDrama filming begins in August 2021
The script is written by notable scriptwriter, Yoo Young Ah. Her notable projects are Kim Ji-Young: Born 1982, On Your Wedding Day, My Annoying Brother, Encounter, and so on
Thirty, Nine KDrama becomes Son Ye Jin's comeback project after phenomenal drama Crash Landing on You in 2020