General Information
International Title: Now, We Are Breaking Up
Original Title: 지금, 헤어지는 중입니다 (romanization: Jigeum heojineun jung imnida)
Genre: Romance
No. of Episode: 16
Airing Date: 2021.11.12 ~ 2022.01.07
Airing Slot: Friday – Saturday at 22:00
Broadcasting Channel: SBS
International Distributor: VIU
Starring: Song Hye Kyo, Jang Ki Yong, Choi Hee Seo
Director: Lee Gil Bok
Screenwriter: Jein
Highest Rating: TBA
Awards: TBA
Synopsis
'Now, We're Breaking Up' tells the bittersweet reality of people who are breaking up.
Ha Yong Eun (Song Hye Kyo) works as a designer in a fashion company, she is intelligent, beautiful, and always puts herself first. On the other hand, Yoon Jae Kook (Jang Ki Yong) is a handsome and smart fashion photographer. The two are
It wants to convey the message that breaking up might not be an end, it can be the completion of our love and life.
Cast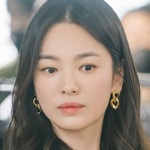 Character: Ha Young Eun
Portrayed by: Song Hye Kyo
Song Hye Kyo's notable works: Autumn in My Heart (2000), All In (2003), Full House (2004), Descendant of the Sun (2016)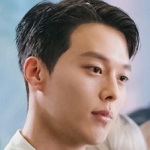 Character: Yoon Jae Kook
Portrayed by: Jang Ki Yong
Jang Ki Yong's notable works: Go Back Couple (2017), My Mister (2018), Search WWW (2019), My Roommate is a Gumiho (2021)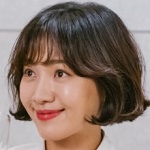 Character: Hwang Chi Sook
Portrayed by: Choi Hee Seo
Choi Hee Seo's notable works: Anarchist from Colony (2017), Mistress (2018), Deliver Us from Evil (2020)
Extended Cast
Kim Joo Hun as Seok Do Hoon
Nam Gi Ae as Kang Jung Ja (Young Eun's mother)
Choi Hong Il as Ha Taek Soo (Young Eun's father)
Cha Hwa Yeon as Min Hye Ok (Jae Kook's mother)
Shin Dong Wook as Jae Kook's brother
Joo Jin Mo as CEO Hwang (Chi Sook and Cho Hyung's father)
EXO's Sehun as Hwang Chi Hyung (The One new employee, CEO Hwang's son)
Jang Hyuk Jin as Go Kwang Soo (The One head department)
Song Yoo Hyun as Oh In Ah (Second brand's design team leader at The One)
Lee Joo Myung as Nam Na Ri (Employee at The One, Young Eun's loyal junior)
Ha Young as Jung So Young (The One top brand design team youngest employee)
Kim Bo Jung as Nam Na Ri (The One design team chief manager)
Moon Joo Yeon as Ahn Sun Joo (The One top brand designer)
Choi Hyo Eun as Lee Sung Min (The One second brand's design assistant manager)
Yoon Jung Hee as Shin Yoo Jung (Yoomyung Department Store executive director, heiress, and Jae Kook's friend)
Park Hyo Joo as Jeon Mi Sook (Young Eun and Chi Sook's schoolmate, housewife, and Soo Ho's wife)
Yoon Na Moo as Kwak Soo Ho (Mi Sook's husband, Vision PR senior manager)
Ki Eun Se as Seo Min Kyung (Careerwoman, Vision PR marketing assistant manager)
Yura as Hyerin (Celeb who has tons of SNS followers)
Park Bo Kyung as Choi Ji Yeon (Young Eun's former co-worker at The One, now CEO of a company)
Cameo & Special Appearance
TBA
Character Relationship Chart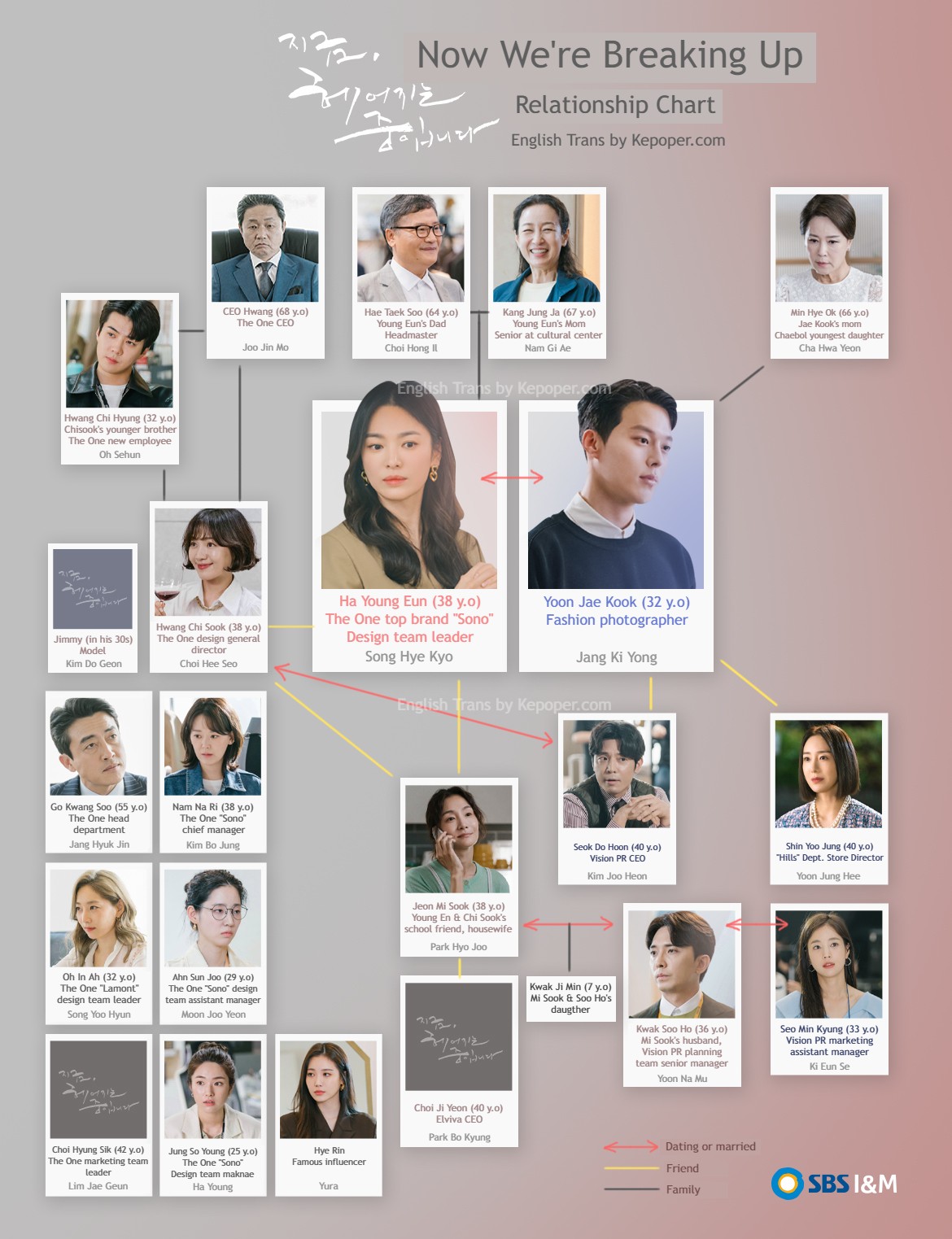 Ha Young Eun is in a relationship with 6-year younger Yoon Jae Kook. Ha Young Eun is working in the fashion company The One owned by CEO Hwang. Ha Young Eun is a school friend of CEO Hwang's daughter Hwang Chi Sook. The two are also friends with Jeon Mi Sook whose husband work at Vision PR. On the other hand, Yoon Jae Kook is friends with Vision PR's CEO Seok Do Hoon and Hills Department Store's director Shin Yoo Jung.
Original Soundtrack
TBA
Trailer Videos
Awards & Nominations
N/A
Trivia
'Now, We're Breaking Up' is set to replace 'One the Woman'.
The drama is co-produced by UAA (United Artists Agency), which is also Song Hye Kyo's agency.
This is Song Hye Kyo's comeback drama after 2 years and 10 months.
Jang Ki Yong joined the military on August 23rd, 2021, after wrapping up his filming. The overall filming was finished on September 12th, 2021.