General Information
International Title: Nevertheless
Original Title: 알고있지만 (romanization: Algoitjiman)
Genre: Drama, Romance
No. of Episode: 10
Airing Date: 2021.06.19 ~ 2021.08.21
Airing Slot: Saturday 23:00 KST
Broadcasting Channel: JTBC
International Distributor: Netflix
Director: Kim Garam
Screenwriter: Jung Won and Jung Seo (web-comic)
Highest Rating: 2.207% (Nationwide)
Awards: N/A
Nevertheless Korean Drama Synopsis
Nevertheless is a Korean drama about complicated romance between two university arts students: Park Jaeeon and Yoo Nabi. Yoo Nabi is heartbroken woman and skeptical about love. Meanwhile, Jaeeon is a flirtatious man who doesn't expect a commitment in relationship. Unexpectedly, both develop their feelings after make a relationship.
Main Cast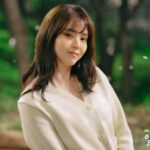 Character name: Yoo Nabi
Actress name: Han Sohee
Han Sohee's notable works: The World of the Married, Abyss, 100 Days My Prince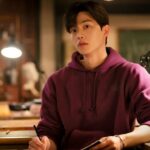 Character name: Park Jaeeon
Actor name: Song Kang
Song Kang's notable works: Navillera, Love Alarm Season 2, Love Alarm, Sweet Home, When the Devil Calls Your Name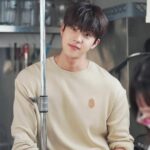 Character name: Yang Dohyeok
Actor name: Chae Jonghyeop
Chae Jonghyeop's notable works: The Witch's Diner, Sisyphus: The Myth, Hot Stove League, Come and Hug Me
Extended Cast
Lee Yeoreum as Yoon Seola
Yang Hyeji as Oh Bitna
Lee Hojung as Yoonsol
Yoon Seoa as Seo Jiwan
Jeong Jaekwang as An Gyeongjun
Han Euddeum as Minyoung
Seo Jaehee as professor
Seo Hyewon as Jang Seyoung
Lee Taehee as Seongyun
Kim Mujun as Yu Sehun
Seo Bumjune as Hwang Jinsu
Yoo Jihyun as Yunji
Lee Jeongha as Kim Eunhan
Son Boseung as Minsang
Lee Hyewon as Yang Doyeon
Cameo & Special Appearance
Jin Soohyun as Nabi's mom (Ep. 4)
Yoon Sabong as Nabi's aunt (Ep. 4,6)
Seo Jungyeon as Jaeeon's mom (Ep. 6)
Yoon Boojin as Gyeongjun;s mom (Ep. 7)
Choi Sungjae as Nabi's ex boyfriend
Go Wonhee as girl at bar (Ep. 6)
Character Relationship Chart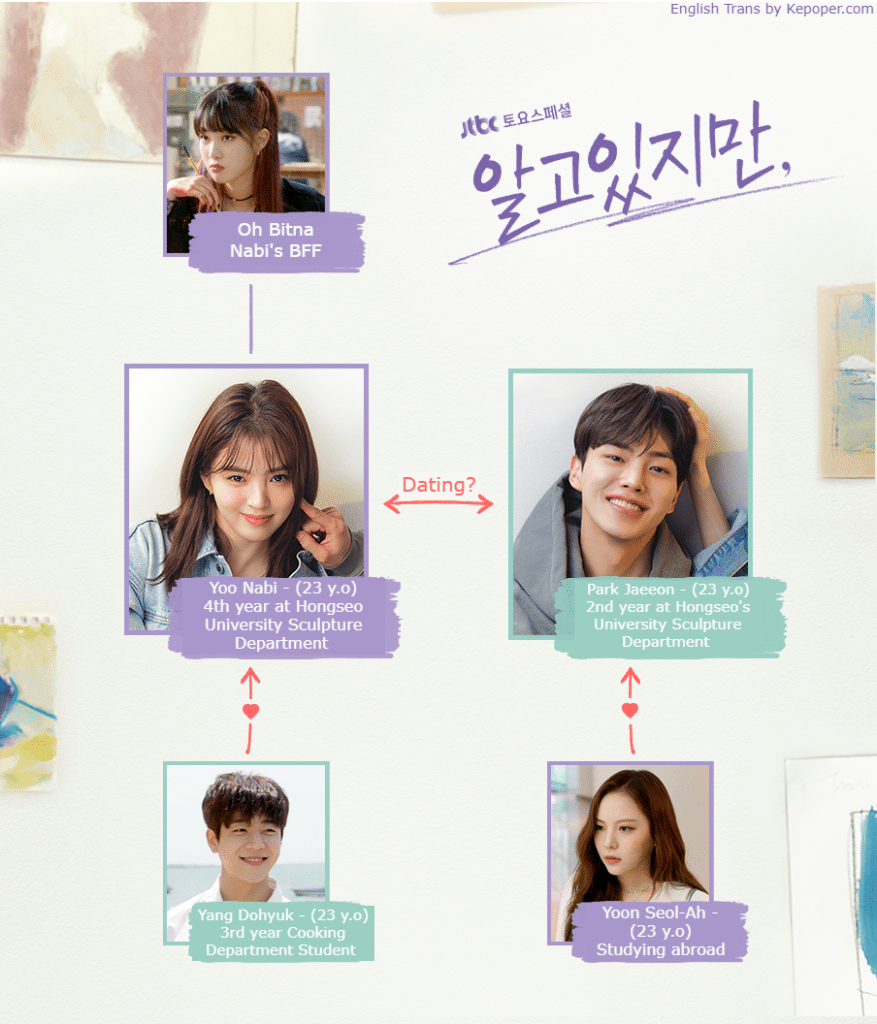 Although coming from the different background, actually Nabi and Jaeeon are in mutual relationship. Dohyeok has crush on Nabi. In other words, Nabi is Dohyeok's first love but it seems an unrequited love. Meanwhile, Seola is Jaeeon's ex girlfriend but she keeps closer to him. Seola has one-sided feeling toward Jaeeon.
Original Soundtrack
"We're Already" by Kimmuseum
"Nevertheless" by Night Off
"Whisper" by Park Jiwoo
"Butterfly" by J.Una
"Heavy Heart" by Rio
"Love Me Like That" by Sam Kim
"Fall in Love" (나도 모르는 사이에) by Jukjae
"So Tender by" Say Sue Me
Nevertheless Korean Drama Trailer Videos
Trailer https://www.youtube.com/watch?v=xJCTxUuu3js
Highlight https://www.youtube.com/watch?v=UyX7MRJ7yfI
Awards & Nominations
N/A
Nevertheless Korean Drama Trivia
Nevertheless is webcomic adaptation Korean drama with the same title 알고있지만 (Algoitjiman)
Jungseo originally writes the web-comic version
Song Kang is selected for Park Jaeeon character through "fan casting"
Similar to Yoo Nabi, Han Sohee also studied arts before she moved to Seoul
Several episodes are rated 19+
JTBC states that this drama is excessively sweet and dangerously sexy
Han Sohee says that she is a fan of Nevertheless web-comic and really wants to cast for Yoo Nabi
Nevertheless becomes Song Kang's third Korean drama in 2021 after Love Alarm 2 and Navillera