General Information
International Title: The World of the Married
Original Title: 부부의 세계 (romanization: Bubuui Segye)
Genre: Melodrama, Romance
Episode: 16
Airing Date: 2020.03.27 ~ 2020.05.16
Airing Slot: Friday & Saturday 22:50 KST
Broadcasting Channel: JTBC
International Distributor: Netflix, BBC Studios, iQIYI
Starring: Kim Hee Ae, Park Hae Joon, Han So Hee
Director: Mo Wan Il
Writer: Joo Hyun
Highest Rating: 28.371% (Nationwide)
Awards: 56th Baeksang Arts Awards for Best Director (Mo Wan Il) and Best Actress (Kim Hee Ae)
Synopsis
The World of the Married portrays about infidelity in marriage. Ji Sun Woo is a family medicine doctor and married to Lee Tae Oh, a movie director. Apparently, their family depicts the perfect happy and wealthy family. However, things change when Ji Sun Woo finds Lee Tae Oh has an affair with Yeo Da Kyung, a pilates instructor. Yeo Da Kyung is daughter of Yeo Byeong Kyu and Uhm Hyo Jung, successful businessmen with wealthy family background.
Main Cast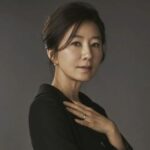 Character name: Ji Sun Woo
Actress name: Kim Hee Ae
Kim Hee Ae's notable works: Second To Last Love, Mrs. Cop, How Long I've Kissed, Midas, Snow Flower, Precious Family, Love and Marriage, etc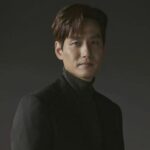 Character name: Lee Tae Oh
Actor name: Park Hae Joon
Park Hae Joon's notable works: Hwayi: A Monster Boy (movie), Arthdal Chronicles, My Mister, Misaeng: Incomplete Life, Doctor Stranger, etc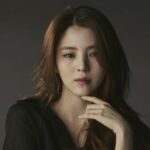 Character name: Yeo Da Kyung
Actress name: Han So Hee
Han So Hee's notable works: My Name, Nevertheless, Abyss, 100 Days My Prince, Money Flower, etc
Extended Cast
Kim Young Min as Son Je Hyuk
Park Sun Young as Ko Ye Rim
Jeon Jin Seo as Lee Joon Young
Lee Kyoung Young as Yeo Byeong Kyu
Kim Sun Kyung as Uhm Hyo Jung
Cha Guk Hee as Sul Myung Suk
Park Chung Sun as Ma Gang Seok
Jung Jae Sung as Gong Ji Cheol
Lee Moo Saeng as Kim Yoon Ki
Lee Hak Joo as Park In Kyu
Jo Ah Ra as Jang Mi Yun
Choi Beom Ho as Chairman Cho
Park Mi Hyun as Gong Ji Cheol's wife
Kim Tae Hyang as Cha Do Cheol
Yoon In Jo as Cha Do Cheol's wife
Song Hoon as Sang Hyun
Kim Ha Neul as Nurse Ahn
Yoon Dan Bi as Joo Hwa Ni
Seo Yi Suk as Chairman Cho's wife
Shim Eun Woo as Min Hyun Seo
Kim Jong Tae as Ha Dong Sik
Shin Soo Yeon as Yoon No Eul
Jung Joon Won as Cha Hae Kang
Lee Joon Ha as Sun Woo Wan
Lee Dong Ha as Lee Min Ki
Kwon Hyuk as attorney
Kim Joon Hee as doctor
Cameo & Special Appearances
Seol Yu Jin as nurse (ep. 1,3)
Kwon Hong Suk as banker (ep. 3)
Jang Ha Eun as young Ji Sun Woo (ep. 5,14)
Eom Ji Man as police officer (ep. 6)
Seo Min Sunhg as Kang Jung Moon (ep. 7)
Oh So Hyun as Zoe (ep. 8,9)
Yoo Yong as Woo Ho Sang (ep. 10, 14)
Carson Allen as English teacher (ep. 10)
Jeong Yoon Hee as jeweler (ep. 10)
Kim Nak Gyun as detective (ep. 11,12)
Lee Hwi Seo as Park Hye Jin (ep. 13,14)
Bae Eun Woo as woman with Son Je Hyuk (ep. 16)
Yoon Sun Woo as man in library (ep. 16)
Lee Sae Byul as neighbor (ep. 16)
Character Relationship Chart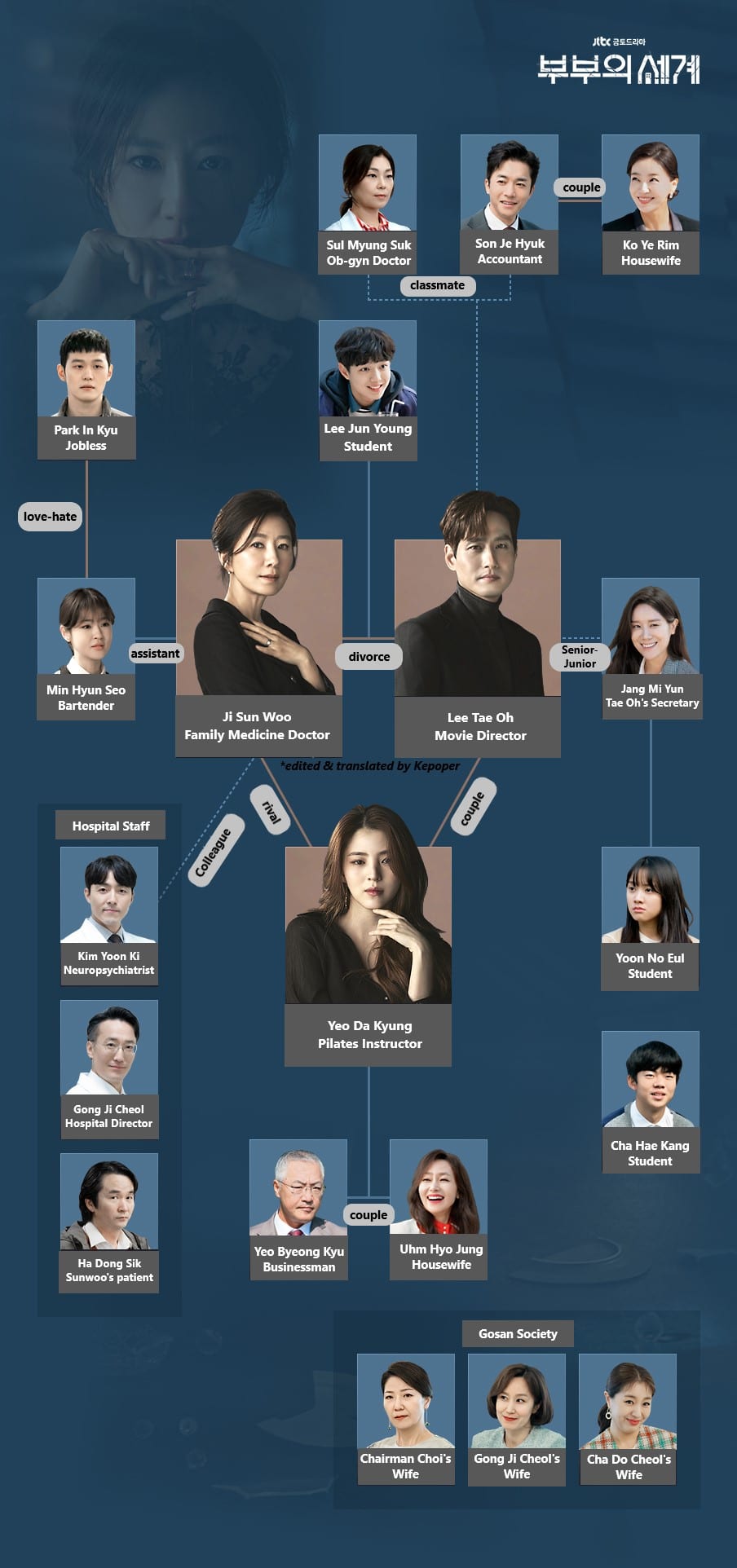 The World of the Married focuses on the adult affair among three main characters: Ji Sun Woo, Lee Tae Oh, and Yeo Da Kyung. Ji Sun Woo and Lee Tae Oh are married couple. Ji Sun Woo is family medicine doctor. Lee Tae Oh is an ambitious movie director and runs an entertainment business under his wife support. They have a son named Lee Joon Young. They look like a model of perfect family. However, Ji Sun Woo finds an affair between Lee Tae Oh and Yeo Da Kyung.
Original Soundtrack
"Lonely Sailing" by Kim Yoonah (Jaurim)
"Nothing On You" by Josh Daniel
"Sad" by Son Seungyeon
"Just Leave Me" by Ha Dongkyun
"Farewell In Tears" by Huh Gak
"The Days We Loved" by Baek Jiyoung
Teaser & Trailer Videos
Awards & Nominations
5th Asia Artist Awards: Rookie of the Year in Television/Film (Han So Hee) – 2020
7th APAN Star Awards: Best Actor in a Mini Series (Park Hae Joon) – 2020
7th APAN Star Awards: Best Supporting Actor (Kim Young Min) – 2020
2nd Asia Contents Awards: Best Creative (Mo Wan Il) – 2020
2nd Asia Contents Awards: Best Actress (Kim Hee Ae) – 2020
56th Baeksang Arts Awards: Best Director (Mo Wan Il) – June 5, 2020
56th Baeksang Arts Awards: Best Actress (Kim Hee Ae) – June 5, 2020
Trivia
The World of the Married takes over JTBC's drama Itaewon Class time slot on Friday and Saturday
It is a remake of BBC's television series Doctor Foster aired from 2015
This drama is directed by Mo Wan Il who previously directed popular dramas such as Misty (2018), Beautiful Mind (2016), Dream High 2 (2012), and so on
The script is written by Joo Hyun who previously wrote the script for drama Revolutionary Love (2017) and My Horrible Boss (2016)
Park Hae Joon and Kim Young Min reunites after drama My Mister (2018) and movie
Hwayi: A Monster Boy (2013)
This drama receives criticism for violent scene in 8th episode and commercialization of sex