General Information
International Title: River Where the Moon Rises
Original Title: 달이 뜨는 강 (romanization: Dalyi Ddeuneun Gang)
Genre: Historical, Drama, Romance
Airing Date: 2021.02.15 ~ 2021.04.20
Airing Slot: Monday & Tuesday 21:30 KST
Broadcasting Channel: KBS2
International Distributor: KBS, Viu
Starring: Kim So Hyun, Na In Woo
Director: Yun Sang Ho
Writer: Han Ji Hoon
Highest Rating: 10.0% (Nationwide)
Awards: 48th Korea Broadcasting Awards for Best TV Drama and Best Actress (Kim So Hyun)
Synopsis
River Where the Moon Rises is historical Korean drama retelling the love story between Princess Pyeong Gang and On Dal. Pyeong Gang was actually a princess but she was raised as Yeom Ga Jin. Yeom Ga Jin is an ambitious young woman who dreams being the first Queen of Goguryeo. Later, she meets an ordinary and pure man, On Dal. However, she tends to use On Dal's feeling to gain her dreams.
Main Cast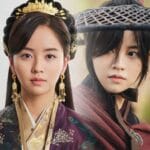 Character name: Pyeong Gang / Yeom Ga Jin
Actress name: Kim So Hyun
Kim So Hyun's notable works: Love Alarm Season 2, Love Alarm, The Tale of Nokdu, Radio Romance, Bring it on Ghost, Page Turner, School 2015, I Can Hear Your Voice, The Moon Embracing The Sun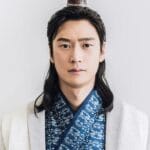 Character name: On Dal
Actor name: Na In Woo
Na In Woo's notable works: Mr. Queen, Mystic Pop-up Bar
Extended Cast
Lee Ji Hoon as General Go Geon
Choi Yu Hwa as Hae Mo Yong
Kim Pub Lae as King Pyeongwon
Cha Kwang Soo as Jin Pil
Kim Jung Young as Lady Gongson
Kim So Hyun as Queen Yeon
Son Woo Hyuk as Head Eunuch
Ahn Shin Woo as Kim Pyeong Ji
Wang Bit Na as Queen Jin
Ki Eun Se as Royal Consort Hyeon
Park Sang Hoon as young Prince Go Won
Kwon Hwa Woon as King Yeongyang
Hwang Young Hee as Lady Sa
Jung Wool as Sa Woon Am
Kim Dong Young as Sa Pung Gae
Oh Ah Rin as Wol Yi
Yoon Ah Jeong as Hong Mae
Lee Sang Chan as Seok Gu
Won Woo as Pil Gu
Lee Hae Young as Go Won Pyo
Yoon Joo Man as Go Sang Cheol
Jung In Gyeom as Hae Ji Wol
Jasper Cho as Wol Gwang
Han Jae Young as Du Jung Seo
Ryu Ui Hyun as Tarasan
Kim Hee Jung as Tarajin
Moon Jin Seung as Ma Tae Mo
Jung Eun Pyo as Yeon Deuk
Kim Bum Suk as Kim Cha Seung
Kim Seung Soo as Silla Jinheung
Jung Dong Geun as Il Yeong
Cameo & Special Appearances
Kang Ha Neul as General On Hyeop
Character Relationship Chart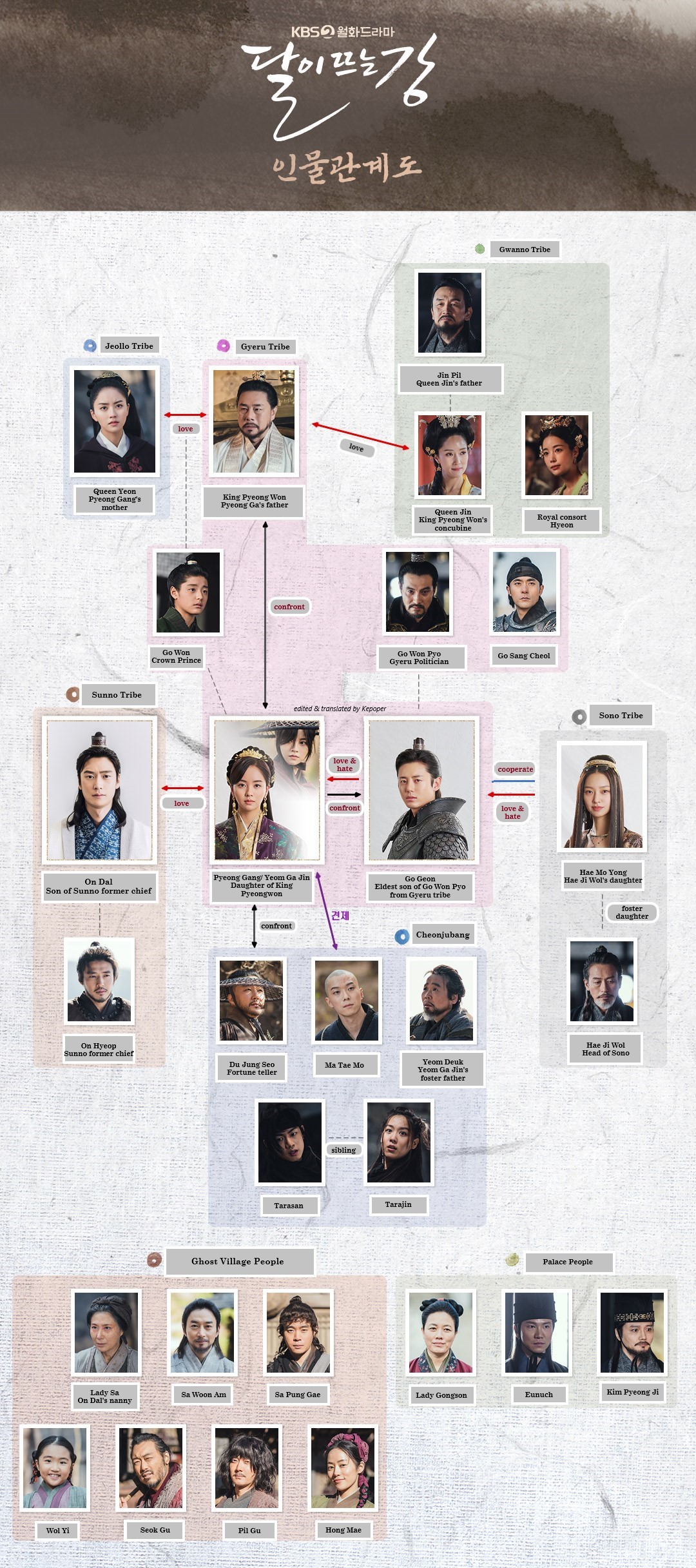 Princess Pyeong Gang/ Yeom Ga Jin and On Dal are the centers of River Where the Moon Rises character. Pyeong Gang was actually born as a princess but she was raised as Yeom Ga Jin. She is meant to kill the sinners around Goguryeo. She is ambitious to be the first Queen of Goguryeo. Later she meets On Dal. On Dal is pure ordinary man. He loves Pyeong Gang. Then, Pyeong Gang tends to use On Dal in order to achieve her mission. However, both end up falling in love each other.
Meanwhile, Go Geon is a general from Gyeru Tribe and son of Go Won Pyo, Gyeru's elite politician. He has love and hate feeling toward Pyeong Gang. He is typically a perfect man and eager to make Pyeong Gang his. Hae Mo Yong is an ambitious woman who wants to take control of Goguryeo. She actually falls for Go Geon but it seems an unrequited love.
Original Soundtrack
"Becomes Someone's (누군가의 무엇이 되어)" by Zia
"Tears of The Moon (달의 눈물)" by Kang Tae Kwan
"Against The Wind (바람이 불어와도)" by Ahn Ye Eun
"This Is My Way (이게 내길)" by Na Yoon Kwon
"You Are My Destiny (내게 주어진 운명)" by Lily lily
"When I Close My Eyes (눈을 감고 있으면)" by Bonggu
Trailer Videos
Trailer https://www.youtube.com/watch?v=_DJGm8g8Cr4
Awards & Nominations
48th Korea Broadcasting Awards – 2021
Trivia
River Where the Moon Rises takes over Royal Secret Agent time slot on Monday and Tuesday
The story is based on Korean folktale "Tale of On Dal" in historical record "Samguk Sagi" compiled by Kim Bu Sik
Jisoo was the first lead actor filming from episode 1 to 6