General Information
International Title: Jinxed at First (English title) / Jinx's Lover (literal title)
Original Title: 징크스의 연인 (romanization: Jinxui Yeonin)
Genre: Mystery, Comedy, Romance, Fantasy
No. of Episode: 16
Airing Date: 2022.06.15 ~ 2022.08.04
Airing Slot: Wednesday, Thursday
Broadcasting Channel: KBS2, Viki
International Distributor:
Starring: Seo Hyun, Na In Woo
Director: Yun Sang Ho
Screenwriter: Han Ji Hye (webcomic), Goo Seul (webcomic), Jang Yoon Mi
Highest Rating: TBA
Awards: N/A
Synopsis
In this world, there is something we call it 'fate'. It is when no matter how hard you try, you can't help it. Everyone wishes fortune to come to them. Just like Gong Soo Gwang (Na In Woo), fish seller at a traditional market, who does his best to make an honest living. He has a reputation for being incredibly unlucky and as a result, people try to avoid him at all costs.
At first, Soo Gwang had a perfectly normal, happy life but all that changed when he met Lee Seul Bi. After Gong Soo Gwang met Lee Seul Bi, his life totally changed. Since that day, whenever he dreams of Lee Seul Bi, something bad happens to him. As a result, his business often suffers. No one willing to approach him.
However Soo Gwang still has no idea why this woman has had such a strange effect on his fortune. In other hand, Lee Seul Bi fully understand that she has a special ability. Whenever she touches someone, she can see that person's near future. Having inherited a special ability from her mother, who also has the same ability. Using this gift to their advantage, a wealthy family has kept Seul Bi and her mother captive for years. When fate allows Seul Bi a rare opportunity to escape, she takes it and runs straight to Soo Gwang.
For the first time in 7 years, Gong Soo Gwang meets Lee Seul Bi again. Standing face-to-face with the woman who started his streak of bad luck all those years ago, Soo Gwang isn't sure whether he should help Seul Bi or run from her.
Cast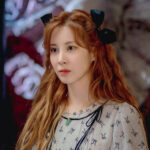 Character: Lee Seul Bi
Portrayed by: Seo Hyun
Seo Hyun's notable works: Bandit: The Sound of the Knife (Netflix / 2022), Private Lives (JTBC / 2020), The Time (MBC / 2018), Bad Thief, Good Thief (MBC / 2017), Weightlifting Fairy Kim Bok Joo (MBC / 2016-2017)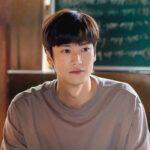 Character: Gong Soo Kwang / Go Myung Sung
Portrayed by: Na In Woo
Na In Woo's notable works: Cleaning Up (JTBC / 2022), Her Bucket List (TVING / 2021), At a Distance, Spring is Green (KBS2 / 2021), River Where The Moon Rises (KBS2 / 2021), Mr. Queen (tvN / 2020-2021)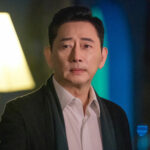 Character: Seon Sam Joong
Portrayed by: Jeon Kwang Ryul
Jeon Kwang Ryul 's notable works: King Maker: The Change of Destiny (TV Chosun / 2020), Witch at Court (KBS2 / 2017), You Are Too Much (MBC / 2017), The Flower in Prison (MBC / 2016), The Royal Gambler (SBS / 2016)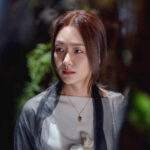 Character: Mi Soo
Portrayed by: Yoon Ji Hye
Yoon Ji Hye's notable works: Move To Heaven (Netflix / 2021), Navillera (tvN / 2021),  Different Dreams (MBC / 2019), The Wind Blows (JTBC / 2019)
Extended Cast
Ki Do Hoon as Seon Min Joon [Sam Joong's son]
Cha Kwang Soo as Seon Il Joong [Sam Joong's brother]
Choi Jung Woo as Seon Dong Shik [Min Joon's cousin]
Jung Wook as Secretary Cha [Sam Joong's assistant]
Woo Hyun as Park Sung Deok
Hong Seok Cheon as Hong Seok Ki
Hwang Young Hee as Bang Hyun Sook
Kim Hyun Bin as Oh Eun Soo [Hyun Sook's son]
Jang Yoon Seo as Jang Yeong Woo [19 yo]
Hwang Seok Jung as Yoon Yi Young [Smile Fisheries' owner]
Kim Jeong Tae as Kang Ho Jae [Yi Young's husband]
Kim Dong Young as Wang Yoon Ho [Loan shark]
Park Sang Won as Pi Dae Shik [Yoon Ho 's subordinate]
Kang Hak Soo as Jang Kyung Cheol
Lee Hoon as Jung Hyun Tae
Yoo Ha Bok as Mr. Go [Myung Sung's father]
Lee Ho Jung as Jo Jang Kyung [Min Joon's fiancée]
Cho Han Gyeol as Jo Jang Geun [Jang Kyung's brother]
Jo Ji Hyun as Ms Kim [Sam Joong's housekeeper]
Yoon Yoo Sun as [Soo Kwang's mother]
Yun Seo Jeong as [Young Woo's mother]
Lee Sun Jung as Oh Eun Jung [Hyun Sook's daughter]
Shin Hee Gook as Officer Kim [Police]
Kim Bum Suk as Chief Park [Police]
Lee Sang Chan as [Geoseong Group CEO]
Song Min Jae as Wang Hyun Soo
Tak Ho Jin as Mr. Yeom
Cameo & Special Appearance
Kim Nan Hee as Teacher Min [Ep. 1]
Jang Sun Yool as Gong Soo Kwang [Young] (Ep. 1)
Jung In Kyum as Seon Joo Cheol [Sam Joong's father] (Ep. 1)
Lee Ji Hoon as [Soldier] (Ep. 1)
Kim Hee Jung as [Soldier's prophet] (Ep. 1)
Yoo Joon A as [School nutritionist] (Ep. 1)
Choi Yoo Hwa as [Emperor's prophet] (Ep. 1)
Ahn Soo Bin as [Secretary to CEO]
Song Chang Gyu as [Jeweler] (Ep. 6)
Hong Joo Hyung as [Busan gangster] (Ep. 5)
Sung Byung Sook as [Young Woo's grandma] (Ep. 5)
Jang Joon Ho as [Seonghwa Hosp. director] (Ep. 4-5)
Choi Yoon Bin as [Gangster] (Ep. 2-3)
Lee Gyu Sub as [Gangster] (Ep. 2-3)
Park Noh Shik as [Taxi driver] (Ep. 2)
Ok Joo Ri as [Mackerel buyer] (Ep. 2)
Kim Yoon Joo as [Fortune teller] (Ep, 6)
Character Relationship Chart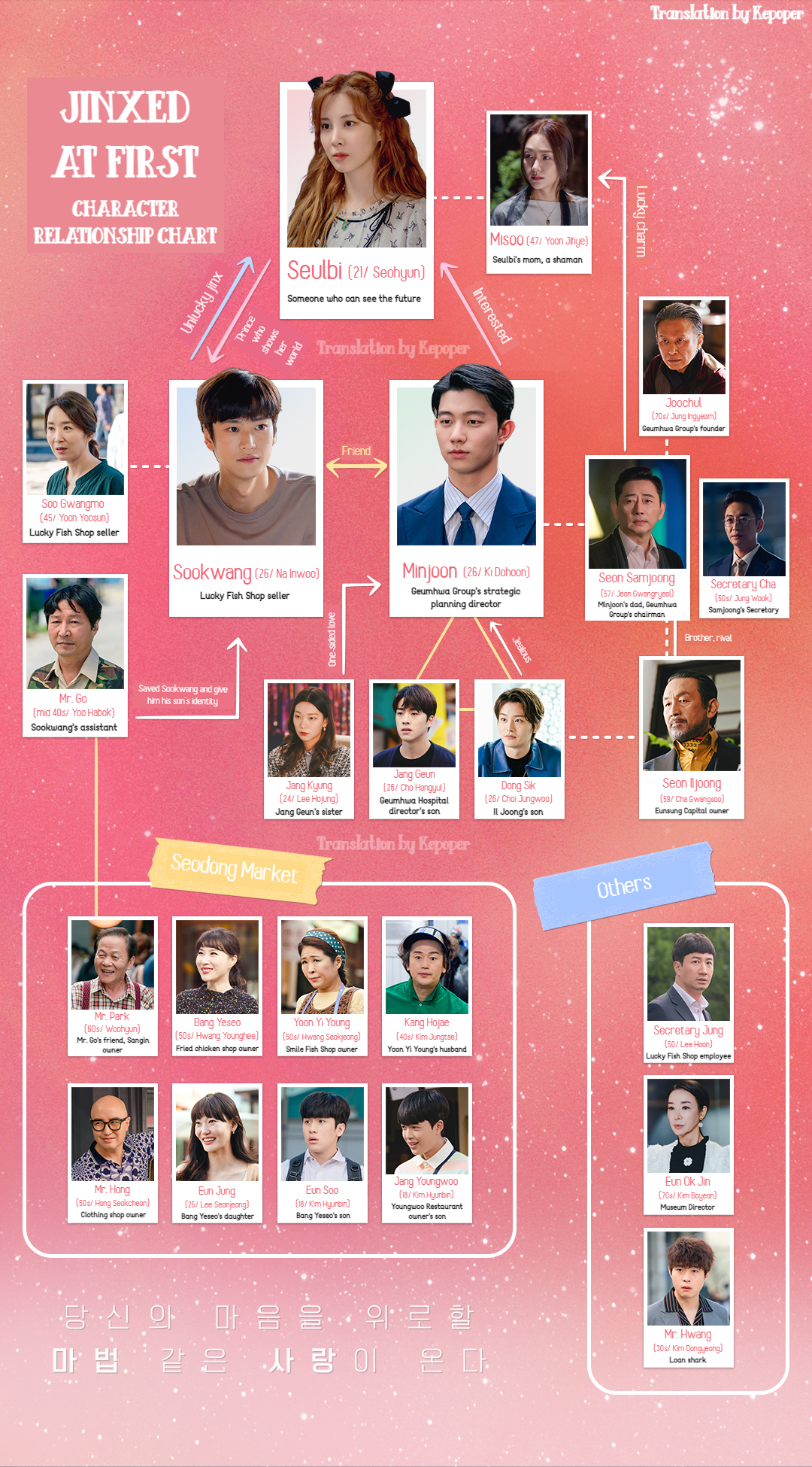 Original Soundtrack
'The Memory of Wind' (기억을 실어 온 바람) by XIA (Junsu)
'Milky Way' by SEOHYUN (서현)
'A Sorrowful Memory' (애수) by Ha Dong Yeon (하동연)
Trailer Videos
Awards & Nominations
N/A
Trivia
Actor Na In Woo and Director Yun Sang Ho previously worked together in 2021 KBS2 drama series "River Where The Moon Rises."
Based on webcomic "Jinxui Yeonin" written by Han Ji Hye & illustrated by Goo Seul (published from December 27, 2016 to January 28, 2020 via Kakao).
"The Jinx's Lover" takes over KBS2's Wednesday, Thursday 21:50 time slot previously occupied by "Love All Play."