General Information
International Title: It's Beautiful Now
Original Title: 현재는 아름다워 (romanization: hyeonjaeneun areumdawo)
Genre: Family, Romance, Comedy
No. of Episode: 50
Airing Date: 2022.04.02 ~ 2022.09.18
Airing Slot: Saturday – Sunday, 20:00
Broadcasting Channel: KBS2
International Distributor: TBA
Starring: Yoon Shi Yoon, Bae Da Bin, Oh Min Suk, Shin Dong Mi, Choi Ye Bin, Park In Hwan
Director: Kim Seong Geun
Screenwriter: Ha Myeong Hee
Highest Rating: TBA
Awards: TBA
Synopsis
Lee Kyung Chul (Park In Hwan) has three grandsons from his son Lee Min Ho (Park Sang Won) and Han Kyung Ae (Kim Hye Ok). The grandsons are dentist Oh Min Seok (Lee Yoon Jae), family law attorney Lee Hyun Jae (Yoon Shi Yoon), and the youngest Lee Soo Jae (Seo Bum June).
The three are too focused on their work that they don't consider getting married. Lee Kyung Chul and his son are concerned that none of his grandsons is interested in marriage. They decided to gift an apartment to one of the grandsons who can marry within 6 months.
The second brother Lee Hyun Jae starts developing romantic feelings for one of his clients Hyun Mi Rae (Bae Da Bin) who wanted to nullify her previous marriage. Lee Yoon Jae⁠—the first brother⁠—meets Shim Hae Joon (Shin Dong Mi), who is Hyun Jae's colleague in the law firm. While the youngest Lee Soo Jae falls in love with an aspired baker, Na Yoo Na (Choi Ye Bin). Which one of them will get married first?
It's Beautiful Now Cast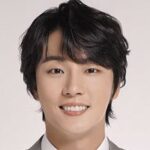 Character: Lee Hyun Jae
Portrayed by: Yoon Shi Yoon
Yoon Shi Yoon's notable works: High Kick Through the Roof (MBC/ 2009), Baker King, Kim Tak Gu (KBS2/ 2010), Your Honor (SBS/ 2018), etc.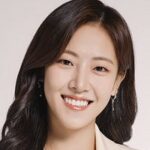 Character: Hyun Mi Rae
Portrayed by: Bae Da Bin
Bae Da Bin's notable works: My ID is Gangnam Beauty (jtbc/ 2018), Arthdal Chronicles (tvN/ 2019), Do You Like Brahms? (SBS/ 2020), Love Alarm Season 2 (Netflix/ 2021)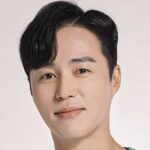 Character: Lee Yoon Jae
Portrayed by: Oh Min Suk
Oh Min Suk's notable works: God's Gift – 14 Days (SBS/ 2014), Kill Me, Heal Me (MBC/ 2015), Cheat On Me If You Can (KBS2/ 2020), etc.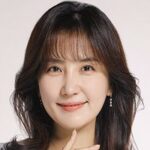 Character: Shim Hae Joon
Portrayed by: Shin Dong Mi
Shin Dong Mi's notable works: Avengers Social Club (tvN/ 2017), Live or Die (KBS2/ 2019), Hi Bye Mama (tvN/ 2020), Record of Youth (tvN/ 2020), etc.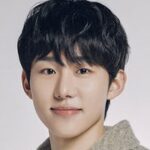 Character: Lee Soo Jae
Portrayed by: Seo Bum June
Seo Bum June's notable works: Nevertheless (jtbc/ 2021), Rookie Cops (Disney+/ 2022).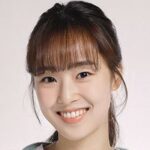 Character: Na Yoo Na
Portrayed by: Choi Ye Bin
Choi Ye Bin's notable works: Penthouse Season 1~3 (SBS/ 2020~2021).
Extended Cast
Park In Hwan as Lee Kyeong Cheol
Ji Seung Hyun as young Lee Kyeong Cheol
Park Sang Won as Lee Min Ho
Kim Hye Ok as Han Kyeong Ae
Sunwoo Yong nyeo as Lee Kyung Soon
Jung Heung Chae as Choi Man Ri
Kim Ye Ryeong as Yoo Hye Yeong
Cha Yeop as Choi Seong Soo
Hyun Jyu Ni as Lee So Ra
Kim Hyo kyung as Choi Ha Neul
Im Ye Jin as Choi Ba Da
Kim So Min as Choi Hae
Ban Hyo Mung as Yoon Jung Ja
Byun Woo Min as Hyun Jin heon
Park Ji Young as Jin Su Jeong
Kim Kang Min as Hyun Jeong hoo
Hong Yo Seob as Na Seok Man
Song Ok Sook as Sok Sook Suk
Lee Joo Shil as Jung Mi Young
Cameo & Special Appearance
Bae Woo Hee as So Young Eun
Lee Hyun Jin as Park Jun Hyung
Woo Hyun as Judiciary
Kim Ji Min
Character Relationship Chart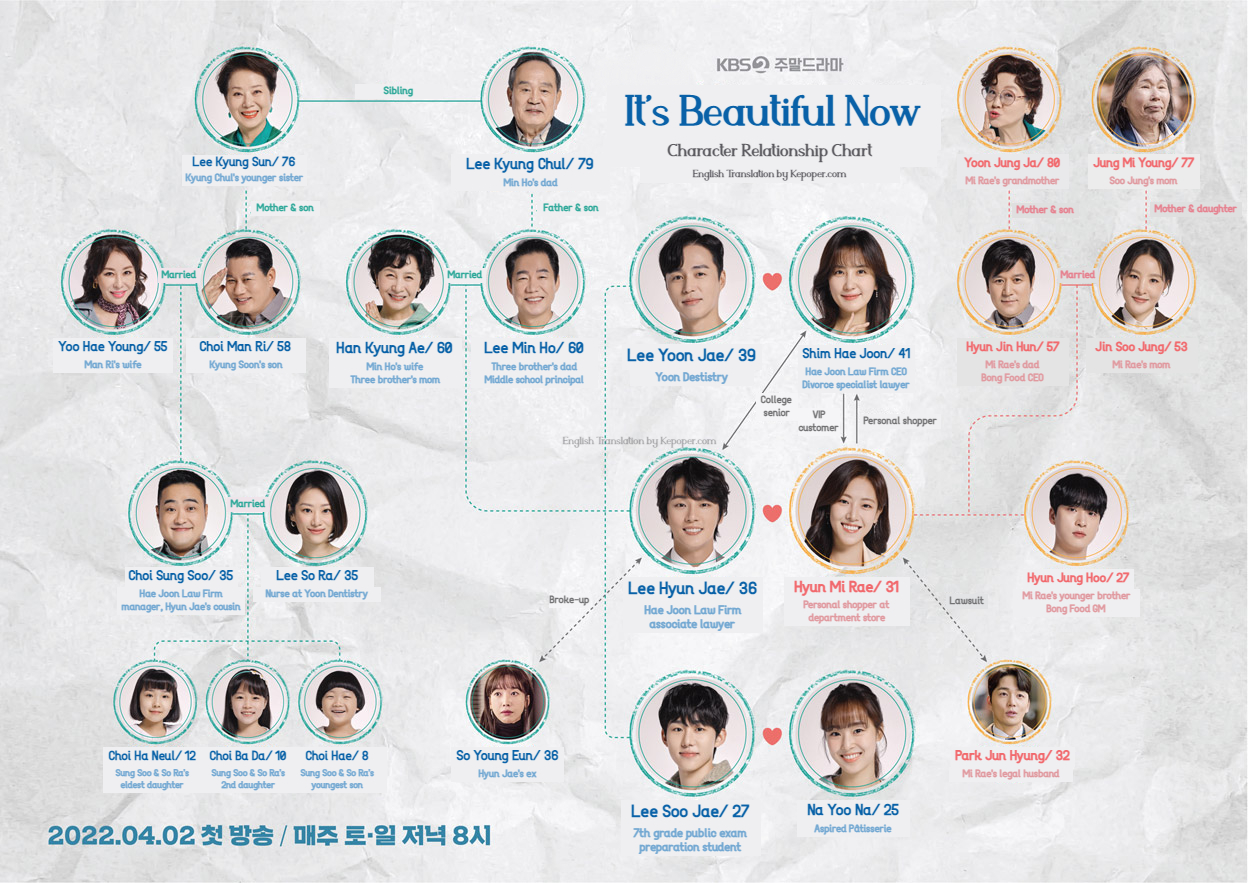 Original Soundtrack
TBA
Trailer Videos
Awards & Nominations
TBA
Trivia
The drama was originally scheduled to air in March, but due to the Olympic broadcast, it has been pushed back to the April premiere.
Unlike many weekend dramas, 'It's Beautiful Now' is written by famous mini-series writer Ha Myung Hee. This also marks Ha Myung Hee's first ever weekend drama.