General Information
International Title: Vincenzo
Original Title: 빈센조 (romanization: Binsenjo)
Genre: Dark Comedy, Crime, Law, Drama
No. of Episode: 20
Airing Date: 2021.02.20 ~ 2021.05.02
Airing Slot: Saturday – Sunday 21:00 KST
Broadcasting Channel: tvN
International Distributor: Netflix
Starring: Song Joongki, Jeon Yeobin, Ok Taecyeon
Director: Kim Heewon
Screenwriter: Park Jaebum
Highest Rating: 14.636% (Nationwide)
Awards: N/A
Synopsis
Vincenzo Cassano is a Korean-born lawyer who works as consigliere for Italian mafia. Due to war between Italian mafia groups, he gets back to Korea. Besides, he has the secret mission in Geumga Plaza. Later he gets involved with lawyer Hong Chayoung to fight the notorious criminals from Babel Group. They have to deal with the psycho president of Babel Group: Jang Jun Woo aka Jang Han Seok.
Main Cast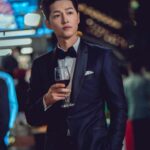 Character name: Vincenzo Cassano
Actor name: Song Joongki
Song Joongki's notable works: Space Sweepers, The Battleship Island, A Werewolf Boy, Penny Pinchers, A Frozen Flower, Arthdal Chronicles, Descendants of the Sun, The Innocent Man, Tree With Deep Roots, Sungkyunkwan Scandal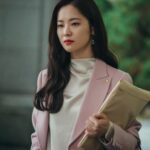 Character name: Hong Chayoung
Actress name: Jeon Yeobin
Jeon Yeobin's notable works: Night in Paradise, Secret Zoo, Be Melodramatic, Live, Save Me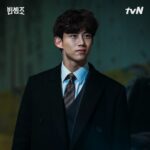 Character name: Jang Jun Woo / Jang Han Seok
Actor name: Ok Taecyeon
Ok Taecyeon's notable works: Secret Royal Inspector & Joy, Save Me, Bring it on Ghost, Assembly, Who Are You, Dream High, Cinderella's Stepsister
Extended Cast
Kim Yeojin as Choi Myunghee
Jo Hanchul as Han Seunghyeok
Kwak Dongyeon as Jang Hanseo
Yoo Jaemyung as Hong Yuchan
Yoon Byunghee as Nam Joosung
Choi Youngjoon as Cho Yeongun
Yang Kyungwon as Lee Cheolwook
Seo Yehwa as Jang Yeonjin
Choi Dukmoon as Tak Hongsik
Kim Yoonhye as Seo Miri
Lee Hangna as Kwak Heesoo
Kang Chaemin as Kim Youngho
Kwon Seungwoo as Monk Chaeshin
Ri Woojin as Monk Jeokha
Kim Hyungmook as Chef Toto
Kim Seoljin as Larry Kang
Lim Chulsoo as Agent An Giseok
Kwon Taewon as Tae Jonggu
Kim Youngwoong as Park Seokdo
Lee Dal as Jeon Soonam
Jung Jiyoon as Ms. Yang
Lee Doguk as Hwang Gyu
Kim Taehon as Pyo Hyeokpil
Yoon Bokin as Oh Gyeongja
Kim Siwoo as Vincenzo (child)
Seo Jinwon as Hwang Jintae
Hwang Taekwang as Seo Ungho
Ko Sangho as Jung Inguk
Hong Seojun as Gil Jongmoon
Cameo & Special Appearances
Ahn Changhwan as Gilbert
Kim Sungcheol as Hwang Minseong (Ep. 8, 20)
Jeon Gukhyang as Seo Yeongsun (Ep. 8, 20)
Lee Hyejung as Jung Dohee (Ep. 14-15)
Lee Hyejung as Park Seungjun (Ep. 17)
Yu Taewoong as Kim Seoku
Jin Sunkyu as Chauffeur Kim Jongman (Ep. 1)
Lee Heejun as criminal (Ep. 1)
Jung Youngjoo as attorney (Ep. 5)
2PM's Nichkhun as actor on TV (Ep. 12)
2PM's Chansung as actor on TV (Ep. 12)
Character Relationship Chart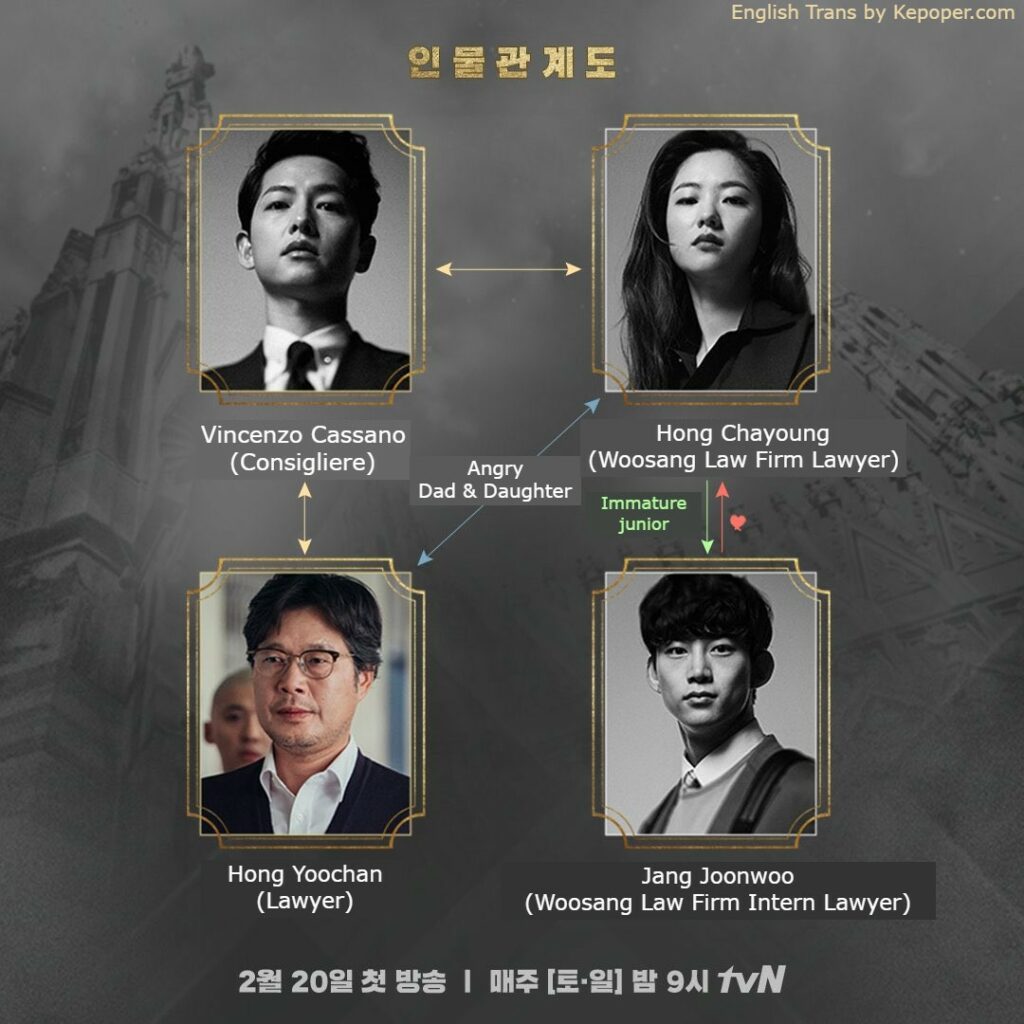 Vincenzo Cassano and Hong Yuchan (Jipuragi Law Firm) are in mutual relation as lawyer. Meanwhile, Hong Chayoung formerly worked at Wusang Jipuragi Law Firm with Jang Junwoo (later known as Jang Hanseok, Babel Group president). After Hong Yuchan's death, Hong Chayoung moves to Jipuragi and works together as a team with Vincenzo to fight Jang Hanseok and Babel Group. Vincenzo Cassano and Hong Chayoung are in mutual relationship while Jang Hanseok has unrequited feeling with Hong Chayoung.
Original Soundtrack
"Adrenaline" by Mamamoo's Solar
"Adrenaline" (Italian version) by Aalia
"Lacrimosa" by La Poem
"Is This Love" by Aalia
"I'm Always by Your Side" by John Park
Trailer Videos
Trailer https://www.youtube.com/watch?v=S12-4mXCNj4
Teaser https://www.youtube.com/watch?v=h_hPD4DO-9I
Awards & Nominations
N/A
Trivia
Song Joongki learns Italian to get the Italian accent
Vincenzo is reunion project for Jeon Yeobin and Ok Taecyeon after "Save Me" drama
Partial scenes in Italy are created with CGI due to covid-19 pandemic
This is the second drama of Kwak Dongyeon and Kim Yeojin after "My Strange Hero" drama
Vincenzo reunites Song Joongki and Kim Sungcheol (cameo Ep. 8, 20) after "Arthdal Chronicles" drama