General Information
International Title: Happy New Year aka A Year-End Medley
Original Title: 해피 뉴 이어 (romanization: Haepi nyu ieo)
Genre: Drama, Romance
Release Date: December 2021
Production House: TVING
International Distributor: TBA
Starring: Han Ji Min, Lee Dong Wook, Kang Ha Neul, Lim Yoona
Director: Kwak Jae Yong
Screenwriter: Yoo Seung Hee & Kwak Jae Yong
Awards: TBA
Synopsis
The story follows a group of people who met in a hotel called Emross during the new year's holiday. A hotel manager So Jin (Han Ji Min) finally confesses to his longtime friend of 15 years Yong Jin (Lee Dong Wook).
It also tells the stories of five times civil servant test repeater Jae Yong (Kang Ha Neul), a hotelier Soo Yeon (Lim Yoona), a musical actress that works at the hotel, and a radio PD Seung Hyo (Kim Young Kwang).
Cast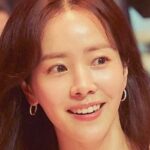 Character: So Jin
Portrayed by: Han Ji Min
Han Ji Min's notable works: Detective K: Secret of Virtuous Widow (2011), Rooftop Prince (2012) The Fatal Encounter (2014), The Age of Shadows (2016), Familiar Wife (2018), Dazzling (2018)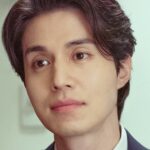 Character: Yong Jin
Portrayed by: Lee Dong Wook
Lee Dong Wook's notable works: My Girl (2005-2006), Scent of a Woman (2011), Goblin (2016-2017), Strangers from Hell (2019)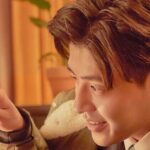 Character: Jae Yong
Portrayed by: Kang Ha Neul
Kang Ha Neul's notable works: The Heirs (2013), Twenty (2015), Misaeng (2014), Dongju (2016), Midnight Runners (2017), When the Camellia Blooms (2019)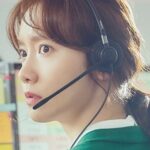 Character: Soo Yeon
Portrayed by: Lim Yoona
Lim Yoona's notable works: You Are My Destiny (2008-2009), The K2 (2016), Confidential Assignment (2017), Exit (2019)
Extended Cast
Won Jin Ah as Lee Young
Kim Young Kwang as Seunghyo
Ko Sung Hee as Youngjoo
Seo Kang Joon as Lee Kang
Lee Kwang Soo as Sang Hoon
Lee Jin Wook as Jin Ho
Lee Kyu Hyung as a historian
Jo Joon Young as a high school swimmer
Won Ji An as a figure skater
Lee Hye Young as Catherine
Jung Jin Young as Sang Gyu
Baek Eun Hye as Emros Hotel maid team leader
Cameo & Special Appearance
TBA
Character Relationship Chart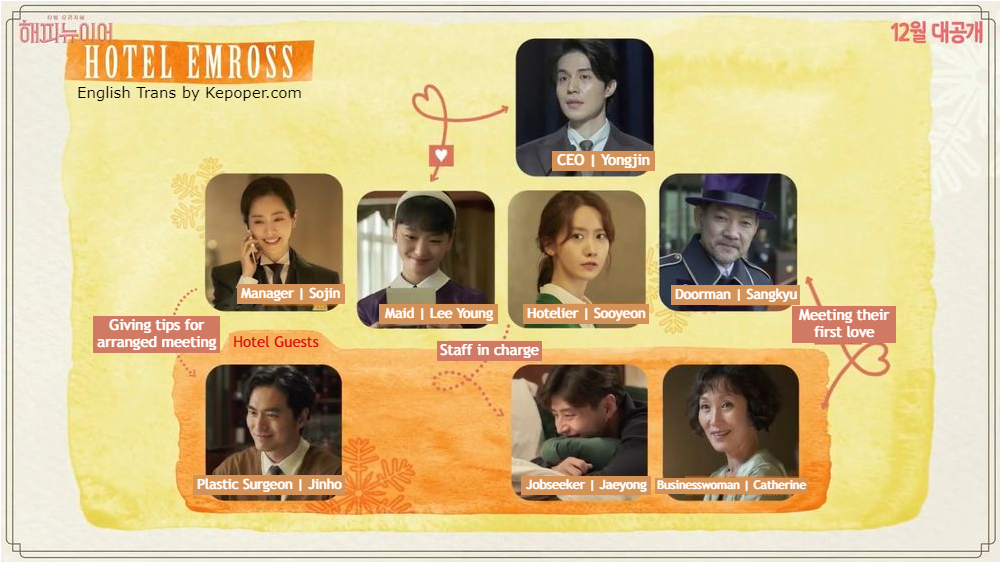 The story at the hotel revolves around Emross Hotel crew and their guests. Hotel Emross CEO Yong Jin (Lee Dong Wook) falls in love with the housekeeper team staff Lee Young (Won Jin Ah). So Jin (Han Ji Min), who is a manager at the hotel gives dating tips for Jin Ho (Lee Jin Wook), a plastic surgeon who comes to the hotel for arranged meetings every weekend. Jobseeker Jaeyong (Kang Ha Neul) stays at the hotel, during his stay he is assisted by hotelier Sooyeon (Yoona). On the other hand, fate brought doorman Sangkyu (Jung Jin Young) to meet his first love Catherine who is now a successful businesswoman living abroad.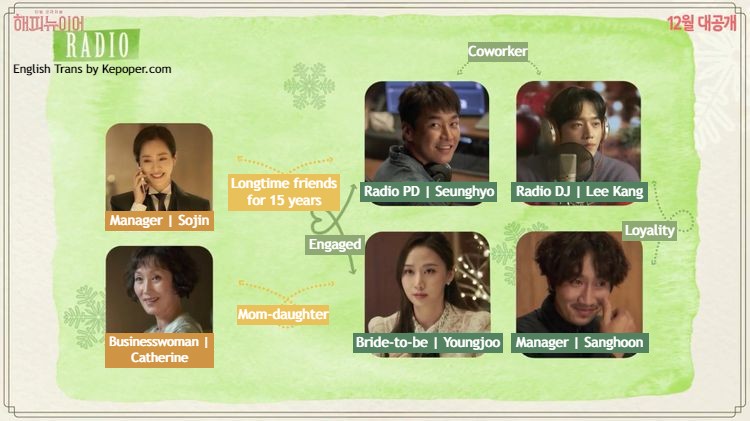 Sojin is about to make a confession to his longtime friend of 15 years Seung Hyo (Kim Young Kwang) who is now working as a radio PD. But he is engaged to Young Joo (Ko Sung Hee) and will marry soon. At the radio station, Seung Hyo works together with DJ Lee Kang (Seo Kang Joon) and his manager Sang Hoon (Lee Kwang Soo). Catherine (Lee Hye Young), a guest at Hotel Emross turns out to be the mother of Seung Hyo's fiance.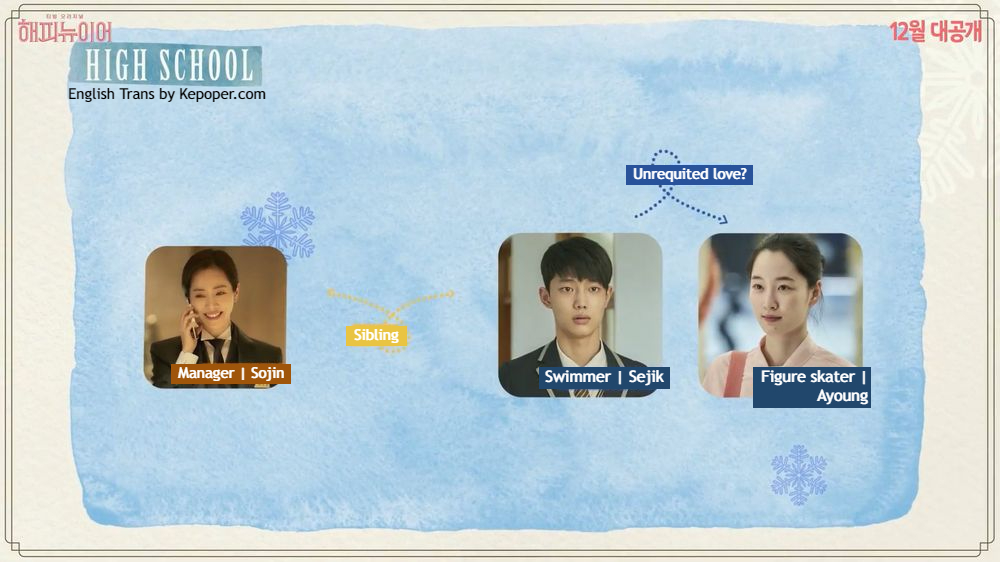 So Jin has a high schooler younger brother Se Jik who is a swimmer. He has a crush on A Young, a figure skater.
Original Soundtrack
TBA
Trailer Videos
Awards & Nominations
TBA
Trivia
'Happy New Year' airs simultaneously on local streaming platform TVING as well as cinemas.
It was filmed from April 19, 201, to July 22, 2021.
The movie held its press conference on December 1st, 2021.