General Information
International Title: Hyena
Original Title: 하이에나 (romanization: Haiena)
Genre: Legal, Drama
Episode: 16
Airing Date: 2020.02.21 ~ 2020.04.11
Airing Slot: Friday & Saturday 22:00 KST
Broadcasting Channel: SBS
International Distributor: Netflix
Starring: Kim Hye Soo, Ju Ji Hoon
Director: Jang Tae Yoo
Writer: Kim Roo Ri
Highest Rating: 14.6% (Nationwide)
Awards: 2020 SBS Drama Awards for Best Actor (Ju Ji Hoon)
Synopsis
Hyena Kdrama portrays the attorneys working for the top 1% of Korean society or chaebol. Jung Geum Ja is a swagger attorney running her own law firm "Chung Law Firm". Just like hyena, she is ambitious for money and sometimes breaks the law ethics, including "using" Yoon Hee Jae. Meanwhile, Yoon Hee Jae is a partner attorney working at elite law corporate "Song&Kim". However, he is trapped in Jung Geum Ja's trick which leads him to romantic feeling. Later, Song&Kim hires Jung Geum Ja as partner attorney and put them in a team to investigate VIP clients legal instances.
Main Cast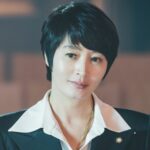 Character name: Jung Geum Ja
Actress name: Kim Hye Soo
Kim Hye Soo's notable works: Coin Locker Girl (movie), The Face Reader (movie), Tazza: The High Rollers (movie), Juvenile Judgement, Signal, The Queen of Office, Style, etc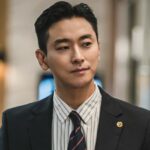 Character name: Yoon Hee Jae
Actor name: Ju Ji Hoon
Ju Ji Hoon's notable works: Along With the Gods: The Last 49 Days (movie), Along With the Gods: The Two Worlds (movie), Kingdom: Crown Prince, Jirisan, Kingdom Season 2, Kingdom, Mask, Princess Hours, etc
Extended Cast
Lee Kyoung Young as Song Pil Jung
Kim Ho Jung as Kim Min Joo
Jun Suk Ho as Ga Gi Hyeok
Hyun Bong Sik as Kim Chang Wook
Park Se Jin as Boo Hyeon Ah
Jeong Ji Hwan as Na Yi Joon
Oh Gyeong Hwa as Lee Ji Eun
Hong Ki Joon as Park Joo Ho
Song Young Kyu as Ma Seok Gu
Kim Jae Chul as Kevin Jung
Hwang Bo Ra as Shim Yoo Mi
Lee Ki Chan as Kwon Yong Woon
Jung Dong Geun as Chu Don Sik
Ji Hyun Joon as Ha Chan Ho
Lee Joo Yeon as Seo Jung Hwa
Lee Do Kyung as Chairman Ha
Kim Young Ah as Ha Hye Won
Park Soo Young as Jo Woo Seok
Kim Han Su as Ha Joon Ho
Seo Ji Young as Mrs. Lim
Park Bo In as Kim Sang Mi
Kim Jong Goo as Son Bong Woo
Lee Hwang Eui as Yoon Choong Yeon
Kim Young Jae as Yoon Hyeok Jae
Bae Ki Bum as Jung Chun Su
Cameo & Special Appearances
Choi Won Young as Gong Hyeon Guk
Lee Soo Geun as celebrity (ep. 3)
Kim Ji An as Jung Geum Ja (young)
Lim Ga Young as Jung Geum Ja (teen)
No Yi Han as Park Joo Ho (teen)
Han Joon Woo as Kim Yeong Jun (ep. 6-7)
Park Sun Woo as Park Hyeok Gwon (ep. 6-7)
Character Relationship Chart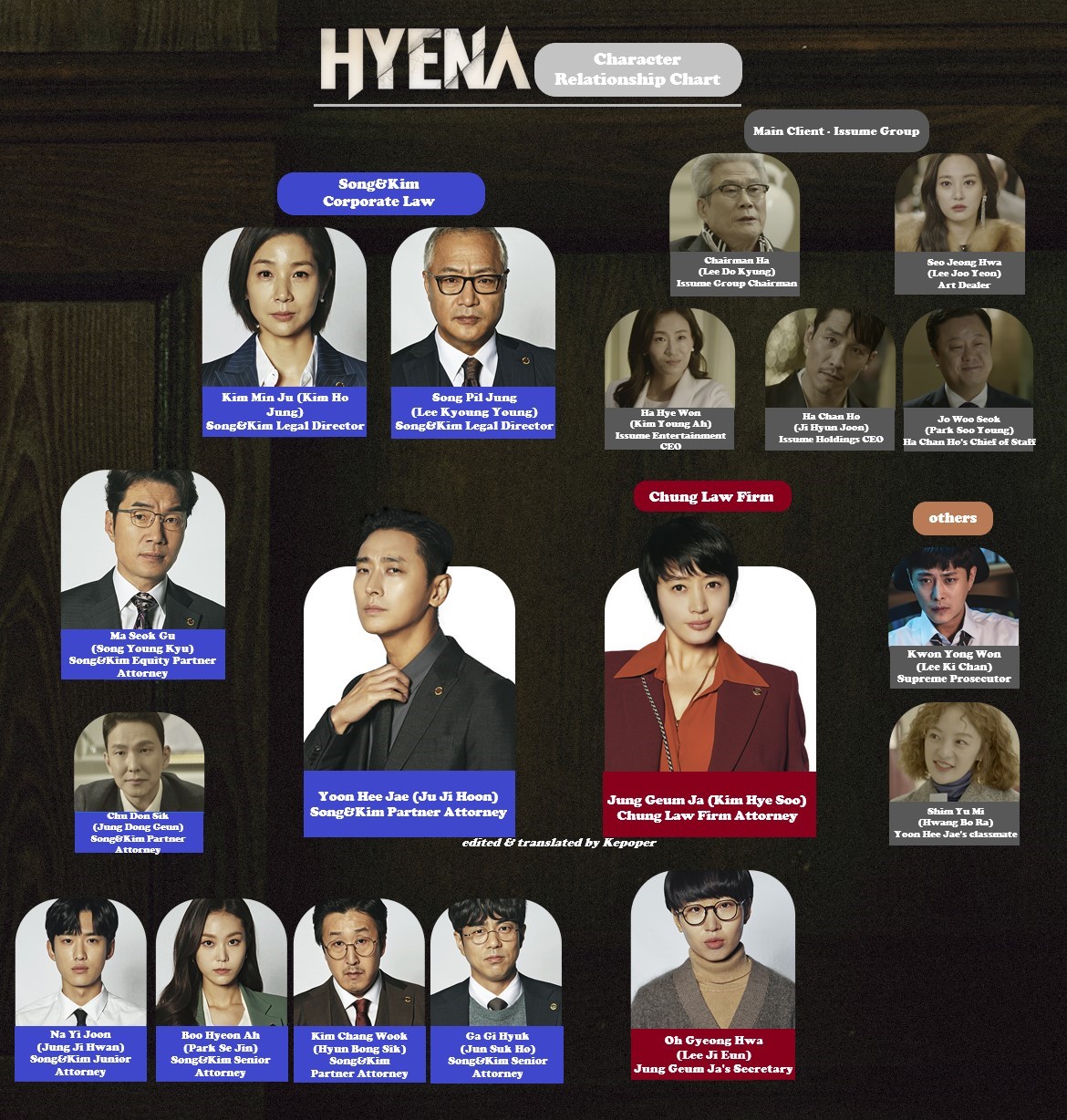 Jung Geum Ja is an attorney who runs Chung Law Firm. In order to win the case and chase the clients, she could be lawless and do illegal way. Meanwhile, Yoon Hee Jae works as partner attorney at elite law corporate, Song&Kim. Song&Kim hires Jung Geum Ja as partner attorney considering her track record in handling legal instances. Prior to it, she and Yoon Hee Jae are in "fabricated" romantic relationship which is actually Jung Geum Ja's hidden motive. Later, both are appointed to work as a team to handle elite clients along with other junior, senior, and partner attorneys at Song&Kim.
Original Soundtrack
"HYENA" by Yeo Eun (Melody Day)
"On This Path to You" by Byun Baek Hyun
"Dear, Dear, My Dear" by Ben
"Hyena" by Giriboy
"FREAK" by Lee Bo Ram
"I Am You" by Jung Seung Hwan
"Far away" by Shin Ji Hoon
"Today Like Yesterday" by Hyo Jung (Oh My Girl)
"Always Be Around" by DK
"If We Can't See Each Other From Tomorrow On" by Han Seung Woo (VICTON)
Teaser & Trailer Videos
Awards & Nominations
2020 SBS Drama Awards: Best Actor (Ju Ji Hoon) – December 31, 2020
2nd Asia Contents Awards: Excellence Award (Kim Hye Soo) – 2020
Trivia
Hyena Kdrama takes over SBS drama Hot Stove League time slot on Friday and Saturday
Lead female role was offered to Song Hye Kyo but she declined
This is Kim Hye Soo's comeback in drama after 4 years since drama Signal in 2016
Hyena Kdrama is directed by Jang Tae Yoo who previously directed popular Korean dramas such as My Love From the Star, Tree With Deep Roots, The Painter of Wind, and so on