General Information
International Title: The Law Cafe
Original Title: 법대로 사랑하라 (romanization: Beobdaero saranghara)
Genre: Romance, Legal
No. of Episode: 16
Airing Date: 2022.08.29 ~2022.10.18
Airing Slot: Monday – Tuesday
Broadcasting Channel: KBS2
International Distributor: TBA
Starring: Lee Seung Gi, Lee Se Young
Director: Lee Eun Jin
Screenwriter: Lim Eui Jeong, based on web novel 'Love by Law' by Noh Seung Ah
Highest Rating: TBA
Awards: TBA
Synopsis
The Law Cafe follows the story of Kim Jeong Ho (Lee Seung Gi) and Kim Yu Ri (Lee Se Young). Kim Jeong Ho was a successful prosecutor nicknamed 'Monster Genius'. After quitting his job as a prosecutor, Jeong Ho now runs a cafe in the building he owns, while the second floor is being used as a law firm.
On the other hand, Kim Yu Ri is a former beauty pageant winner. She has an eccentric personality. Kim Yu Ri now works as a lawyer in an office on the second story of Kim Jeong Ho's building. Romance sparks as they interact with each other.
Real Sword Battle Cast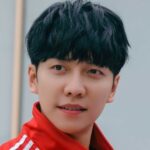 Character: Kim Jeong Ho
Portrayed by: Lee Seung Gi
Lee Seung Gi's notable works: Brilliant Legacy (SBS/ 2009), My Girlfriend Is a Gumiho (SBS/ 2010), The King 2 Hearts (MBC/ 2012), Gu Family Book (KBS2/ 2013), Vagabond (SBS/ 2019), Mouse (tvN/ 2021)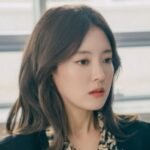 Character: Kim Yu Ri
Portrayed by: Lee Se Young
Lee Se Young's notable works: Daejanggeum (MBC/ 2003), The Gentlemen Of Wolgyesu Tailor Shop (KBS2/ 2016~2017), The Crowned Clown (tvN/ 2019), Doctor John (SBS/ 2020), Kairos (MBC/ 2020), The Red Sleeve (MBC/ 2021)
Extended Cast
Kim Seul Gi as Han Se Yeon (A long-time friend of Kim Jeong Ho and Kim Yu Ri and a police officer)
Oh Dong Min as Do Jin Ki (Han Se Yeon's husband and a chef)
Ahn Dong Goo as Seo Eun Kang (A handsome barista who works at Law Cafe)
Jo Han Chul as Lee Pyun Woong (Dohan Construction CEO and President Lee's illegitimate son)
Kim Nam Hee as Park Woo Jin (Kim Jeong Ho's cousin and head of the psychiatric department)
Kim Do Hoon as Bae Joon (Law school dropout who works part-time at Law Cafe)
Jeon Guk Hwan as President Lee (CEO of Dohan Group)
Jeon No Min as Kim Seung Woon (Kim Jeong Ho's father and head of the Seoul Central District Prosecutor's Office)
Hwang Young Hee as Song Ok Ja (Kim Yu Ri's mother)
Kim Won Hae as CEO Hwang
Jang Hye Jin (undisclosed role)
Cameo & Special Appearance
TBA
Character Relationship Chart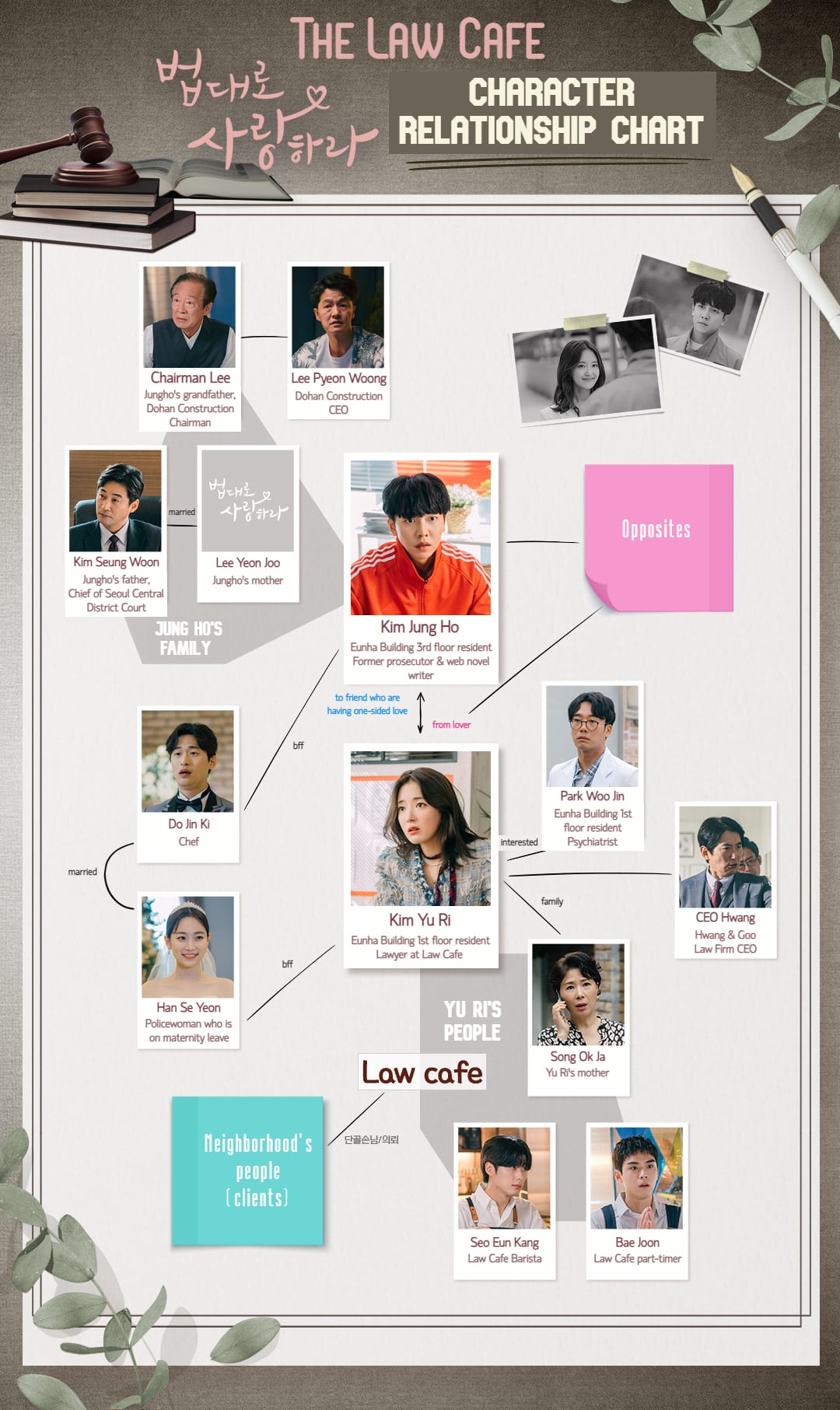 Original Soundtrack
TBA
Trailer Videos
TBA
Awards & Nominations
TBA
Trivia
Lee Seung Gi and Lee Se Young will be reunited after four years since tvN's 'Hwayugi' in 2018.
This will be Lee Seung Gi's first KBS drama since 2006.
The drama is expected to have significant differences from the original web novel 'Love by Law'.