General Information
International Title: Lovers of the Red Sky
Original Title: 홍천기 (romanization: Hong Cheon Gi)
Genre: Historical, Romance, Fantasy
No. of Episode: 16
Airing Date: 2021.08.30 ~ 2021.10.26
Airing Slot: Monday – Tuesday
Broadcasting Channel: SBS
International Distributor: Rakuten VIKI, Viu
Starring: Kim Yoo Jung, Ahn Hyo Seop, Gong Myung
Director: Jang Tae Yoo, Nam Tae Jin
Screenwriter: Ha Eun (Kim Young Young)
Highest Rating: –
Awards: –
Synopsis
'Lovers of the Red Sky' is a fantasy romance about a female painter with divine power named Hong Chun Gi, and Ha Ram, a man with red eyes who reads the constellations of the sky. Hong Chun Gi is described as a bright and fierce woman who becomes the first royal female painter in Joseon Dynasty. On the other hand, Ha Ram is an astrologer who lost his sight but he was given the ability to see "signs" from the sky.
Cast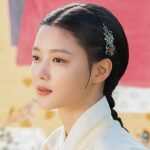 Character name: Hong Chun Gi
Portrayed by: Kim Yoo Jung
Kim Yoo Jung's notable works: Moon that Embraces the Sun, Love in The Moonlight, Angry Mom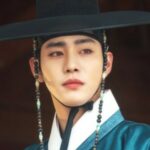 Character name: Ha Ram
Portrayed by: Ahn Hyo Seop
Ahn Hyo Seop's notable works: Still 17, Dr. Romantic 2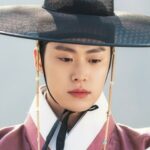 Character name: Prince Yang Myeong (Lee Yul)
Portrayed by: Gong Myung
Gong Myung's notable works: Extreme Job, Be Melodramatic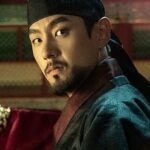 Character name: Prince Ju Hyang (Lee Hu)
Portrayed by: Kwak Si Yang
Kwak Si Yang's notable works: Chicago Typewriter, Alice
Extended Cast
Ko Kyu Pil as Cheong Ji Gi
Kim Hyun Mok as Man Soo
Bae Myung Jin as Sergeant Ma
Jang Hyun Sung as Han Geon
Hong Kyung as Choi Jung
Hong Jin Ki as Cha Young Wook
Yoon Sa Bong as Kyun Ju
Jo Sung Ha as Seong Jo
Kim Kwang Kyu as Choi Won Ho
Song Seok Won as Moo Yeong
Jang Won Hyung as Shim Dae Yoo
Kim Joo Young as Lee Hyun Mo
Cha Ji Hyuk as Grand Army Joo Hyang
Park Jung Hak as Gan Yun Guk
Cameo & Special Appearance
Han Sang Jin as Ha Seong Jin
Character Relationship Chart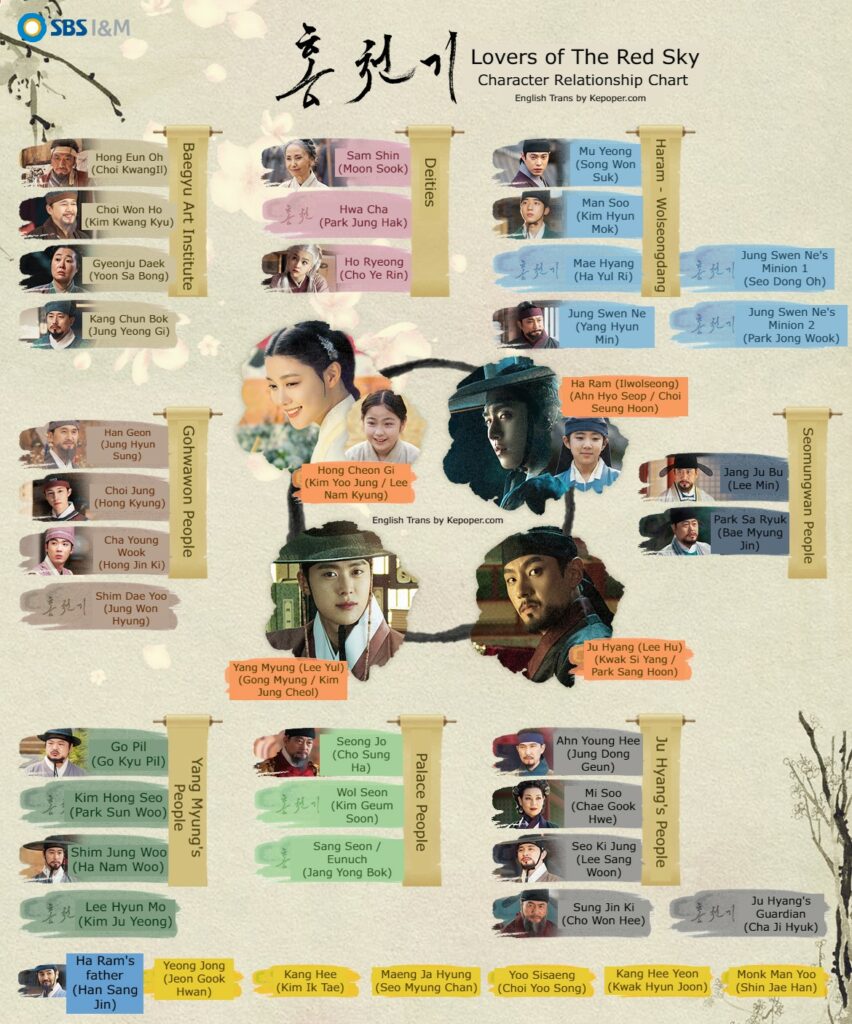 Hong Cheon Ki is tangled in politics between the three men: Ha Ram, Grand Prince Yang Myung, and Grand Prince Ju Hyang. Ha Ram who is the King's trusted advisor stays close to the royal family to reveal and take revenge on people who killed his family. Grand Prince Ju Hyang is trying to steal the throne from the crown prince while Grand Prince Yang Myung becomes his rival for the throne. Both Ha Ram and Grand Prince Yang Myung develop feelings for Hong Chun Ki.
Original Soundtrack
'Is It Me?' by Baekhyun of EXO
'Always, be with you' by Solar of MAMAMOO
'You and I' by Yang Da Il
Trailer Videos
Teaser 1
Teaser 2
Teaser 3
Highlight
Awards & Nominations
N/A
Trivia
Kim Yoo Jung and Ahn Hyo Seop supposedly act together in 'Clean with Passion for Now' but the male lead was changed to Yoon Kyun Sang because of several circumstances.
The drama was planned to be produced in 2018, but it is only being realized 3 years later in 2021.
'Lovers of the Red Sky' is based on the novel of the same name by 'Moon That Embraces the Sun' author Jung Eun Gwol.