General Information
International Title: Start-Up
Original Title: 스타트업 (romanization: Seutateueop)
Genre: Business, Romance, Drama, Comedy
No. of Episode: 16
Airing Date: 2020.10.17 ~ 2020.12.06
Airing Slot: Saturday – Sunday 22:00 KST
Broadcasting Channel: tvN
International Distributor: Netflix
Starring: Bae Suzy, Nam Joohyuk, Kim Seonho
Director: Oh Choonghwan
Screenwriter: Park Hyeryun
Highest Rating: 5.424% (Nationwide)
Awards: N/A
Synopsis
Start Up Korean drama tells about the dream of young people to build a successful start-up company. Seo Dalmi is eager to be the great CEO like Steve Jobs. She meets Nam Dosan, Samsan Tech founder. They end up as a team struggling at Sandbox to elevate their start-up. Things become complicated as they are trapped in love triangle with Han Jipyeong, Seo Dalmi's first crush and team mentor. Dalmi should compete with her sister Won Injae at Sandbox.
Cast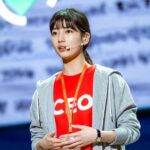 Character name: Seo Dalmi
Actress name: Bae Suzy
Bae Suzy's notable works: Vagabond, While You were Sleeping, Gu Family Book, Big, Uncontrollably Fond, Dream High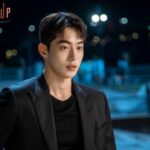 Character name: Nam Dosan
Actor name: Nam Joohyuk
Nam Joohyuk's notable works: The School Nurse Files, Weightlifting Fairy Kim Bokjoo, Moon Lovers: Scarlet Heart Ryeo, Cheese in The Trap, The Bride of Habaek, The Light in Your Eyes, Who Are You: School 2015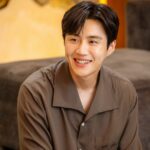 Character name: Han Jipyeong
Actor name: Kim Seonho
Kim Seonho's notable works: Hometown Cha Cha Cha, Welcome to Waikiki 2, Catch The Ghost, 100 Days My Prince, Strongest Deliveryman, Two Cops
Character name: Won Injae / Seo Injae
Actress name: Kang Hanna
Kang Hanna's notable works: My Roommate Is A Gumiho, Familiar Wife, Moon Lovers: Scarlet Heart Ryeo
Extended Cast
Kim Haesook as Choi Wondeok
Kim Dowan as Kim Yongsan
Yoo Subin as Lee Chulsan
Stephanie Lee as Jung Saha
Song Seonmi as Cha Ahyun
Kim Joohun as Seo Chungmyung
Eom Hyoseop as Won Doojung
Moon Donghyeok as Won Sangsu
Kim Heejung as Park Geumjung
Kim Wonhae as Nam Seonghwan
Jang Sehyun as Nam Cheonho
Seo Yisook as Yoon Sunhak
Kim Minseok as Park Dongchun
Kang Youseok as Shin Hyeon
Joo Boyoung as Shin Jeong
Lee Minryeong as Isu
Song Hosoo as Lee Daemyung
Cho Taekwan as Alex Kwon
Nam Dareum as Han Jipyeong (Young)
Heo Jungeun as Seo Dalmi (Young)
Lee Re as Seo Injae (Young)
Kim Kanghoon as Nam Dosan (Young)
Cameo & Special Appearance
Moon Seyoon as Security guard (Cameo Ep. 7)
Park Chanho as Himself (Cameo Ep. 8, 12)
Lee Boyoung as woman at bar (Cameo Ep. 10)
Yeo Jingoo as Jang Youngsil (voice) and Hong Jiseok (Ep. 16)
Character Relationship Chart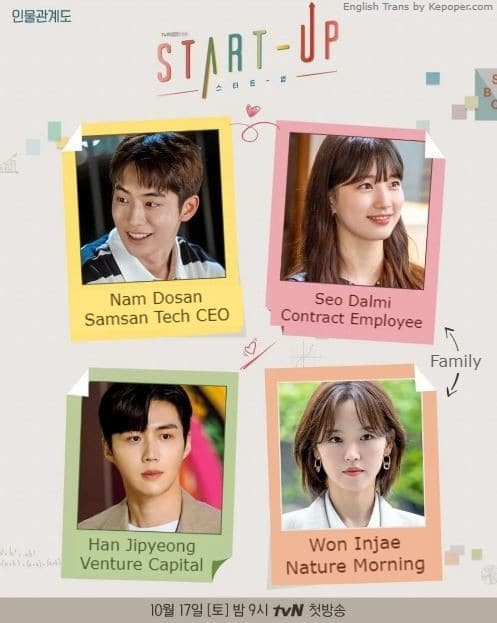 Star Up main characters Seo Dalmi and Nam Dosan are mutual love interests. Han Jipyeong is Seo Dalmi's childhood crush later he falls in love with her. Meanwhile, Won Injae is Seo Dalmi's sister and biggest rival also.
Original Soundtrack
"Future" by Red Velvet
"Day & Night" by Jung Seunghwan
"One Day" by Kim Feel
"I know" by Oh My Girl
"Running" by Gaho
"Where is Dream" by 10cm
"My Love" by Davichi
"Even for a Moment" by Cheeze
"Blue Bird" by Ailee
"Lonesome Diary" by Sandeul (B1A4)
"Two Words" by Wendy (Red Velvet)
"Love Letter" by Bolbbalgan4
"Dream" by Jamie
"My Dear Love" by Bae Suzy
"Love Me Like You Used to" by Kassy
"To Me" by Jung Eunji (Apink)
"Care about You" as K.Will
Trailer Videos
Trailer https://www.youtube.com/watch?v=Lu3o0XrlsAg
Highlight https://www.youtube.com/watch?v=-hKFz3x_guw
Awards & Nominations
N/A
Trivia
Start Up is Bae Suzy's second Korean drama project together with director Oh Choonghwan and writer Park Hyeryun after While You were Sleeping.
Yeongshil's voice, AI assistant speaker, actually belongs to Yeo Jingoo's voice.
Main characters' name are inspired by Korean railway station names like Dalmi station in Ansan, Dosan station in Gwangju, Jipyeong station in Gyeonggi-do, Injae station in Incheon.
Kim Seonho is listed as Best Supporting Actor nominee and wins Most Popular Actor in 2021 57th Baeksang Arts Awards.
This is Nam Joohyuk and Kang Hanna's second drama together after Moon Lovers: Scarlet Heart Ryeo.