General Information
International Title: Bad and Crazy
Original Title: 배드 앤 크레이지 (romanization: Baedeu aen keureiji)
Genre: Fantasy, action, thriller
No. of Episode: TBA
Airing Date: 2021.12.07
Airing Slot: Friday – Saturday at 22:40
Broadcasting Channel: tvN
International Distributor: iQIYI
Starring: Lee Dong Wook, Wi Ha Joon, Han Ji Eun, Cha Hak Yeon (N of VIXX)
Director: Yoo Seon Dong
Screenwriter: Kim Sae Bom
Highest Rating: 4.4% Nationwide (Nielsen Korea)
Awards: TBA
Synopsis
'Bad and Crazy' depicts the journey of two people with opposite personalities that eventually join forces in the name of justice. Detective Ryu Soo Yeol (Lee Dong Wook) is a "bad" detective, he is ambitious and fraudulent. Despite all the bad things he committed to reach his goal, Soo Yeol possesses a sense of justice that he never realized before.
Soo Yeol meets K (Wi Ha Joon), a "crazy" man with an enormous sense of justice. He wants to be the hero for everyone, but his bad temper would overtake his logic and he ends up resolving problems with his fists.
Cast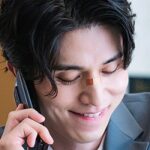 Character: Ryu Soo Yeol
Portrayed by: Lee Dong Wook
Lee Dong Wook's notable works: My Girl (2005), Scent of a Woman (2011), Goblin (2016), Strangers from Hell (2019)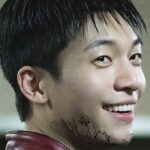 Character: K
Portrayed by: Wi Ha Joon
Wi Ha Joon's notable works: Gonjiam (2016),  Squid Game (2021), Midnight (2021)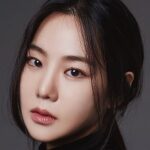 Character: Hee Gyeom
Portrayed by: Han Ji Eun
Han Ji Eun's notable works: Be Melodramatic (2019), Kkondae Intern (2020), Lovestruck in the City (2020)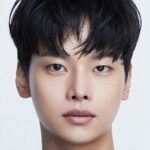 Character: Oh Kyung Tae
Portrayed by: Cha Hak Yeon
Cha Hak Yeon's notable works: Tunnel (2017), Familiar Wife (2018), Mine (2021)
Extended Cast
Sung Ji Roo as Kwak Bong Pil
Cha Si Won as Yang Jae Sun
Kang Ae Shim as Seo Seung Sook
Kim Dae Gon as Ryu Dong Yeol
Lim Ki Hong as Do Yoo Gon
Lee Hwa Ryong as Kim Gye Shik
Shin Joo Hwan as Heo Jong Goo
Cho Dong In as Jung Chan Ki
Lee Seung Hun as Kim Kyung Joon
Lee Sang Hong as Do In Beom
Kim Hieora as CEO Yong
Won Hyung Joon as Andrey
Lee Joo Hyun as Min Soo
Nam Woo Joo as Hyeon Soo
Park Se Joon as Nam Eun Seok
Cameo & Special Appearance
Park Seo Yeon as Baek Young Joo (episode 8)
Yang Dae Hyuk as Park Seong Gwan
Kim Seon Hwa as Dr. Hong
Character Relationship Chart

Ryu Soo Yeol (Lee Dong Wook) and K (Wi Ha Joon) are "bad & crazy" partners in dealing with criminals. Lee Hee Kyum (Han Ji Eun) is a detective in the narcotics division. Apart from work, she has personal relationships with Soo Yeol and K. Meanwhile, Oh Kyeong Tae is a good police officer, honest, passionate, always curious, and helps others.
Do Yoo Gon (Lim Ki Hong) was a prosecutor who became a congressman in the Munyang District. CEO Yong (Kim Hieora) and his subordinate Andrey (Won Hyung Joon) are leading a drug gang In the district. The Munyang Police Station also has the Anti-Corruption Division led by Kwak Bong Pil (Sung Ji Roo), the Narcotics Division led by Kim Gye Sik (Lee Hwa Ryong), and the Homicide Division under Detective Do In Beom (Lee Sang Hong).
Original Soundtrack
'Bulldozer' by Don Mills
'BUMP!' by G2, Jang Hak
'Out of My Way' by Vincent (Crackshot)
'Present' by Song Yerin
Trailer Videos
Awards & Nominations
N/A
Trivia
'Bad and Crazy' will replace 'Happiness' on the same airing time slot.