General Information
International Title: Extraordinary You
Original Title: 어쩌다 발견한 하루 (romanization: Eojjeoda balgyeonhan haru)
Genre: Fantasy, Romance, Teen, Comedy
No. of Episode: 16
Airing Date: 2019.10.02 ~ 2019.11.21
Airing Slot: Wednesday – Thursday
Broadcasting Channel: MBC
International Distributor: KOCOWA, iQIYI, Vidio, Netflix
Starring: Kim Hye Yoon, Rowoon, Lee Jae Wook, Lee Naeun, Jung Gun Joo, Kim Young Dae, Lee Tae Ri
Director: Kim Sang Hyub
Screenwriter: Song Ha Young, In Ji Hye
Highest Rating: 4.1%
Awards: Drama of the Year at MBC Drama Awards 2019
Synopsis
'Extraordinary You' tells the story of female student Eun Dan Oh (Kim Hye Yoon) who found out that she lives in a comic book called Secret.
All characters in the comic are created and by the writer and carry pre-destined "fate". Dan Oh is just an extra in the comic who engaged to classmate Baek Kyung and is set to die of a heart attack. Dan Oh is eager to change her so-called fate.
In the fantasy world, she met another extra character called Student Number 13 (Rowoon). Dan Oh named the nameless character Haru. The two eventually fall in love and try to defy their pre-destined fate.
Cast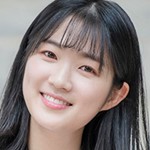 Character: Eun Dan Oh
Portrayed by: Kim Hye Yoon
Kim Hye Yoon's notable works: Sky Castle (2018), Extraordinary You (2019), Midnight (2021), Secret Royal Inspector & Joy (2021), Snowdrop (2021)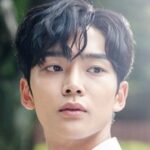 Character: Haru
Portrayed by: Rowoon
Rowoon's notable works: Where Stars Land (2018)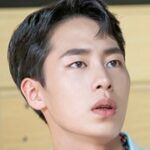 Character: Baek Kyung
Portrayed by: Lee Jae Wook
Lee Jae Wook's notable works: Search: WWW (2019), Do Do Sol Sol La La Sol (2020), Move to Heaven (2021)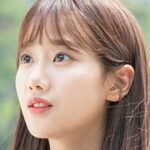 Character: Yeo Joo Da
Portrayed by: Lee Naeun
Lee Naeun's notable works: –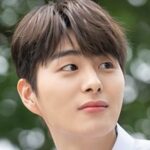 Character: Lee Do Hwa
Portrayed by: Jung Gun Joo
Jung Gun Joo's notable works: Monthly Magazine Home (2021)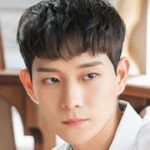 Character: Oh Nam Joo
Portrayed by: Kim Young Dae
Kim Young Dae's notable works: Penthouse (2020-2021)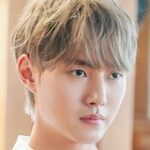 Character: Jin Mi Che
Portrayed by: Lee Tae Ri
Lee Tae Ri's notable works: Soonpoong Clinic (1998-2000), Rooftop Prince (2012), Moon Embraces the Sun (2012)
Extended Cast
Kim Ji In as Shin Sae Mi
Kim Hyun Mok as Ahn Soo Chul
Jung Ye Mok as Kim Il Jin
Jung Ye Jin as Lee Sam Jin
Han Chae Kyung as Kim Ae Il
Song Ji Woo as Park Ae Ri
Jung Mi Mi as Park Yi Jin
Kang Min Ji as Lee Ae Sam
Jung Dae Ro as Kim Yang Il
Lee Wo Je as Park Yang Yi
Yoon Jong Bin as Lee Yang Sam
Jo Deok Hee as Kim Ban Jang
Oh Jong Min as Kim Bo Tong
Kim Joon Sung as Park Mo Bum
Shin Yong Ho as Shin Ba Ram
Han Myung Hwan as Kang Chul Nam
Jung Ji Hyun as Han Soo Da
Lee Eun Hye as Kong Joo Hae
Heo Soo Bin as Wang Bit Na
Pyo Hyun Jin as Namgoong Dan Bal
Kim Tae Jung as Chae Yook In
Kim Jae Hwa as Art teacher
Lee Ye Hyun as Kim Soo Hyang
Kim Jung Hak as Homeroom teacher
Bae Hyun Sung as Baek Joon Hyun
Um Hyo Sup as Eun Moo Young
Choi Jin Ho as Baek Dae Sung
Yoon Jong Hoon as Dr. Lee Jo Hwa
Yoo Ji Soo as Ra Hye Young
Yoo Ha Bok as Oh Jae Beol
Ji Soo Won as Cha Ji Hyun
Character Relationship Chart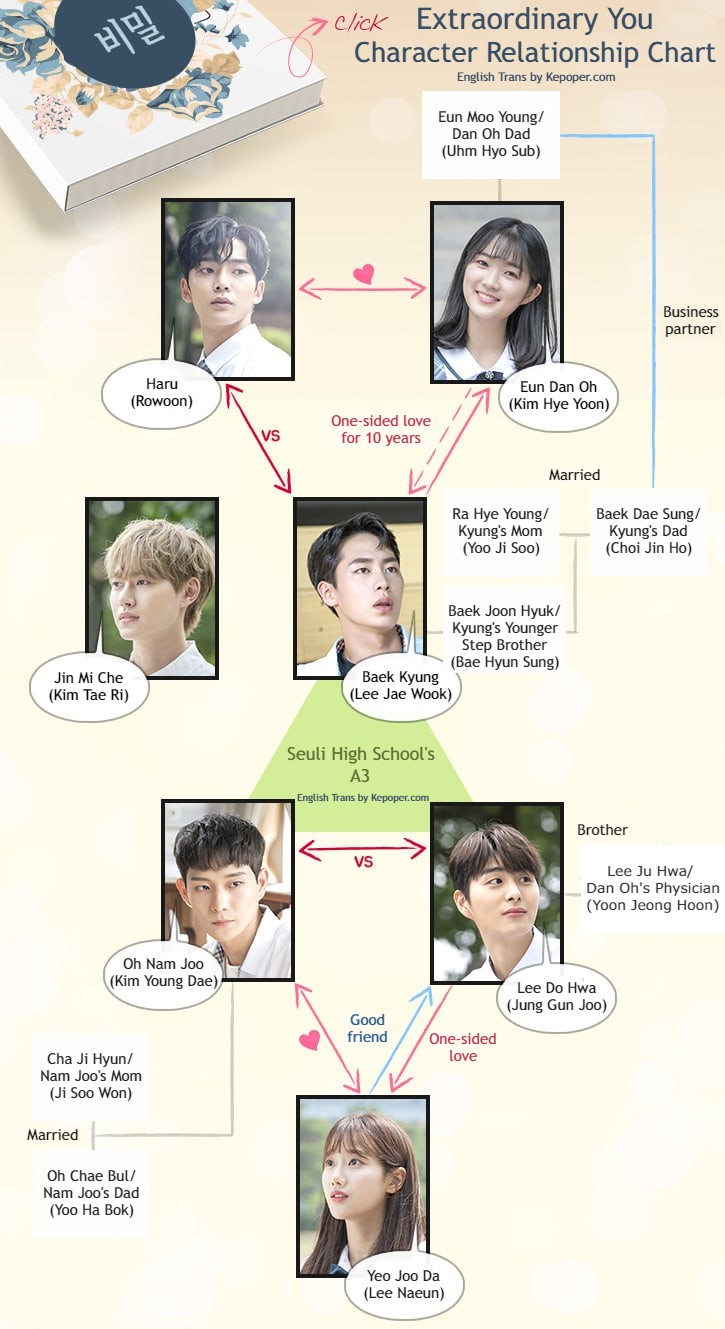 Inside the fantasy world of 'Secret' comic book, the story centered among Seuli High School A3's members Oh Nam Joo, Lee Do Hwa, and Baek Kyung. Oh Nam Joo and Lee Do Hwa are involved in a love triangle with Yeo Joo Da.
The last A3 member is Baek Kyung. Baek Kyung is engaged to Eun Dan Oh, an extra character in the comic. Dan Oh's character is set to have one-sided love for Baek Kyung for 10 years.
One day, Dan Oh realizes that she only lives in a comic book and that her fate is pre-destined by the writer. Baek Kyung belatedly realizes his true feelings for Dan Oh, but Dan Oh has found her true love Haru.
Original Soundtrack
'Feeling' by April
'My Beauty' by Verivery
'First Love' by Sondia
'First Love (Drama Ver.)' by Epitone Project
'Today I Wanna Say That I Love You' by GOTCHA!
'The Story That Has Never Been Told' by Sondia
'A Story Never Ending' by Stray Kids
'Draw You' by Jeong Se Woon
Trailer Videos
Awards & Nominations
Awards
32nd Grimae Awards | Best New Actor: Rowoon
2019 MBC Drama Awards | Drama of the Year: Extraordinary You, Excellence Award, Actress in a Wednesday-Thursday Drama: Kim Hye Yoon, Best New Actor: Rowoon & Lee Jae Wook, Best New Actress: Kim Hye Yoon
Seoul Drama Awards | Outstanding Korean Drama: Extraordinary You
Nominations
2019 MBC Drama Awards | Best Supporting Cast in a Wednesday-Thursday Drama: Lee Tae Ri, Best New Actor: Jung Gun Joo & Kim Young Dae, Best New Actress: Lee Naeun, Best Couple Award: Rowoon, Kim Hye Yoon and Lee Jae Wook
56th Baeksang Arts Awards | Best New Actor (TV): Lee Jae Wook
Trivia
'Extraordinary You' is adapted from a Daum Webtoon titled '어쩌다 발견한 7월' (romanized: Ejjeoda balgyeonhan chilwol).
All the male leads' heights are over 180 cm.
The casting process took 3 months to be completed.
The first script reading session was held in May 2019.
This is both Rowoon and Kim Hye Yoon dramas as lead characters.
Kim Hye Yoon was initially cast to portray Yeo Joo Da.
Rowoon auditioned to portray Baek Kyung, and Lee Jae Wook auditioned to play Haru. In the end, the two switch roles.
The drama unexpectedly became very popular among domestic young viewers and global Hallyu fans. 'Extraordinary You' even held a fanmeeting in China with Kim Hye Yoon and Rowoon.