General Information
International Title: Taxi Driver
Original Title: 모범택시 (romanization: Mobeom taeksi)
Genre: Crime, Action, Thriller
No. of Episode: 16
Airing Date: 2021.04.09 ~ 2021.05.29
Airing Slot: Friday – Saturday
Broadcasting Channel: SBS
International Distributor: Viu, KOCOWA
Starring: Lee Je Hoon, Esom, Pyo Ye Jin, Kim Eui Sung
Director: Park Joon Woo
Screenwriter: Oh Sang Ho (episode 1~10), Lee Ji Hyun (episode 11~16)
Highest Rating: 16% (Nationwide)
Awards: –
Synopsis
'Taxi Driver' tells the story of a taxi company called Rainbow Taxi and its crew: driver Kim Do Ki (Lee Je Hoon), the boss Jang Sung Chul (Kim Eui Sung), hacker Ahn Go Eun (Pyo Ye Jin), lead mechanic Choi Kyung Goo (Jang Hyuk Jin), and assistant mechanic Park Jin Eon (Bae Yoo Ram). Behind the disguise of a taxi company, the crew led by Kim Do Ki acts as a "private revenge service" that take revenge on behalf of wronged victims. While completing those missions, the team also encounter clashes with prosecutor Kang Ha Na (Esom) and its "partner" Baek Sung Mi (Cha Ji Yeon).
Cast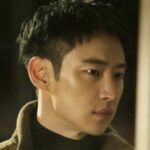 Character name: Kim Do Ki
Portrayed by: Lee Je Hoon
Lee Je Hoon's notable works: Architecture 101, Signal, I Can Speak, Anarchist from Colony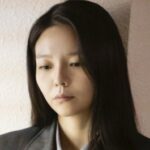 Character name: Kang Ha Na
Portrayed by: Esom
Esom's notable works: Scarlet Innocence, Microhabitat, Samjin Company English Class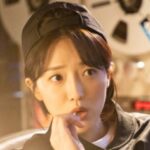 Character name: Ahn Go Eun
Portrayed by: Pyo Ye Jin
Pyo Ye Jin's notable works: Fight for My Way, What's Wrong with Secretary Kim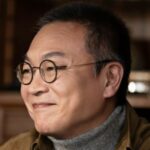 Character name: Jang Sung Chul
Portrayed by: Kim Eui Sung
Kim Eui Sung's notable works: W, The Face Reader, Train to Busan
Extended Cast
Jang Hyuk Jin as Choi Kyung Goo
Bae Yoo Ram as Park Jin Eon
Cha Ji Yeon as Baek Sung Mi
Yoo Seung Mok as Cho Jin Woo
Lee Yoo Joon as Wang Min Ho
Yu Yeon Su as So Eun
Lee Ho Cheol as Goo Seok Tae
Cho Hyun Woo as Cho Do Chul
Heo Jung Do as Park Dong Pil
Jo In as Kang Maria
Tae Hang Ho as Park Ju Chan
Song Deok Ho as Cho Jong Geun
Kim Do Yeon as Choi Jong Sook
Jo Dae Hee as Kim Hyung Wook
Park Joon Mok as Park Jung Min
Choi Hyun Wook as Park Seung Tae
Lee Jae Hak as Jang Hyung Sik
Lee Min Jae as Oh Hak Soo
Jeon Sung Il as Seo Young Min
Baek Hyun Jin as Park Yang Jin
Cho Ha Seok as Director Jung
Kim Jae Young as Mr. Lee
Lee Da Il as Mr. Ahn
Kwak Min Gyu as Jeon Jin Won
Ryu Yi Jae as Ahn Jung Eun
Seo Han Gyeol as Choi Min
Shim So Young as Rim Bok Ja
Kim Dae Gon as Madame Lim's employee (Episode 9–10)
Lee Ho Cheol as Goo Young Tae
Jung Kang Hee as Shim Woo Seob
Han Kyu Won as Go Dong Hee
Han Hyun Ah as Lee Hye Yeon
Lee Yoon Hee as Pastor Go
Lee Ha Eun as Dong Hee's younger
Yang Dong Tak as Oh Chul Young
Jeon Seok Chan as Kim Chul Jin
Ryu Sung Rok as Han Dong Chan/ Oh Hyun Soo
Cameo & Special Appearance
Yoon Do Hyun as Driver Yoon (Cameo, episode 1)
Lee Young Ae (Special appearance, voice acting)
Park Geun Hyung as Sung Mi's husband (Cameo, episode 13)
Park Jin Hee as Do Joong Won (Cameo, episode 16)
Ryu Hyun Kyung as Baek Kyung Mi (Cameo, episode 16)
Character Relationship Chart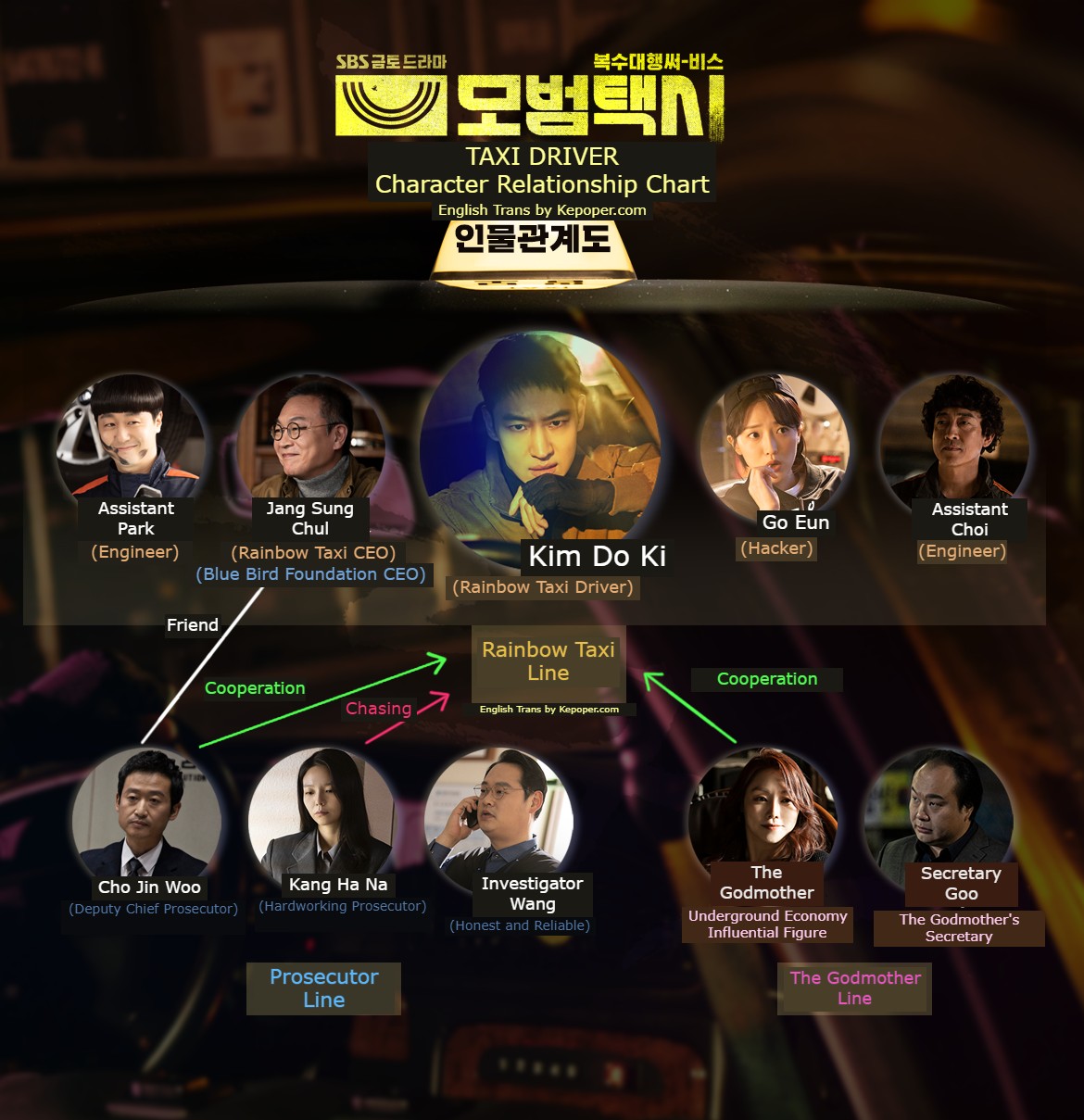 The Rainbow Taxi's team members were victims of various criminal acts. Having the same background, they unite to take on revenge on behalf of the wronged criminal victims so that there won't be more victims experience the same thing as them. The private revenge service is being chased by the prosecution office led by Kang Ha Na. The head of the prosecution office Cho Jin Woo is also a friend of the boss of Rainbow Taxi, Jang Hyun Chul. On the other hand, Jang Hyun Chul also makes deal with 'Godmother' Baek to "take care" of those criminals caught by the Rainbow Taxi team.
Original Soundtrack
'Silence' by YB
'A Gloomy Letter' by Kwak Jin Eon
'A Walk' by Pyo Ye Jin
'All Day' by Cha Ji Yeon
'Run Away' by Simon Dominic
'Moon Light' by San Ha
'Way Home' by Yoon Do Hyun
Trailer Videos
Teaser 1
Teaser 2
Main Preview
Awards & Nominations
N/A
Trivia
The drama is loosely based on a webtoon of the same name by writer Carlos and Lee Jae Jin as it has fairly different stories from the original webtoon.
Lee Na Eun from the girl group APRIL was cast to portray Ahn Go Eun, but due to the bullying scandal surrounding APRIL, she was removed although the shooting has been 60% completed at that time.
From episode 11 onwards, screenwriter Oh Sang Ho was replaced by Lee Ji Hyun due to conflict with the director.
Prior to its broadcast, SBS intended to make season 2 of the drama if it exceeds 20% in viewership rating.
In an official article dated July 7, 2021, 'Taxi Driver' is confirmed to have a second season. The production team is said to be in discussion with the actors.
Lead actors Lee Je Hoon and Kim Eui Sung expressed their desire to appear in the second season.
This is Lee Je Hoon's 6th project with SBS. He has only starred in SBS and tvN drama throughout his career.
Some scenes in the drama use references from GTA video games, 007 series, Korean movie 'New World', etc.