General Information
International Title: Alchemy of Souls
Original Title: 환혼 (romanization: Hwanhon)
Genre: Fantasy Drama, Romance, Comedy, Action
No. of Episode: 20
Airing Date: 2022.06.18 ~ 2022.08.21
Airing Time: Saturday & Sunday, 21:10
Broadcasting Channel: tvN
International Distributor: Netflix
Starring: Lee Jae Wook, Jung So Min, Hwang Minhyun
Director: Park Joon Hwa, Jang Yang Ho
Screenwriter: Hong Sisters (Hong Jeong Eun, Hong Mi Ran)
Highest Rating: TBA
Awards: TBA
Synopsis
Taking place in Daeho-guk, a fictional country, where a magical phenomenon "alchemy of souls" exists. The magical event twist fates of many people in the country including Jang Wook (Lee Jae Wook) and Mu Deok (Jung So Min). Jang Wook is a troublemaker who always becomes the talk of the town due to his background. One day, Mu Deok experienced "alchemy of souls" and her soul was transferred into the body of Jang Wook's servant.
Cast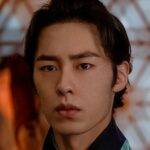 Character: Jang Wook
Portrayed by: Lee Jae Wook
Lee Jae Wook's notable works: Search: WWW (tvN/ 2019), Extraordinary You (MBC/ 2019)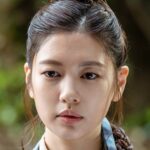 Character: Mu Deok
Portrayed by: Jung So Min
Jung So Min's notable works: Playful Kiss (MBC/ 2011), Because This is My First Life (tvN/ 2017), Monthly Magazine Home (jtbc/ 2021)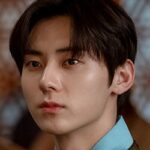 Character: Seo Yool
Portrayed by: Hwang Minhyun
Hwang Minhyun's notable works: Live On (tvN/ 2020-2021)
Extended Cast
Oh Na Ra as Kim Do Joo
Joo Sang Wook as Jang Gang
Bae Gang Hee as Do Hwa
Yoo Jun Sang as Park Jin
Yoo In Soo as Park Dang Gu
Lee Do Kyung as Heo Yeom
Hong Seo Hee as Heo Yun Ok
Jung Ji An as Soon Yi
Jo Jae Yoon as Jin Mu
Choi Ji Ho as Gil Ju
Park Eun Hye as Jin Ho Kyung
Oh My Girl's Arin as Jin Cho Yeon
Shin Seung Ho as Go Won
Choi Kwang Il as Go Soon
Kang Kyung Heon as Seo Ha Sun
Park Byung Eun as Go Seong
Lee Ki Seop as Eunuch Oh
Park So Jin as Joo Wol
Lim Cheol Soo as Lee Cheol (Teacher Lee)
Seo Hye Won as So Yi
Woo Hyun as Monk Ho Yeon
Jeon Hye Won as Ae Hyang
Yoon Seo Hyun as Jo Choong
Special Appearance
Yeom Hye ran as a mysterious middle-aged woman
Character Relationship Chart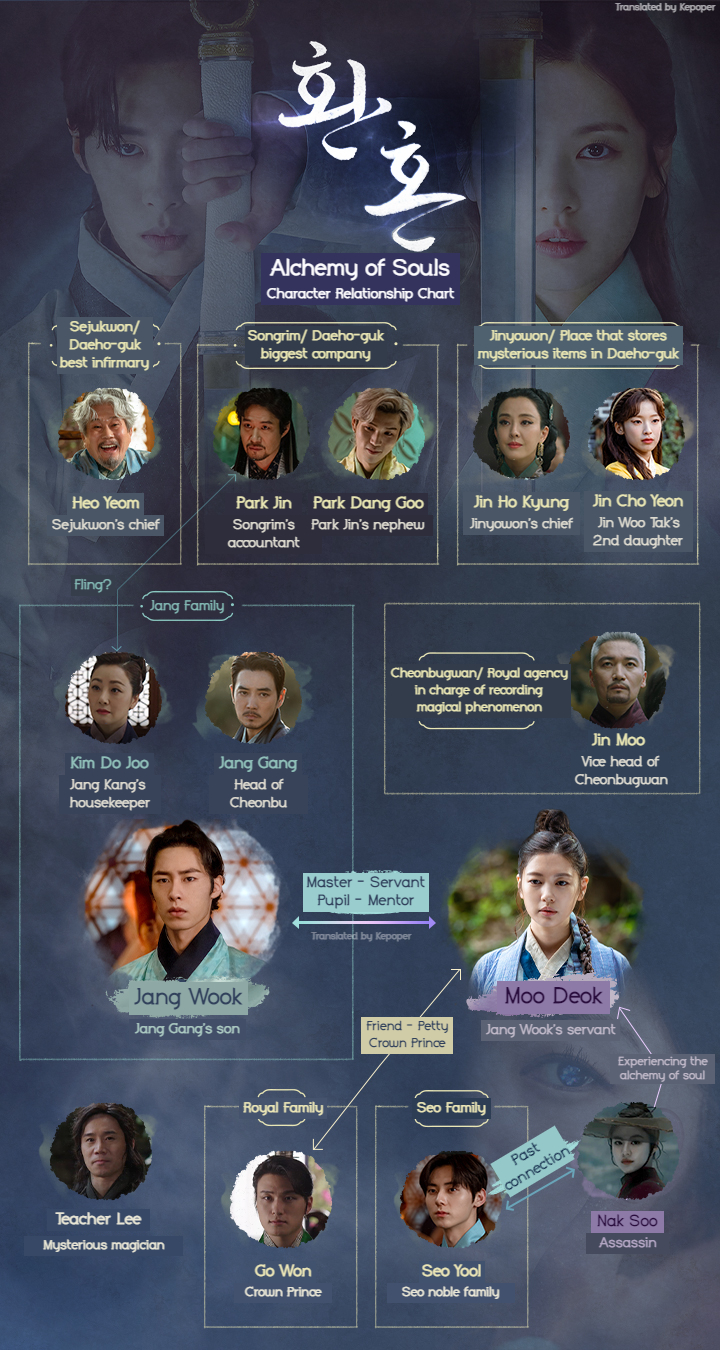 Original Soundtrack
'Scars Leave Beautiful Trace' by Car, the Garden
'Aching' by Kassy
Trailer Videos
Awards & Nominations
TBA
Trivia
Shooting was partly taken on Jeju Island.
The four male actors Lee Jae Wook, Hwang Min Hyun, Shin Seung Ho, and Yoo In Soo became close thanks to the drama.
The drama is planned to have a second season.