General Information
International Title: Our Blues
Original Title: 우리들의 블루스 (romanization: Urideul-e beulluseu)
Genre: Drama, Romance, Omnibus
No. of Episode: 20
Airing Date: 2022.04.09 ~ 2022.06.12
Airing Slot: Saturday – Sunday
Broadcasting Channel: tvN
International Distributor: Netflix
Starring: Lee Byung Hun, Shin Min Ah, Cha Seung Won, Lee Jung Eun, Han Ji Min, Kim Woo Bin, Uhm Jung Hwa
Director: Kim Gyu Tae
Screenwriter: Noh Hee Kyung
Highest Rating: TBA
Awards: TBA
Synopsis
'Our Blues' is an omnibus-style drama that centers around the relationships of its 14 protagonists. With the background of Jeju Island, it tells 8 different stories of the people living in the island.
Our Blues Cast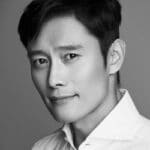 Character: Lee Dong Seok (a Jeju native, truck maker)
Portrayed by: Lee Byung Hun
Lee Byung Hun's notable works: Iris (KBS2/ 2009), Masquerade (2012), Inside Men (2015), The Age of Shadows (2016), Mr. Sunshine (tvN/ 2018)
Character: Min Seon Ah (single mom with a back story)
Portrayed by: Shin Min Ah
Shin Min Ah's notable works: My Girlfriend is a Gumiho (SBS/ 2010), Tomorrow with You (tvN/ 2017), Hometown Cha-Cha-Cha (tvN/ 2021)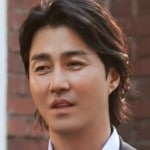 Character: Choi Han Soo (a city man who comes back to his hometown in Jeju)
Portrayed by: Cha Seung Won
Cha Seung Won's notable works: The Greatest Love (MBC/ 2011), You're All Surrounded (SBS/ 2014), One Ordinary Day (Coupang Play/ 2021), Sinkhole (2021)
Character: Jeong Eun Hee (a fish seller who meets her first love Han Soo in 30 years)
Portrayed by: Lee Jung Eun
Lee Jung Eun's notable works: Oh My Ghostess (tvN/ 2015), Mr. Sunshine (tvN/ 2018), Strangers from Hell (OCN/ 2019), When the Camellia Blooms (KBS2/ 2019), Parasite (2019)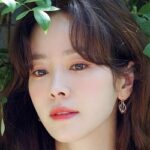 Character: Lee Young Ok (a rookie female diver/ haenyeo)
Portrayed by: Han Ji Min
Han Ji Min's notable works: Rooftop Prince (SBS/ 2012), The Fatal Encounter (2014), Familiar Wife (tvN/ 2018), Dazzling (JTBC/ 2019), The Age of Shadows (2016) Miss Baek (2018), One Spring Night (MBC/ 2019)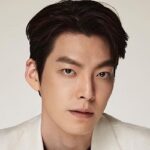 Character: Park Jeong Jun (a bright and warm boat captain)
Portrayed by: Kim Woo Bin
Kim Woo Bin's notable works: School 2013 (KBS2/ 2012), The Heirs (SBS/ 2013), Twenty (2015), Master (2016)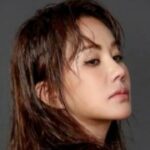 Character: Go Mi Ran (Eun Hee's best friend, someone who came back to Jeju after a tiring life in the city)
Portrayed by: Uhm Jung Hwa
Uhm Jung Hwa's notable works: Tidal Wave (2009), Bestseller (2010), Dancing Queen (2011), Witch's Romance (tvN/ 2014), You're Too Much (MBC/ 2017)
Extended Cast
Kim Hye Ja as Kang Ok Dong (Dong Seok's mom, although she looks warm to others, he is indifferent towards her son)
Go Doo Shim as Hyun Chun Hee (Senior female diver/ haenyeo)
Bae Hyun Sung as Jung Hyun (a Jeju born smart high schooler, he is softhearted and kind)
Noh Yoon Seo as Bang Young Joo (pretty and smart high schooler, but she is actually a player who wants to get away from Jeju and move to Seoul)
Park Ji Hwan (undisclosed role)
Choi Young Joon as Bang Ho Sik (Young Joo's dad)
Ki So Yoo as Chun Hee's granddaughter
Park Jung Eon as Academy teacher
Cameo & Special Appearance
TBA
Character Relationship Chart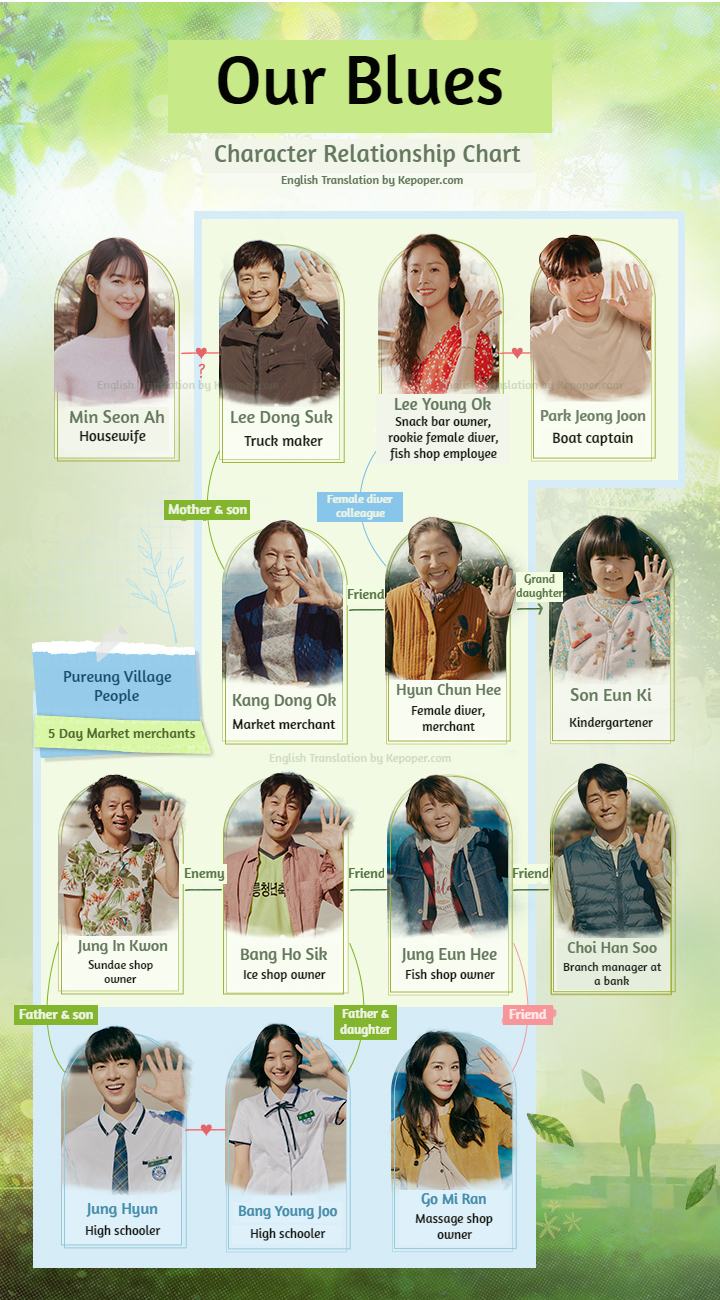 Original Soundtrack
TBA
Trailer Videos
Awards & Nominations
TBA
Trivia
'Our Blues' is Kim Woo Bin's first comeback drama in 5 years after being diagnosed with cancer in 2017.
The cast was finalized on October 10th, 2021. Filming began right after the lineup cast was confirmed in the same month.
Filming was halted for 2 weeks because Lee Byung Hun was infected with COVID-19 in February 2021.
Han Ji Min has completed shooting her part on February 17, 2022.
This is Shin Min Ah and Kim Woo Bin's first project together after confirming their relationship.
'Our Blues' became the fifth project of screenwriter Noh Hee Kyung and director Kim Gyu Tae together.