General Information
International Title: The Murderer's Shopping List
Original Title: 살인자의 쇼핑목록 (romanization: Sarinja-eui syoping mokrok)
Genre: Mistery, Comedy, Thriller
No. of Episode: 8
Airing Date: 2022.04.27 ~ 2022.05.19
Airing Slot: Wednesday – Thursday, 22:30
Broadcasting Channel: tvN
International Distributor: Rakuten VIKI, VIU, iQIYI
Starring: Lee Kwang Soo, Seolhyun, Jin Hee Kyung
Director: Lee Eon Hee
Screenwriter: Han Ji Wan
Highest Rating: TBA
Awards: TBA
Synopsis
'The Murderer's Shopping List' begins when a mysterious body was found near Byeolduri Apartment. A group of people: MS Mart intern Dae Sung (Lee Kwangsoo), Nawoo police officer Do Ah Hee (Seolhyun), and Dae Sung's mother Jung Myung Sook (Jin Hee Kyung) who live near the crime scene work together to catch the murderer based on the suspected murderer's shopping receipts.
The Murderer's Shopping List Cast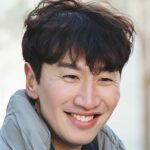 Character: Ahn Dae Sung
Portrayed by: Lee Kwangsoo
Lee Kwangsoo's notable works: High Kick Through the Roof (MBC/ 2009), It's Okay That's Love (SBS/ 2014), Live (JTBC/ 2018), Sinkhole (2021), Happy New Year (2021), etc.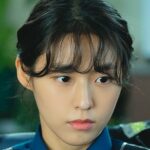 Character: Do Ah Hee
Portrayed by: Seolhyun
Seolhyun's notable works: Ugly Alert (SBS/ 2013), Orange Marmalade (KBS2/ 2015), Memoir of A Murderer (2017), The Great Battle (2018), My Country (2019), Awaken (tvN/ 2020~2021), etc.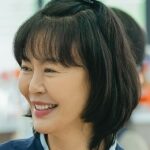 Character: Jung Myung Sook
Portrayed by: Jin Hee Kyung
Jin Hee Kyung's notable works: Fight My Way (KBS2/ 2017), Doctor Prisoner (SBS/ 2019), When the Weather is Fine (JTBC/ 2020), etc.
Extended Cast
Shin Sung Woo as Ahn Young Choon (Dae Sung's dad)
Park Ji Bin as Saeng Sun (New staff at MS Mart who has a lot of secrets)
Oh Hye Won as Ya Chae (Staff of the vegetable section at MS Mart who is very outgoing)
Kim Mi Hwa as Gong San (Staff who has 10 years of experience working at MS Mart)
Lee Gyo Yub as Jung Yook (Staff of the meat section at MS Mart, Dae Sung's BFF)
Moon Hee Kyung as Yang Soon
Lee Yoon Hee as Kim Doo Hyun (A kind and competent police officer)
Cameo & Special Appearance
TBA
Character Relationship Chart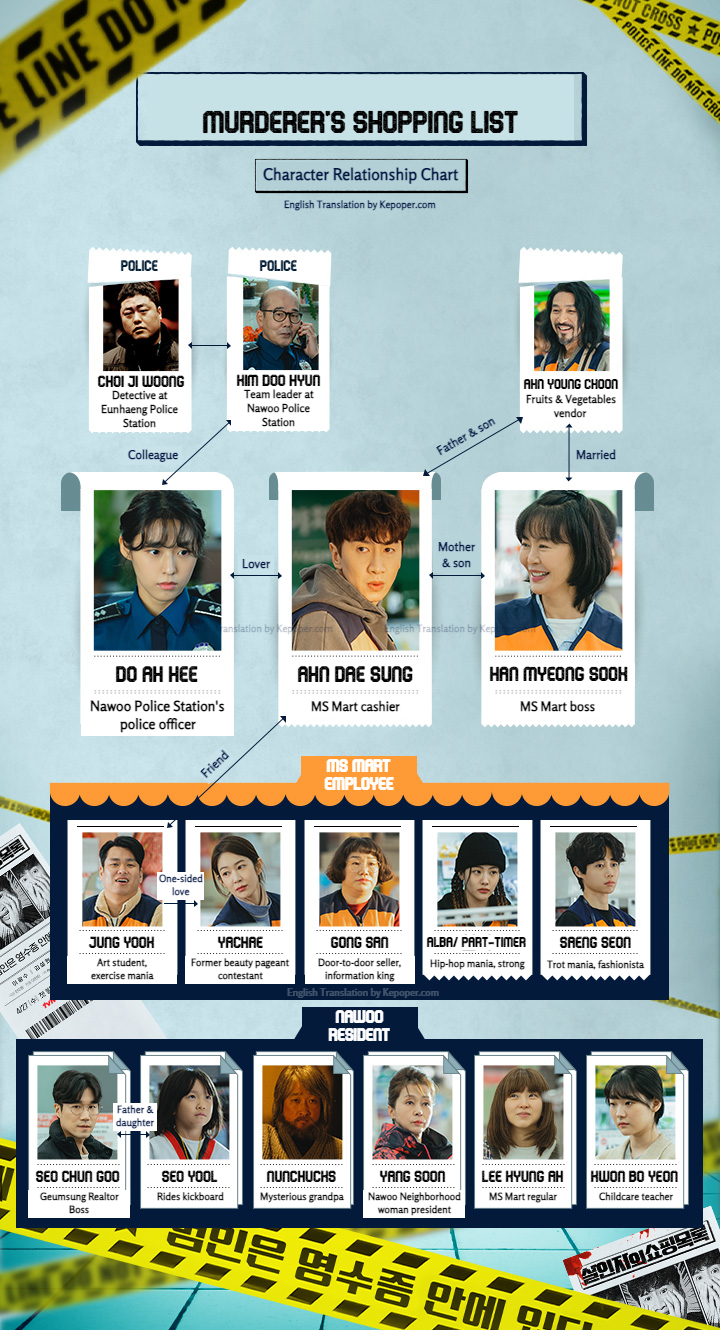 Original Soundtrack
TBA
Trailer Videos
Awards & Nominations
TBA
Trivia
'The Murderer's Shopping List' marks Lee Kwangsoo's comeback drama in 4 years after 'Life'
It is Seolhyun's comeback drama after 'Awaken' that was aired in 2020.
It was originally intended to be produced as a film, but due to the heavy topic, the production team decided to produce it in an 8-episode format.