General Information
International Title: Jirisan
Original Title: 지리산 (romanization: Jirisan)
Genre: Mystery
No. of Episode: 16
Airing Date: 2021.10.23 ~ 2021.12.12
Airing Slot: Saturday – Sunday
Broadcasting Channel: tvN
International Distributor: iQiYi
Starring: Jun Ji Hyun, Ju Ji Hoon
Director: Lee Eung Bok
Screenwriter: Kim Eun Hee
Highest Rating: –
Awards: –
Synopsis
A mystery drama that revolves around Jiri National Park rangers including the best ranger Seo Yi Kang (Jun Ji Hyun) and rookie ranger Kang Hyun Jo (Ju Ji Hoon). Kang Hyeon Jo holds a secret that he shared only with Yi Kang. In the mountain, the ranger team explores the deep woods of Mount Jiri to seek those who need help or to save others from death.
Cast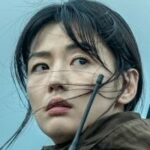 Character: Seo Yi Kang
Portrayed by: Jun Ji Hyun
Jun Ji Hyun's Notable works: My Sassy Girl (2001), My Love From the Star (2013), The Berlin File (2013), Assassination (2015), Legend of the Blue Sea (2015)
Character: Kang Hyun Jo
Portrayed by: Ju Ji Hoon
Ju Ji Hoon's Notable works: Princess Hours (2006), Along with the Gods Series (2017-2018), The Spy Gone North (2018), Dark Figure of Crime (2018), Kingdom (2019-present), Hyena (2020)
Extended Cast
Sung Dong Il as Jo Dae Jin (branch office chief)
Oh Jung Se as Jung Goo Young (rangers team member)
Cho Han Cheol as Park Il Hae (rangers team leader)
Jeon Seok Ho as Kim Woong Soon (a police officer)
Lee Ga Sub as Kim Sol (a volunteer)
Go Min Si as Lee Da Won (a rookie ranger)
Joo Min Kyung as Lee Yang Sun (administrative staff at the branch office)
Kim Young Ok as Lee Moon Ok (Yi Kang's grandmother who runs a restaurant in the village)
Yoon Ji On as Se Wook
Cameo & Special Appearance
N/A
Character Relationship Chart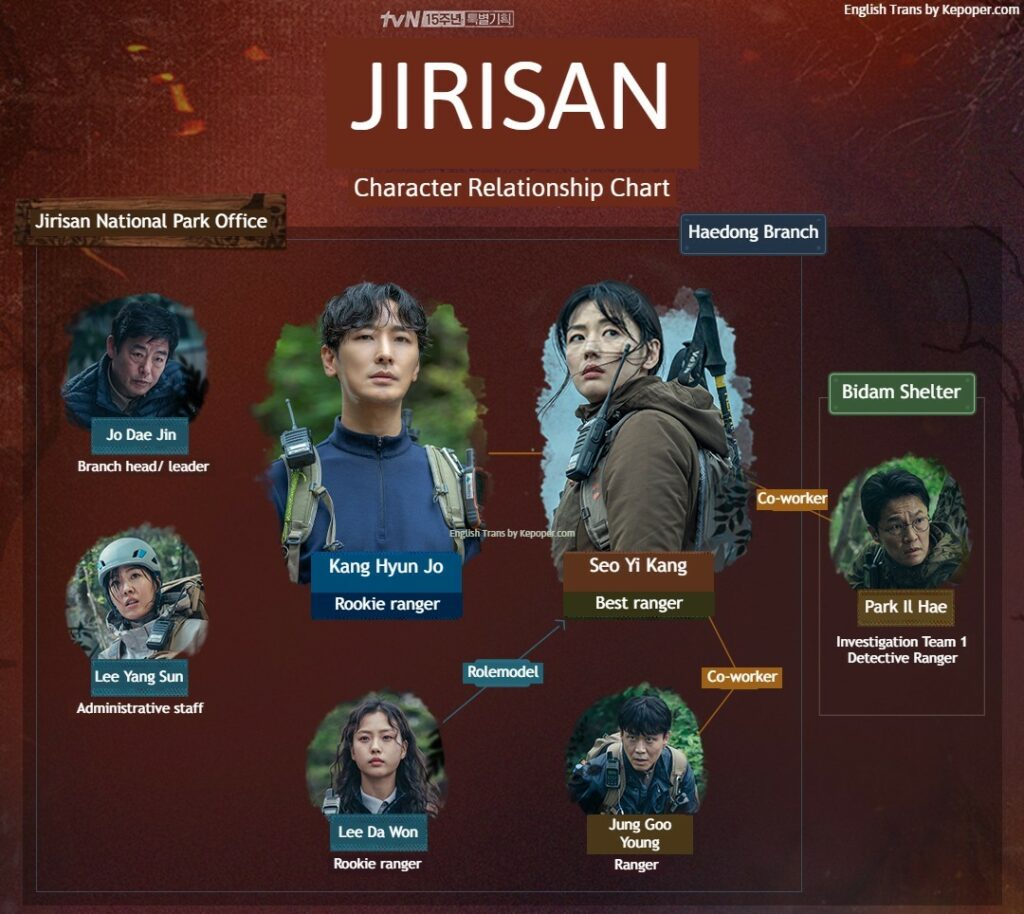 Seo Yi Kang is the best ranger at Haedong Branch on Jirisan National Park. The branch is led by Jo Dae Jin with members Lee Yang Sun and Jung Goo Young. Kang Hyung Jo and Lee Da Won are rookies in the ranger team. Seo Yi Kang works together with Park Hae Il, a ranger detective from Bidam Shelter's Investigation Team 1.
Original Soundtrack
N/A
Trailer Videos
Official Trailer
Character Trailer 1
Character Trailer 2
Awards & Nominations
N/A
Trivia
The filming began on September 18, 2020.
The filming was halted for a month from December 2020 to January 2021 because of coronavirus outbreak in South Korea.
This is Jun Ji Hyun and Ju Ji Hoon appearance on a tvN drama.
This is Jun Ji Hyun's comeback drama after 4 years and Ju Ji Hoon's comeback drama after a year.
This is Jun Ji Hyun and Ju Ji Hoon's second appearance together after 'Kingdom Season 2.
This is Ju Ji Hoon and Jun Seok Ho's 3rd projects together after two installments of 'Kingdom' and 'Hyena'.