General Information
International Title: The Red Sleeve
Original Title: 옷소매 붉은 끝동 (romanization: Otsomae bulgeun kkeutdong)
Genre: Period, Romance
No. of Episode: 16
Airing Date: 2021.11.05 ~ 2021.12.25
Airing Slot: Friday – Saturday
Broadcasting Channel: MBC
International Distributor: TBA
Starring: Lee Junho, Lee Se Young, Kang Hoon
Director: Jung Ji In, Song Yeon Hwa
Screenwriter: Jung Hae Ri
Highest Rating: 17.4% Nationwide (Nielsen Korea)
Awards: MBC Drama Awards 2021 (Drama of the Year; Best Couple – Lee Junho & Lee Se Young; Best New Actor – Kang Hoon; Best Supporting Actress – Jang Hye Jin; Best Writer Award – Jung Hae Ri; Lifetime Achievement Award – Lee Deok Hwa; Top Excellence Award, Actor in a Miniseries – Lee Junho; Top Excellence Award, Actress in a Miniseries – Lee Se Young)
Synopsis
'The Red Sleeve' is adapted from novel series of the same name written by Kang Mi Kang. It tells the love story between Lee San later King Jeongjo of Joseon (Lee Junho) and a palace maid Seong Deok Im (Lee Se Young).
Lee San develops feeling for Seong Deok Im. After ascending to the throne, the now King Jeongjo asks her to be his concubine. Seong Deok Im who possesses strong pride in her duty rejected the King's proposal since being a royal concubine will confiscate her freedom and might bring her misery instead of happiness.
Cast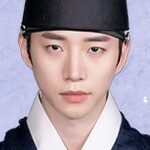 Character: Lee San/ King Jeongjo of Joseon
Portrayed by: Lee Junho
Lee Junho's notable works: Cold Eyes (2013), Twenty (2015), Chief Kim (2017), Confession (2019)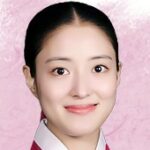 Character: Seong Deok Im
Portrayed by: Lee Se Young
Lee Se Young's notable works: Daejanggeum (2003), The Crowned Clown (2019), Doctor John (2019), Kairos (2020)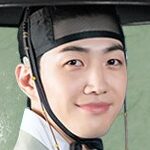 Character: Hong Deok Ro
Portrayed by: Kang Hoon
Kang Hoon's notable works: Rookie Historian Goo Hae Ryeong (2019), You Are My Spring (2021)
Extended Cast
Lee Deok Hwa as King Youngjo
Jang Hee Jin as Queen Jungsoon
Seo Hyo Rim as Princess Hwawan
Kang Mal Geum as Hyebin Hong
Jo Seung Hee as Princess Chungsun
Bae Je Ki as Jung Jae Hwa
Kim Kang Min as Kim Doo Sung
Park Ji Young as Head Court Lady Jo
Jang Hye Jin as Court Lady Seo
Cha Mi Kyung as Court Lady Park
Kim Ja Young as Court Lady Kwon
Park Jung Eon as Court Lady
Lee Min Ji as Kim Bok Yeon
Ha Yul Ri as Bae Kyung Hee
Lee Eun Saem as Son Young Hee
Jo Hee Bong as Hong Jung Yeo
Kwon Hyun Bin as Jung Baek Ik
Oh Dae Hwan as Kang Tae Ho
Jo Chan Hyung as Ikwisa military officer
Cameo & Special Appearance
Do Sang Woo as Crown Prince Sado
Nam Gi Ae as Royal Noble Consort Yeong Bin Yi
Ha Seok Jin as Janghwa Hongryeonjeon Sato
Character Relationship Chart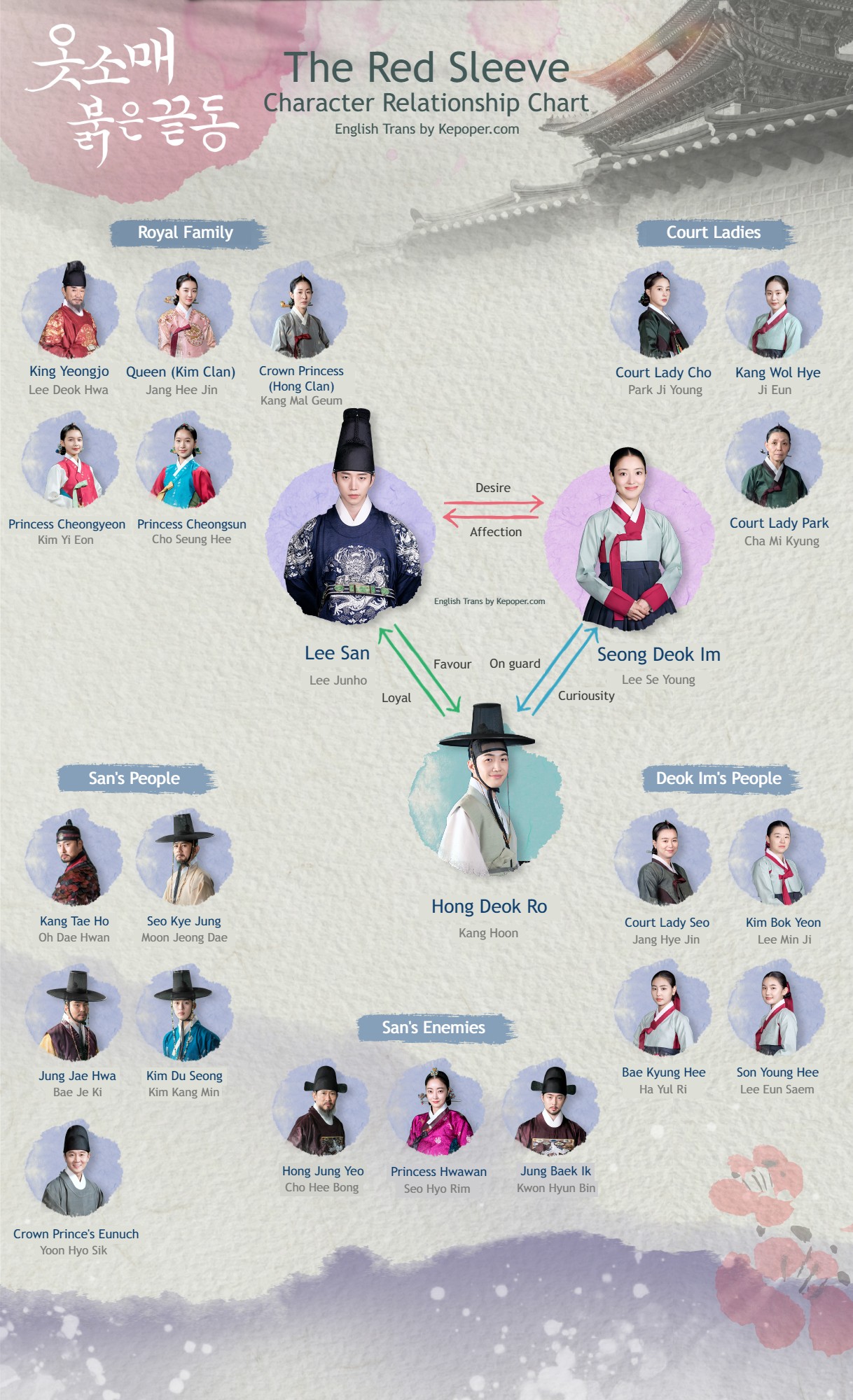 Lee San is a king who puts his country first. He falls in love with palace maid Seong Deok Im. The feeling reciprocates as Seong Deok Im also has feelings for the king.
Hong Deok Ro is the King's favorite servant. He is loyal to the king, but Seong Deok Im is always on guard around him.
With the help of his people: royal bodyguard Kang Tae Ho, Seo Kye Jung, Jung Jae Hwa, Kim Du Seong, and his eunuch, Lee San tries to protect the throne from his enemies Hong Jung Yeo, Princess Hwawan, and Jung Baek Ik.
Original Soundtrack
'I Wish' by Wheein
'Starlight Heart' by Ben
'My Wonderous Miracle' by Jung Se Woon
'I'll Be With You Every Day' by Minhyun of NU'EST
'Beautiful' by Shim Kyu Sun
'Every Step You Take' by Jeon Sang Geun
'I'm Still' by Xia Junsu
'I'll Leave You' by Lee Sun Hee
'Always Be Your Star' by Lia of ITZY
Trailer Videos
Awards & Nominations
MBC Drama Awards 2021
Drama of the Year
Top Excellence Award, Actor in a Miniseries – Lee Junho
Top Excellence Award, Actress in a Miniseries – Lee Se Young
Best Couple – Lee Junho & Lee Se Young
Best New Actor – Kang Hoon
Best Supporting Actress – Jang Hye Jin
Best Writer Award – Jung Hae Ri
Lifetime Achievement Award – Lee Deok Hwa
Trivia
'The Red Sleeve' will air after MBC 60th anniversary special project 'The Veil'.
It will be 2nd MBC drama that airs on Friday – Saturday slot.
Lee San and Seong Deok Im's character is based on real-life figures King Jeongjo and Royal Noble Consort Ui respectively.
This is Lee Junho's first leading role in a period drama.